The Finnish composer Einojuhani Rautavaara has died
Guy Rickards
Thursday, July 28, 2016
The Grand Old Man of Finnish Music, born in October 1928, has passed away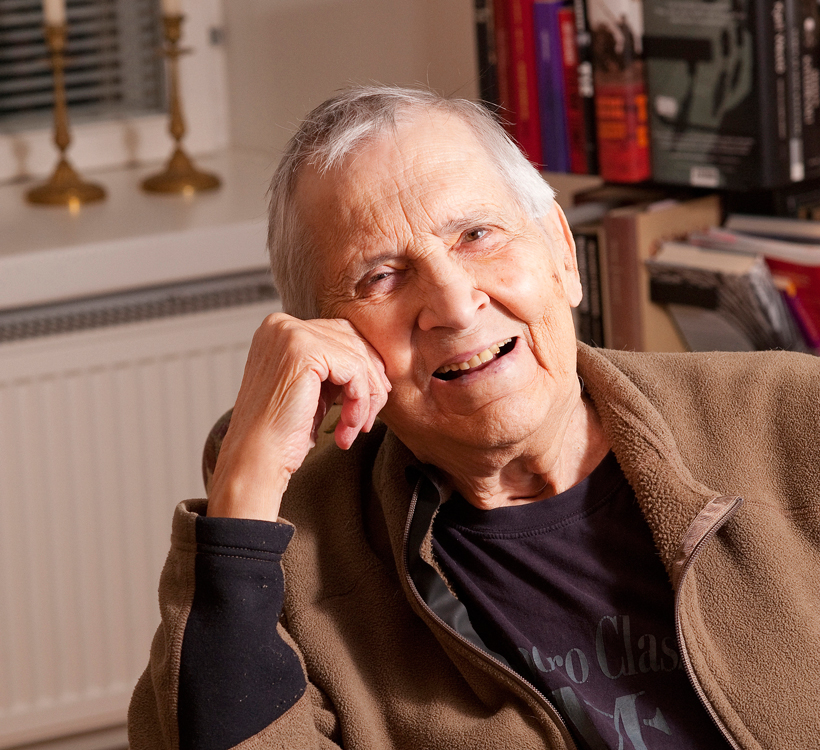 The Finnish composer Einojuhani Rautavaara has died at the age of 87 following complications after an operation. Last year, Gramophone's Guy Rickards wrote the following comprehensive overview of Rautavaara's life and work...
Some composers – Max Bruch is a fine example – achieve their mature style early and rest content to create without developing along different lines. Others – Blomdahl and Stravinsky spring to mind – changed radically throughout their careers ('musical barometers', to re-use Robert Layton's famous phrase). The music of Einojuhani Rautavaara (b1928), the most famous and popular of Finnish composers, lies somewhere between these two extremes, having undergone several twists and turns over the years yet retaining a pervasive personal voice that makes almost every work recognisably his.
He first came to wider attention in the mid-1950s, when A Requiem in Our Time (1953) – a purely instrumental work for brass – won the Thor Johnson Composition Contest in Cincinnati. Its success came to the attention of Sibelius and when, in 1955, in honour of his 90th birthday, he was offered the chance to nominate a young Finnish composer to attend the Juilliard School in New York, it was Rautavaara he chose. (The two composers came to know each other as the younger man would occasionally drive visiting celebrities to Sibelius's home, Ainola – in his mother's car – to meet Finland's home-based cultural ambassador.) The two years spent in New York, including some time with Copland and Sessions at Tanglewood and followed by spells of study in Ascona with Wladimir Vogel and in Cologne with Rudolf Petzold, introduced Rautavaara to the then most recent trends in contemporary composition including, of course, serialism. The impact of the latter methodology, as learnt from Sessions, Vogel and Petzold, can be heard by comparing the music of the serial Third Symphony (1961) and Arabescata (1962, retitled No 4 in the late 1980s) with their two stylistically less advanced predecessors, the much-rewritten First (1956, revised in 1988 and again in 2003, almost as much and as radically as Henze's First of a decade before) and the transitional Second (1957, rev 1984), in which one can begin to hear the refining of the composer's personal voice.
In an output running to over 150 compositions, with dozens of orchestral pieces, Rautavaara's eight symphonies are one of his important contributions to 20th-century music (the most recent – the Eighth, The Journey – dates from 1999; there are no plans now, it seems, for a Ninth). Their history is as convoluted and their styles as challenging as those of his great older compatriot and serve as a barometer for the paths he has taken as a creative artist. The First emulates Sibelius's Fifth by existing in three versions, while the original Fourth (1964-70) never found a satisfactory final form (akin to Sibelius's Eighth and Penderecki's still-withheld Sixth).
The Third, with its astonishing emulation of Bruckner, also ranks as one of the very first truly serial works in Finnish music, alongside Arabescata. By the time the latter was selected to join Rautavaara's symphonic canon, and after a 15-year gap from symphonic composition, the great single span of No 5 (1985) had been completed. It was followed in relatively rapid succession by No 6 (Vincentiana, 1992, derived from his Van Gogh opera, Vincent, completed five years earlier) and the Seventh, Angel of Light (1994), which unified the symphonies with another prominent strand in his output from the early 1970s, the Angels series which had included several concertos (for organ, Annunciations, 1976-77, and double bass, Angel of Dusk, 1980). Angel of Light marked a new breakthrough for Rautavaara to a newer, wider audience, his music no longer the preserve of the critics and cognoscenti. However, Rautavaara had not planned to write such a work at the time, only composing it to a commission from the Bloomington Symphony Orchestra in Indiana. Its success followed in the wake of Górecki's Third as a work of compelling substance expressed in an audience-friendly, euphonious style, recognisably modern without pastiche. Whereas Górecki's score stands apart from his output, the Seventh Symphony was audibly central to Rautavaara's development at that time, and a continuation of the style crystallised so compellingly – in the symphonies, at least – in the Fifth and continued further in the Eighth.
Rautavaara's music embraces almost every form and genre in classical music, however. His 14 concertos include three for piano, two for cello – the Second, coupled with the Percussion Concerto Incantations (2008), won the Gramophone Contemporary Music Award in 2012 – and others for flute, violin, harp, clarinet and, in 1971, Daughter of the Sea for soprano, choir and orchestra. His other orchestral pieces range from the highly advanced Prevariata and Modificata (both 1957), to the transitional Angels and Visitations (1978), to a series in his latest mystically inclined manner: Isle of Bliss (1995), Autumn Gardens (1999), Book of Visions (2003‑05), Manhattan Trilogy (2004), Before the Icons (2005, reworking a piano suite of 1955) and A Tapestry of Life (2007). He has written a marvellous series of string orchestral works, central to which are the five Cantos (1960-2011), his vivacious suite The Fiddlers (1952 – also for piano – and revised two decades later) and An Epitaph for Béla Bartók (1955/86). His chamber and instrumental output is diverse, including four string quartets (1952‑75), sonatas for piano (1969 and 1970), cello (1972‑23, 1991), bassoon (1970), flute and guitar (1975) and, most recently, Summer Thoughts for violin and piano (2008; written for Midori) and the Second String Quintet Variations for Five (2013; the first dates from 1997).
His nine operas range from the controversial early The Mine (1957-60, rev 1962) and the chamber operas The House of the Sun (1989-90) and The Gift of the Magi (1993-94), to complex operatic treatments of Van Gogh in Vincent – with its prominent accompanying role for DX7 synthesiser – and Rasputin (2001-03), to nationalist subjects: The Myth of Sampo (1974/82), Thomas (1982-85) and Aleksis Kivi (1995-96). His choral output – mixed, male or female – is enormous and runs throughout his career, from his vivid setting of two of TS Eliot's Preludes when a student in New York, to the vivid (and oft-performed) Suite de Lorca (1973), noble motets such as Katedralen (1982) and Die erste Elegie (1993, setting Rilke), to larger cantatas such as True and False Unicorn (1971, reworked in 2000) and the wonderful hour-long Vigilia (1971-72, rev 1996), a late-20th-century setting of the Russian Orthodox all-night vigil worthy of comparison with Rachmaninov's great setting.
Trying to select a 'definitive work' for a composer of such breadth of vision, who has created so much music of lasting quality, might seem a self-defeating task. Where to begin? With one of the operas, perhaps, or the choral suites Book of Life (1972) or Canción de nuestro tiempo (1993)? One of his most popular – and oft-recorded – works is Cantus arcticus (1971-72), his delightful 'concerto for birds and orchestra' where pre-recorded birdsong from the Finnish landscape interweaves with the orchestra. In the end, I selected the Fifth Symphony, one of his grandest utterances. The long opening section is like a depiction of some vast marine leviathan as it breathes and rises and moves through an elemental ocean, and this scale and inexorable momentum are sustained throughout its half-hour duration. The closing section is just as remarkable, with a real sense of conclusion. It is an astounding conception from a truly original modern master.
Recommended recordings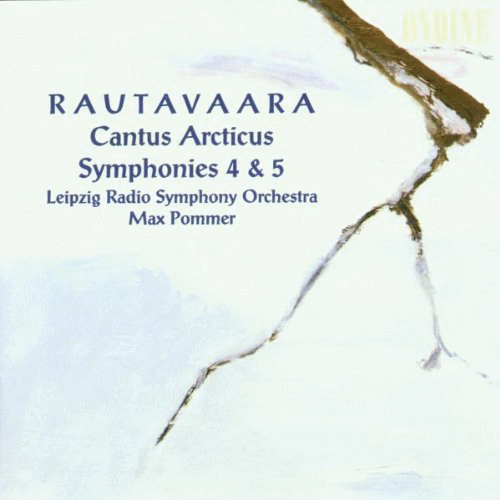 Cantus arcticus. Symphonies Nos 4 and 5
Leipzig Radio Symphony Orchestra / Max Pommer
Ondine
A perfect sampler of Rautavaara's music pre‑Angel of Light. Cantus arcticus remains one of Rautavaara's most successful and approachable works, while the Fifth Symphony is one of his finest utterances. Max Pommer directs his Leipzig players in recordings the composer acclaimed as 'perfect'.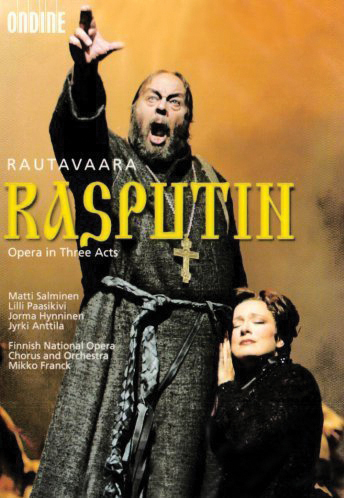 Rasputin
Matti Salminen bass Lilli Paasikivi sop Jorma Hynninen bar Finnish National Opera Chorus & Orchestra / Mikko Franck
Ondine
The largest and grandest of Rautavaara's operas, performed here with the finest imaginable cast. Salminen's portrayal of the mad monk is multi-layered and the performances by Paasikivi and Hynninen as the Tsarina and the Tsar are perfectly judged.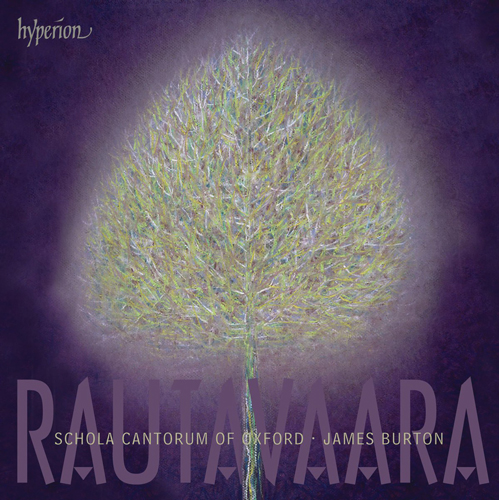 Suite de Lorca. Canción de nuestro tiempo. Die erste Elegie. Magnificat, etc
Schola Cantorum of Oxford / James Burton
Hyperion
This collection provides a fine overview of Rautavaara's choral output, beautifully sung by the Schola Cantorum of Oxford and presented in glorious sound by Hyperion. There are several choral programmes devoted to Rautavaara, many rivalling this but none surpassing it.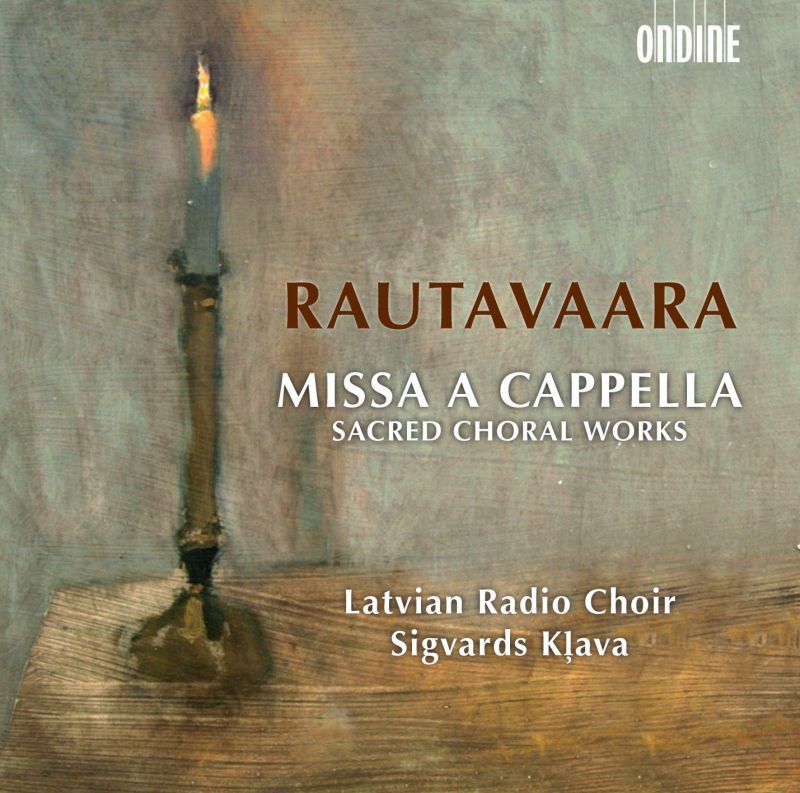 Percussion Concerto. Cello Concerto No 2
Colin Currie perc Truls Mørk vc Helsinki PO / John Storgårds
Ondine
Rautavaara's dozen-plus concertos have hitherto been the Cinderellas of his orchestral output, often appearing as fillers to recordings of the symphonies and choral works or in multi-composer collections where their impact has been diluted. The only one to have achieved wide international currency is Cantus arcticus, the evocative 'concerto for birds and orchestra', so Ondine's headlining of what are billed as the last of Rautavaara's concertos has finally placed them centre stage. And what a magnificent, highly contrasted double they make. The vibrant Percussion Concerto, Incantations (2008), delivered with coruscating virtuosity by Colin Currie, is a strongly drawn triptych, rhythmically exciting and superbly orchestrated. Truls Mørk's beautifully controlled performance of the valedictory Second Cello Concerto, Towards the Horizon (2008-09), is as remarkable, caressing out the subtleties of the variation-form structure in which the soloist rarely seems not to be playing! The support from the excellent Helsinki Philharmonic Orchestra under John Storgårds (who seems to go from strength to strength on the podium) and Ondine's sensational, vivid sound set the seal on a superb Contemporary Gramophone Award-winner in 2012.
Rautavaara: a life
Education

Sibelius Academy, Helsinki (1948-53), pupil of Aarre Merikanto; Juilliard School, New York, pupil of Vincent Persichetti (1955-56); Tanglewood Summer School, studied with Roger Sessions and Aaron Copland; Ascona, pupil of Wladimir Vogel (1957); Cologne, pupil of Rudolf Petzold (1957)

Career

Freelance composer; Thor Johnson Prize (1954, for A Requiem in Our Time); teacher and professor, Sibelius Academy (various times between 1957 and 1990); Rector, Käpylä Music Institute, Helsinki (1965-66)

Breakthrough works

A Requiem in Our Time (1953); Symphony No 7, Angel of Light (1994)

Definitive work

Symphony No 5 (1985)

On Rautavaara

'Rautavaara has often compared composing to gardening. Both are about the observing and monitoring of organic growth, not so much about constructing or assembling from pre-existing parts and elements.' (Jaakko Mäntyjärvi)

Rautavaara on composition

'Don't ever try to force your music, because music is very wise and it has its own will. It knows where to go. You have to listen to it, to listen to your material which you have chosen. Start with that and then the material will dictate where it wants to go. It's much wiser than you are. Don't push yourself, but try to find out what the music wants to become.'