Classical Music goes digital
Monday, November 9, 2020
Publication for professionals in the sector relaunched as online resource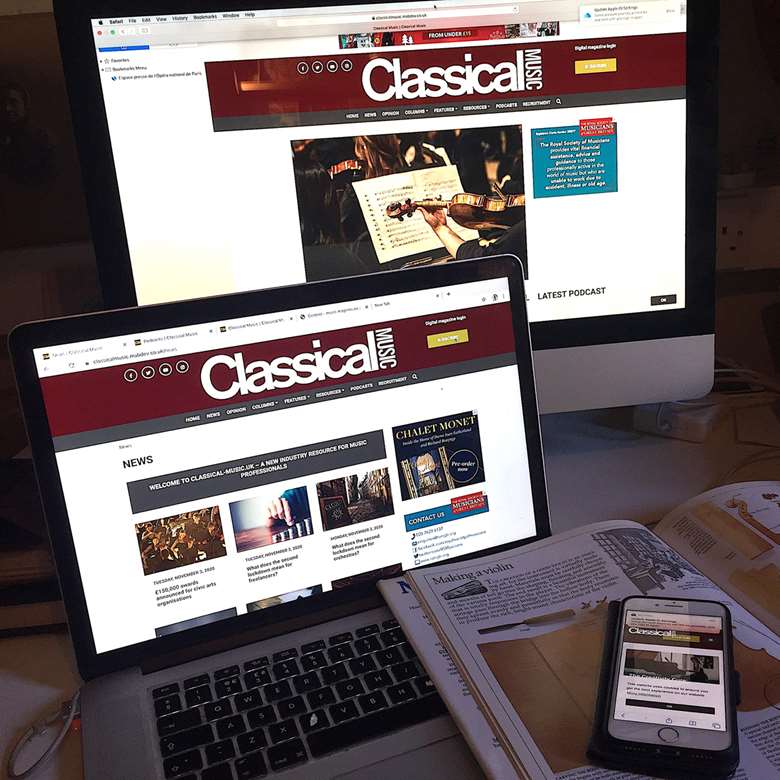 Classical Music, the publication serving the UK's classical music industry and a sister-title to Gramophone, is relaunching as a digital resource.
Led by Editor Lucy Thraves, the new digital platform - classical-music.uk – will offer daily news updates, commentary from specialist contributors, advice and analysis from respected figures in the music industry and beyond, plus podcasts and industry resources aimed at those working in classical music or with a professional interest in the sector. Founded in 1976, the magazine has been published by the Mark Allen Group since 2018. The September/October 2020 issue of Classical Music will be the last to appear in print. 
The new platform will draw on the expertise and inside-knowledge of a new editorial advisory board comprising some of the classical music sector's key figures, including: Cathy Graham, director of music at the British Council; Mark Pemberton, director of the Association of British Orchestras (ABO); Atholl Swaintson-Harrison, chief executive of the International Artist Managers' Association (IAMA); Chi-chi Nwanoku, founder and artistic director of the Chineke! Foundation; Helen Wallace, artistic and executive director of Kings Place; and freelance artistic director, creative management and transformation consultant Ian Ritchie.
'I am delighted to be leading this exciting new initiative and am committed to making classical-music.uk the go-to hub for classical music professionals,' said Thraves. 'Visitors and subscribers to our site can be confident that they will find essential information and support on the pressing issues of the day, from COVID-19 and its implications, to Brexit and mental health support.

'Since taking the helm of Classical Music in 2019, I have been consistently amazed by the energy and enthusiasm of the people who make up this industry. I am particularly proud of the mental health campaign we ran last year – Harmony in Mind – which saw an outpouring of genuine care plus commitments from organisations keen to implement change. The resources from this campaign will be made available to subscribers on the new website.
'The world is changing fast, and we believe the decision to put our focus and energy into a dynamic new digital platform will allow us to move with the agility needed to address the innovations, opportunities and challenges that lie ahead.'
Publishing Director of Classical Music, Owen Mortimer, added: 'The pandemic has reinforced the need for us to deliver reliable news, opinion, professional resources and campaigning tools in a highly responsive way, with regular updates and direct engagement from across the profession. A dynamic and well-resourced digital platform is clearly the way ahead, which is why we are so excited to launch classical.music.uk.'
All visitors to classical-music.uk will be able to access news updates, opinion pieces and recruitment advertising for free. Full access to the entire digital platform and its resources will be available to subscribers.
Meanwhile, you can follow the title using the following social media links: Twitter @classicalmusic_ ; Instagram  / @classicalmusic_uk ; Facebook @UKclassicalmusic ; YouTube Classical Music UK