10 great works for two pianos
Finghin Collins
Wednesday, September 8, 2021
The New Ross Piano Festival Artistic Director takes us on a journey from Mozart to Brubeck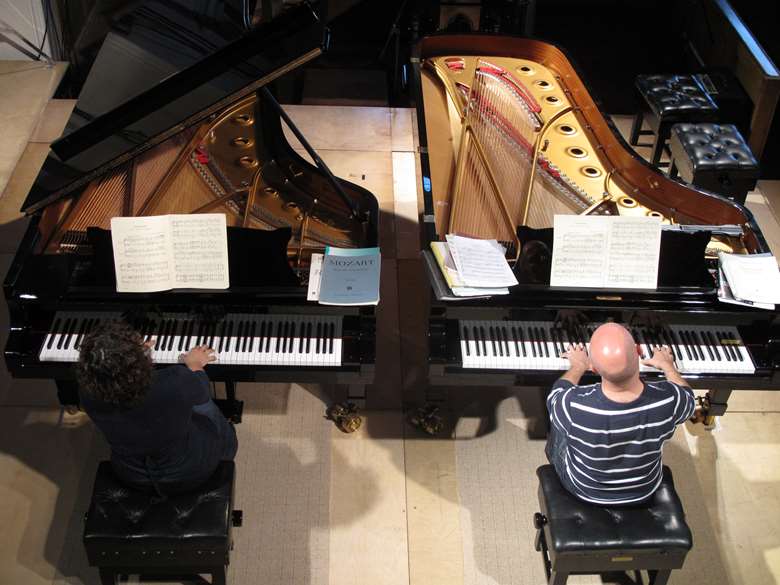 In 2011, I persuaded the committee of the New Ross Piano Festival to allow me to programme a two-piano festival. For me, it was perhaps the most fun of all the festivals we've had in our 15-year history. The sheer spectacle of the two nine-foot grands on the stage of St Mary's Church, the monumental nature of much of the repertoire and the camaraderie of the pianists made for a wonderful time. What's more, two of the invited pianists, Charles Owen and Katya Apekisheva had such fun that they decided to start their own piano festival and so the London Piano Festival was born. 
For the 15th edition of New Ross Piano Festival and the 5th London Piano Festival, we decided to co-commission a new work for two pianos – and three pianists – and we approached Sally Beamish who took on the challenge with relish. She has been inspired by two Shakespeare Sonnets for the new work, in which I get the play the part of a young man, Charles is the Bard himself while Katya is a Dark Lady! It promises to be intriguing. It will have its world premiere in New Ross on September 25th and its second performance in London on October 9th.  
It's hard to put one's finger on what makes playing with another pianist (at another piano) such fun. Of course it's partly that we play alone for so much of the time. But what is particularly attractive about playing with another pianist? I guess it's that subtle mix of utter collegiality and a touch of one-upmanship – it's also the rare chance to discuss articulation, tempo, pedal and host of other pianistic and musical questions with a colleague. Ensemble can be a great challenge when one is sitting at least 12 foot apart – trying to avoid ka-dunk ka-dunk when chords are supposed to be bang-on together – but there are rich rewards for any pianist who puts him- or herself into this situation.
Ahead of the festival, here are ten pieces from the two-piano repertoire to explore and enjoy.
Mozart: Sonata for Two Pianos in D major K 448
A true classic, in every sense of the word; it is the oldest piece to have become established in the core repertoire for two pianos. Top–drawer Mozart with his trademark lyricism, invention and wonderful dialogue between the instruments.
Brahms: Sonata in F minor Op 34b
The forerunner of the monumental Piano Quintet. It works extremely well as a two-piano work and is very satisfying to perform – typically meaty, virtuosic, tender and passionate all at once.
Rachmaninov: Suite No 2 in C minor
The height of romantic drama! Luscious melodies, intricate fingerwork, bravura repartee between the pianos – guaranteed to have the audience on its feet.  Reminiscent in places of the Second Piano Concerto – and in the same key, dark and alluring .
Saint-Saëns: Carnival of the Animals
In a way, the chamber version for 13 instruments is more attractive – and certainly more authentic – than the 'concerto' version for two pianos and full orchestra.  Huge fun for everyone involved, this has a special appeal for younger listeners. Music for Galway recently commissioned a wonderful new child-friendly text from Helen Gregg as the Ogden Nash verses have become a bit outdated. The children laughed hysterically – as did the adults.
Messiaen: Visions de l'Amen
A monumental work, reverential, massive and dramatic all at once. Seven visions of the Amen, taking up to 45 minutes to perform. My sister Mary gave the Irish premiere with Thérèse Fahy in Dublin in 1990 and it left a lasting impression on the child I was then, though curiously I have yet to play it. 
Poulenc: L'embarquement pour Cythère
A sorbet between courses! Short and charming, this little waltz doesn't overstay its welcome. This is a great work to play as an encore, it always brings a smile to the face. Philippe Cassard introduced me to it decades ago.
Bartók: Sonata for Two Pianos and Percussion
We had a terrific performance of this masterful, innovative piece in New Ross in 2011 with Enrico Pace, Igor Roma, Richard O'Donnell and Roger Moffatt.  The combination of pianos and percussion is just fabulous and it's entertaining to watch as well as to listen to.
Arnold Bax: Sonata for Two Pianos/ Moy Mell for Two Pianos
It's well known that Sir Arnold Bax had a huge grá for all things Irish, living in Dublin for a while, taking an Irish pseudonym and even dying in Cork, where he is buried. An ancient Celtic world is evoked in his Sonata for Two Pianos while Moy Mell is billed as an Irish tone-poem.
Joan Trimble: Sonatina for Two Pianos / The County Mayo for Two Pianos and Baritone
Joan Trimble (from Enniskillen in Co. Fermanagh; her family owned and operated the Impartial Reporter newspaper for generations) had a long-established piano duo with her sister Valerie. Her Sonatina for two pianos from 1940 is a charming work worthy of greater listenership while the song cycle The County Mayo for baritone accompanied by two pianos is an absolute gem. 
Brubeck: Points on Jazz
I played this with Piers Lane at the closing concert of the Australian Festival of Chamber Music in 2016 and I have rarely had so much fun at the piano since or before! The jazz rhythms and the catchy tunes are enormously attractive though it must be said that there are some technical challenges along the way – well worth the time invested in learning it.
The New Ross Piano Festival runs from September 23-26: visit newrosspianofestival.com for more details