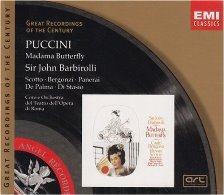 The Gramophone Choice
Renata Scotto sop Madama Butterfly Carlo Bergonzi ten Pinkerton Rolando Panerai bar Sharpless Anna di Stasio mez Suzuki Piero De Palma ten Goro Giuseppe Morresi ten Prince Yamadori Silvana Padoan mez Kate Pinkerton Paolo Montarsolo bass The Bonze Mario Rinaudo bass Commissioner Rome Opera House Chorus and Orchestra / Sir John Barbirolli
EMI Great Recordings of the Century 567885-2 (142' · ADD · T/t). Recorded 1966. Buy from Amazon
This is Barbirolli's Butterfly; despite Scotto's expressiveness and Bergonzi's elegance, it's the conductor's contribution that gives this set its durability and its hold on the affections. The Rome Opera Orchestra isn't the equal of the Vienna Philharmonic for Karajan. However, the rapport between conductor and orchestra and their mutual affection for Puccini are evident throughout, and they make this the most Italianate of all readings. It's hugely enjoyable, not just in the big emotional outpourings (like the Act 2 interlude, where Barbirolli's passionate gasps and groans spur the orchestra to great eloquence) but in many tiny moments where you can almost see the conductor and his players lovingly and absorbedly concentrating on subtleties of phrasing and texture.
There's a lot of good singing, too. Scotto's voice won't always take the pressure she puts on it but her portrayal is a touching and finely detailed one. The ever-stylish Bergonzi sings with immaculate phrasing and perfect taste, Panerai is an outstanding Sharpless (beautifully sung, the embodiment of anxious, pitying concern) and di Stasio's Suzuki is attractively light-voiced and young-sounding.
The recording, however, is a bit narrow in perspective, rather close (really quiet singing and playing rarely register as such) and some of the voices are edged or slightly tarnished in loud passages. Barbirolli's set is perhaps for those who find the meticulously refined detail of Karajan studied (also ravishing and stunningly recorded); those, in short, for whom Latin warmth and impulsive open-heartedness are indispensable in this opera. They will find those qualities here, with singing to match, and won't mind the occasional strident patch.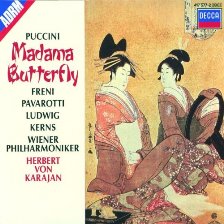 Additional Recommendations
Mirella Freni sop Madama Butterfly Luciano Pavarotti ten Pinkerton Robert Kerns bar Sharpless Christa Ludwig mez Suzuki Michel Sénéchal ten Goro Giorgio Stendoro bar Prince Yamadori Elke Schary mez Kate Pinkerton Marius Rintzler bass The Bonze Hans Helm bass Commissioner Vienna State Opera Chorus; Vienna Philharmonic Orchestra / Herbert von Karajan
Decca 417 577-2DH3 (145' · ADD · S/T/t). Recorded 1974. Buy from Amazon
In every way except one, the transfer of Karajan's radiant Vienna recording for Decca could hardly provide a firmer recommendation. The reservation is one of price – this Karajan is on three discs, not two. However, it does allow each act to be self-contained on a single disc, and for such a performance as this no extravagance is too much. Movingly dramatic as Renata Scotto is on the Barbirolli set, Mirella Freni is even more compelling. The voice is fresher, firmer and more girlish, with more light and shade at such points as 'Un bel dì', and there's an element of vulnerability that intensifies the communication. In that, one imagines Karajan played a big part, just as he must have done in presenting Pavarotti – not quite the superstar he became but already with a will of his own in the recording studio – as a Pinkerton of exceptional subtlety, not just a roistering cad but in his way an endearing figure in the first act.
Significantly CD brings out the delicacy of the vocal balances in Act 1 with the voices deliberately distanced for much of the time, making such passages as 'Vienna la sera' and 'Bimba dagli occhi' the more magical in their delicacy. Karajan, in that duet and later in the Flower duet of Act 2, draws ravishing playing from the Vienna Philharmonic strings, getting them to imitate the portamento of the singers in an echt-Viennese manner, which is ravishing to the ear. Christa Ludwig is by far the richest and most compelling of Suzukis.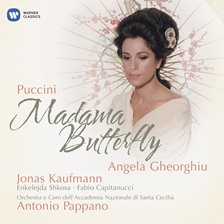 Angela Gheorghiu sop Madama Butterfly Jonas Kaufmann ten Pinkerton Enkelejda Shkosa mez Suzuki Fabio Capitanucci bar Sharpless Gregory Bonfatti ten Goro Raymond Aceto bass Bonze Chorus and Orchestra of the Accademia Nazionale di Santa Cecilia / Antonio Pappano
EMI 264187-2 (135' · DDD · S/T/t). Buy from Amazon
Approaching such a familiar work, one waits for something individual, a clue to the artist's vision of the role. This came at the beginning of Act 2, in the scene between Suzuki and Butterfly when she describes Pinkerton's departing words, 'Quell'ultima mattina'. Gheorghiu somehow conveys not only the depth of Butterfly's love but also her inner knowledge that, in fact, her belief in Pinkerton's devotion is hopeless. This is a mature interpretation which suggests strength above all, so that the touches of vulnerability are added with subtlety; this performance could be her best Puccini role since Magda in La rondine more than a decade earlier. The rest of the cast live up to her standard: Jonas Kaufmann is an ardent Pinkerton although he cannot suggest a touch of youthful charm, the only possible redeeming feature for this anti-hero. Enkelejda Shkosa is a vivid Suzuki and Fabio Capitanucci the sympathetic Sharpless.
Conducting the orchestra and chorus of the Santa Cecilia Academy, Antonio Pappano takes a less driven and melodramatic way with the score than Karajan in his three recordings; it's nearer in mood to Barbirolli, though there is no lack of passion at the great climaxes – just listen to the spine-tingling moment of the sighting of the ship. So, a fine new Butterfly, unlikely to topple some of the great recordings of the past but worthy to set beside them.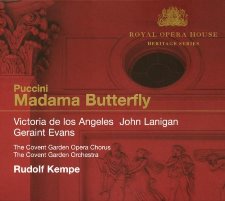 Victoria de los Angeles sop Madama Butterfly John Lanigan ten Pinkerton Geraint Evans bar Sharpless Barbara Howitt mez Suzuki David Tree ten Goro David Allen bar Prince Yamadori Joyce Livingstone mez Kate Pinkerton Michael Langdon bass The Bonze Ronald Firmager bar Imperial Commissioner Harry Gawler bass Registrar Chorus and Orchestra of the Royal Opera House, Covent Garden / Rudolf Kempe
Royal Opera House Heritage Series mono ROHS006 (122' · ADD). Recorded live 1957. Buy from Amazon
This quite overwhelming performance has the advantage of Victoria de los Angeles's unique Cio-Cio-San, fulfilling every aspect of the taxing but rewarding title-role. She made two commercial recordings of the work but here, heard live, she surpasses both with a reading that, as far as singing and acting with the voice are concerned, is shattering, every emotion, every phrase ideally presented. It comes across the years with such heartfelt feeling and at the close such tragedy that it goes to the top of Butterflies on disc.
As Alexandra Wilson points out in her well-researched notes, de los Angeles was 33 at the time and at the apex of her career. She's never fazed either by the intimate solos of Act 2 or the strength needed for 'Un bel dì', and her final dying solo is as moving as I have ever heard it.
No less remarkable is Kempe's conducting – taut, immediate and, when needed, loving. His Covent Garden orchestra plays its heart out for him. Both in small and big things, the work could hardly sound more deeply felt than here. The large climaxes are shattering, the many moments of intimacy so touching.
Another reason why we are unlikely to hear the work so well done again is the overall sense of a company and ensemble, each member of it a dedicated singer. Today such a thing has ceased to exist. John Lanigan never had a truly Italianate tenor but his keen voice and articulation and his commitment to the role of Pinkerton are satisfying enough on their own terms. The young Geraint Evans, singing Sharpless for the first time, is as warm and sympathetic as he should be in this tricky role. Barbara Hewitt is a natural, clear-voiced Suzuki. Michael Langdon roars loudly as the threatening Bonze. Only David Tree's dry-voiced Goro is a bit of a trial.
Of course, de los Angeles's studio-made sets have better sound, and the versions with Callas and Scotto, in a different vein, remain remarkable, but it's hard to imagine hearing a more soulful, dramatic traversal of the work than we have here.