Review: The New Gustav Leonhardt Edition
Jonathan Freeman-Attwood
Thursday, April 21, 2022
Jonathan Freeman-Attwood welcomes the opportunity to reassess the pioneering legacy of Gustav Leonhardt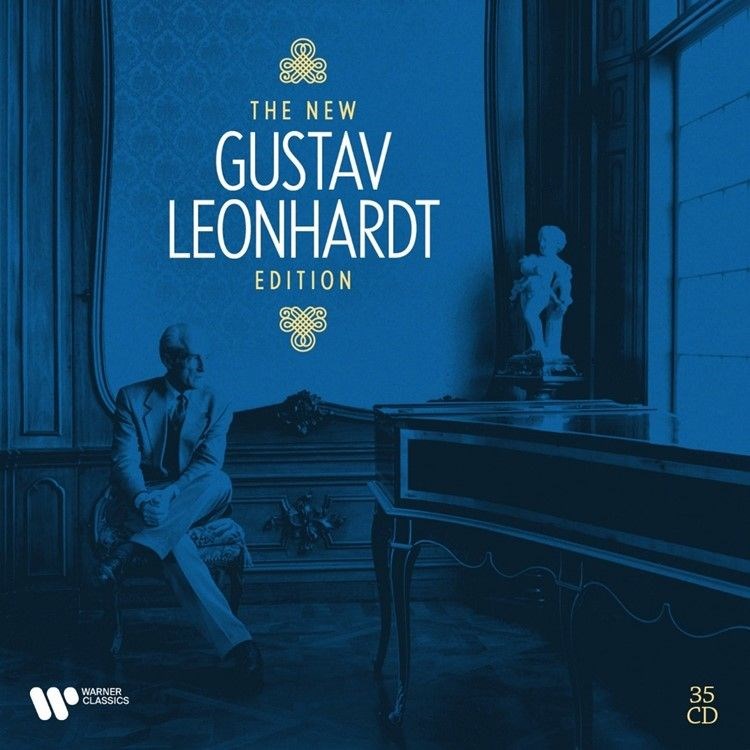 If you had to single out a personality at the heart of a performance movement in which swathes of new repertoire became accessible to audiences at the height of the LP age and CD revolution, it would be Gustav Leonhardt. Arguably the pre-eminent practitioner-expert in the field from the 1960s onwards, primarily as harpsichordist, Leonhardt was to become a towering authority and pedagogue, to some even the moral compass, of the 'authenticity' crusade. He was, though, no strident polemicist in the Reinhard Goebel vein but a musician who crafted his performances from his own interpretative tastes, modelling them around the aesthetics he gleaned: a blend of what he saw as unnegotiable historical fact, the deft exercising of informed speculation, and pure instinct.
This set reminds us of the importance of these complete retrospectives for the legacy of great figures. These 35 discs trace a definable path from the early Baroque of Monteverdi and Frescobaldi to Bach (including a late and telling foray into CPE Bach), in the triple mediums of solo keyboard recitals, chamber music with his own consort of family and friends, and a few larger ensembles. The first survey of Leonhardt's legacy for Das Alte Werk (which had become Teldec by the time it appeared in 1998) included his recordings from 1962 to 1971. All of the material on those 21 CDs is reissued here. The remaining 14 discs represent his work on EMI and Virgin during the second half of the 1980s and early 1990s. Taken together, this represents the most significant retrospective of Leonhardt's art to date. If his choice of repertoire was serendipitous, so also was his affiliation to record companies. After 1971 he followed his producer, Wolf Erichson, to Seon and intermittently and/or concurrently recorded for Harmonia Mundi, Philips and Sony in the intervening years. And, lest we forget, Leonhardt's earliest work on Vanguard in the early 1950s yielded his initial Goldberg Variations and that legendary recording of Bach alto cantatas with Harnoncourt (and their talented violinist wives) underpinning the irresistible Alfred Deller in his prime.


'It is not difficult to reach the top of one's profession. To stay there, though, is. And staying there for as long as Leonhardt has is a rare achievement' – Ton Koopman

Unlike other early music pioneers of stature – Pinnock, Hogwood, Gardiner, Harnoncourt and Brüggen – Leonhardt never strayed into the 'Classical' period (pace a single recital of Mozart sonatas on Seon) or worked with modern orchestras. His activity was shaped by specific musical realms in which he felt he could truthfully bring to life the historical landscapes he sought to honour. The other salient point of Leonhardt's individuality is his highly selective, even whimsical approach to repertoire. So many of his recordings are loosely curated anthologies and feel deliberately discursive. He admired, above all, music that sprang out naturally from the 'domestic' environment, whose original voice could be given an opportunity for illumination in an echt panorama, as he saw it. There's an emphasis on German music – north and south – with some pockets of obscurity therein, and the same with France, England and Italy. Few obvious patterns of predilection emerge, few complete collections but, of course, pride of place is given to Bach, alongside his unquenchable devotion to the 17th century.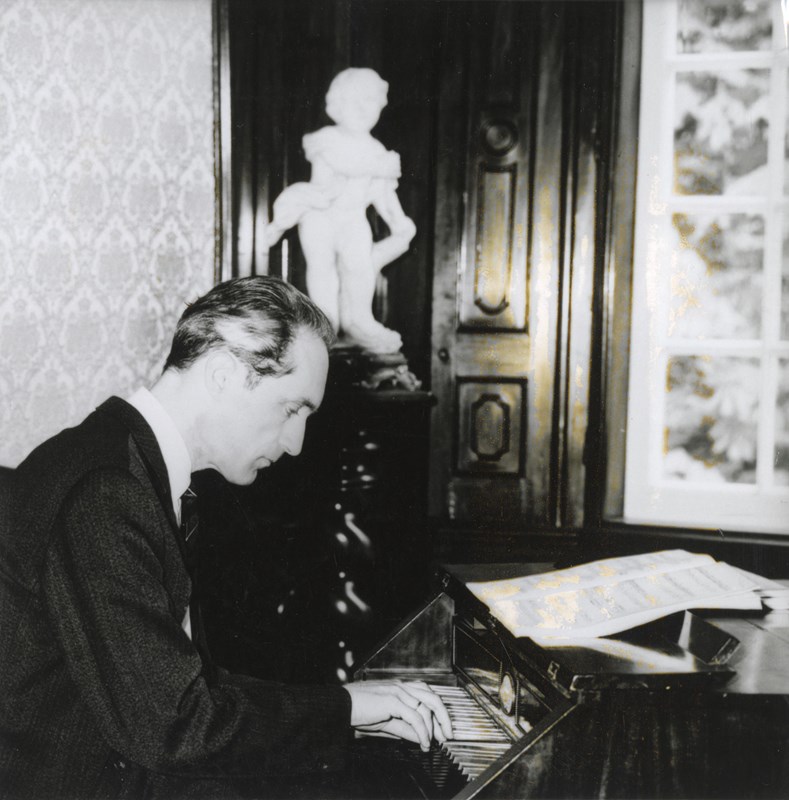 Gustav Leonhardt: a towering authority of the 'authenticity' crusade (
photography: Günter Wolfson)

Leonhardt's famously civilised demeanour was reflected to a degree in his performing etiquette: the disposition of a well-heeled merchant, discreetly and courteously gaited, always elegantly tailored and where his self-expression could circumnavigate 'self'. The show-stopper composers (such as Handel, whom he disliked in the main) or those of empty virtuosity were loftily flouted. Exhibitionism was evident only behind the wheel of a fast car. Leonhardt's performances are about a distillation of rhetorical veracity, deemed by some 'Calvinist' and austere, by others as the reference point where execution of 17th- and early 18th-century music is built on the most solid of interpretative foundations.
Solo repertoire, often performed on both harpsichord and organ in a single programme, plays a dominating part in the collection. Etched like a Dürer engraving, the performances of Kuhnau's biblical sonatas (complete with his verbal introductions) communicate the essence of the narrative and its quiet contemplations with a happy didacticism. Jacob's Death and Burial is a scena of exquisite emotional paring-down of a kind that he never quite achieves in his late, if erudite, Philips recital disc. Indeed, this point is made in Gaëton Naulleau's excellent note, where he acknowledges Leonhardt's belief that the only truly honest way of making music is to perform live and to teach. If his involvement in around 180 recordings appears contradictory in this regard, the collection reminds us that recording as a vehicle for repeated listening (he never allowed his recitals to be broadcast) is a mere variation on the same theme but only if the principle of live performance still lies at the heart of the process. He never sought in the studio more than two or three takes per movement or piece.
Pondering Leonhardt a decade after his death, he remains a rare personality for whom technical delivery, clarity of intent and refinement of ambition are never compromised by the act of recording. At its best – such as the Frescobaldi and Froberger recitals – the emotional impact of his work is created by the power of the minimum dose, without a scintilla of excess: inscrutable lines articulated by un-strident instruments, and gently oxygenated phrases. The 'sound' of his harpsichord from the mid-1960s is the famous Skowroneck after Dulcken: has any instrument so effectively banished in our ears the muscular jangling of the metal-framed harpsichords of the Landowska generation? Reincken's 20-minute chorale fantasia on An Wasser Flüssen Babylon is a case where astute pacing and economic registration meet in a patiently and disarmingly open-ended essay. Leonhardt often mysteriously says more by what isn't projected and this pervades the delectable English disc of Dowland, Farnaby et al. By comparison, the French music lacks linear sensuality and sounds under-explored by today's reckoning, though Rameau's Pièces de clavecin en concerts with Brüggen and two Kuijkens remains a classic, for all its calculated prudence.
The consort discs are generally more old-fashioned than the solo keyboard ones – this is, after all, a decade before The Consort of Musicke or Hespèrion XX and two decades before Fretwork – but there are jewels as we gleefully acknowledge Leonhardt's uninhibited discovery at the point of execution. This is where his love of English music comes to the fore. I'd forgotten how naturally joyous is his response to Lawes's mesmerising invention (as one experiences with Harnoncourt's Purcell Fantazias (Archiv) of the same period), albeit excessively pointed in a courtly fashion better reserved for Telemann. Examples from the miscellaneous collections of the central European figures of Schmelzer, Biber and Muffat benefit from the touchingly rapt violin-playing of Marie Leonhardt, and if there is a five-minute track I'd bottle it's Scheidt's Paduan a 4. Leonhardt gravitated towards indigenous forces for Purcell – both the early recording of anthems with King's College, Cambridge, which reveal for the time an unusual ear for suppleness, and a veritably perky 1991 disc of 'Odes for Queen Mary' with the Orchestra of the Age of Enlightenment.
Leonhardt's solo Bach is peppered throughout his many associations with recording companies, of which Das Alte Werk's contribution can hold its own. The Goldberg Variations is one of three recordings made, though in all of them there is an underlying severity that is only partially offset by his time-honoured spurning of repeats – an issue which, in the account of the Partitas here, led Nicholas Anderson to conclude (6/88) that 'the feeling of being short-changed is strong' and all the more so because of 'the arresting artistry'. The English Suites offer greater conviction overall and a kind of rhythmic freedom that started to appear in Leonhardt's playing with more regularity from the mid-1980s. The nobility of the Sarabandes is tantalisingly fleeting without repeats, but the F major is privileged and the whole suite makes for truly compulsive listening: this is Bach-playing as great as you'll hear, as is a remarkable disc of transcriptions of two of the Solo Violin Sonatas.
Intriguing though the six Sonatas for violin and harpsichord are with Lars Frydén – not least for the violinist's open-hearted expression (of a kind that Eduard Melkus could not quite summon in his slightly later set on Archiv) – Leonhardt's contented readings of the harpsichord concertos are the greatest joys here. When one recalls the furrowed brow of Karl Richter's collection from a decade later, these bring out the geniality that became a chamber template for future generations. The single disc of double concertos with Bob van Asperen from 1993 is a relatively geometric and stolid affair.
Not all Leonhardt's Das Alte Werk recordings appear. Judicious decisions were made on some collaborations, especially those showing their age beyond redemption. There is, of course, his significant contribution to the first complete Bach cantatas project, shared with Harnoncourt, of which only a selection is included (a reissue of all of them would constitute a further 25-odd CDs). Leonhardt's legacy in this area remains a critical conundrum. Compared to his fellow director, his softer-hued performances are less flamboyant or consistent, although that may have a good deal to do with the allocation of cantatas. Despite the claims of Naulleau in the note, the Trauer Ode (Cantata No 198) is not as 'unforgettable' as Jürgen Jürgens's vastly superior reading from 20 years earlier. Cantatas Nos 8 and 106 are, though, magical testaments to Leonhardt's finest work in that groundbreaking series.
A famous student, Ton Koopman, wrote: 'It is not difficult to reach the top of one's profession. To stay there, though, is. And staying there for as long as Leonhardt has is a rare achievement.' This box gives us more than a glimpse of the profound mastery of this assured and quiet guru, his values and his unquestioned and indomitable artistic integrity.
---
This review originally appeared in the April 2022 issue of Gramophone magazine. Never miss an issue – subscribe today