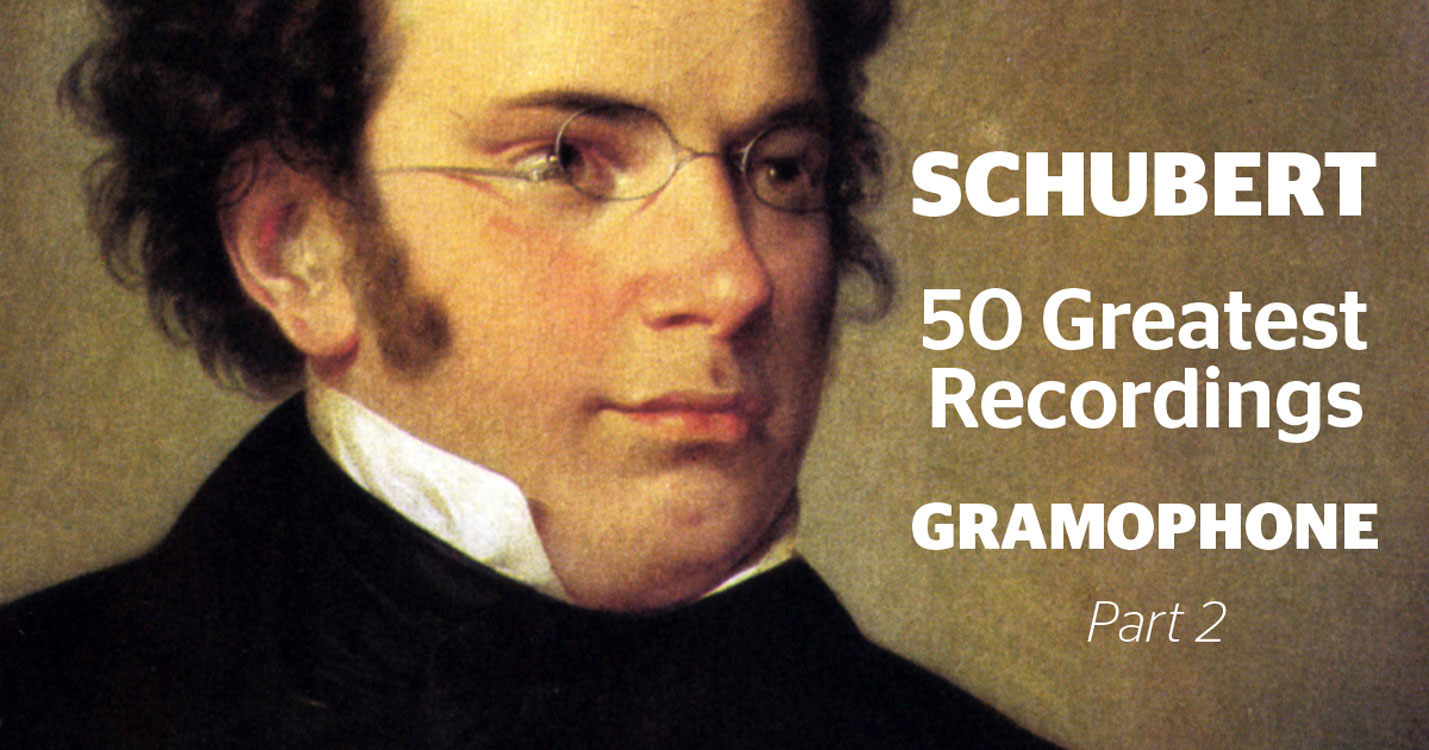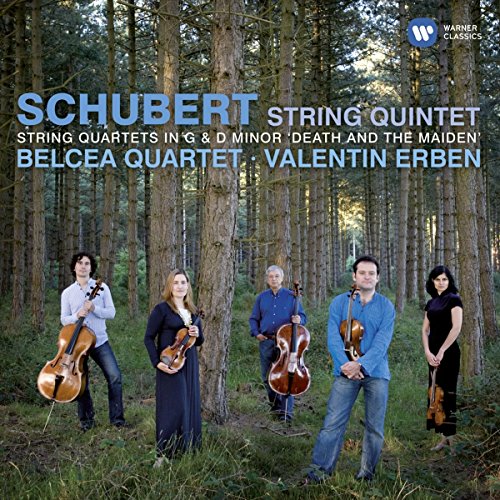 String Quartets – No 14, 'Death and the Maiden'; No 15. String Quintet
Belcea Quartet with Valentin Erben vc
(Warner Classics)
The traditionally ceremonial key of C major takes on a different hue in Schubert's Quintet. Its demands, ranging from the pensive to the passionate, don't ruffle the Belcea Quartet and Valentin Erben. Take it for granted that the playing is on the loftiest level, ensemble always transparently clean; and the ability to think, listen and prepare as a coordinated team results in an extraordinarily cogent performance, sure in its grasp of phraseology, structure and dynamics.
Schubert spatters the music, virtually all his music, with filigree sounds, p to ppp, throwing in sudden changes of f to p from one note to another. Such details are always obeyed. Nothing is generalised, as can be heard at the last close of the slow movement, where absolute mastery over hushed tone, diaphanous texture and instrumental balance produces an awed stillness of time-stopping beauty. Here is technique fully subservient to emotional force not only in this movement, with its charged F minor middle section, but throughout the whole work.
Throughout the other works too. The Belcea's response to Schubert's kaleidoscopic moods, from anguished tempestuousness to poetic felicity, centres round their superfine sensitivity to all his markings. The very wide arc through which their softest dynamic layer swings across to its loudest is a critical factor in recreating the dramatic impact of D810 and D887, where the depiction of raw nerve ends and explosions of wrath also incur the most daunting challenges to performers. The Belceas don't flinch from any of them. Nor do they slacken the tension inherent in the lines. Yet they punctuate the music with a yielding freedom of expression that allows phases to breathe; and Schubert's last quartet, in scope probably his greatest and most disquieting, ends in an Allegro assai finale where the Belceas underline its message of discomfiture in a tour de force of icy intensity. Their executive aplomb and penetrating intelligence (both clearly conveyed in the recording) place the interpretation of this work, and indeed the whole set, on a pinnacle.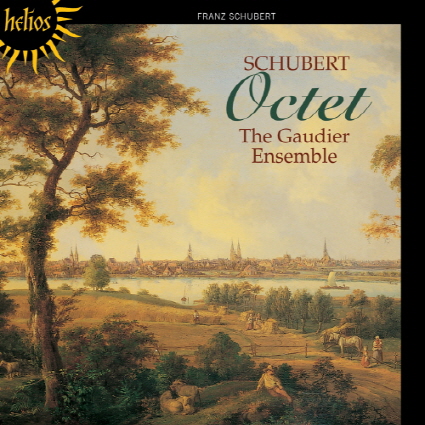 Octet
Gaudier Ensemble
(Hyperion)
An intriguing point arises in the second movement. It's meant to be Adagio but the Gaudier pace it fairly swiftly, offering a reminder that one edition marks it Andante un poco mosso. The Gaudier, though, are anything but perfunctory. Their line is curvaceous and malleable, with a dynamic range that contains many shades of softness. Engineer Tony Faulkner has helped by using the ambience of the Henry Wood Hall to create both a blend and a distinctiveness of timbre. There's a glow to the sound that other versions don't have.
The Gaudier's control over the grading of tonal intensity draws attention to the many passages in this work that are written piano or pianissimo; and where leavened by hairpin accents, stabbing sforzandos and even fortissimos they supply necessary impact without being crude. If there's one movement that encapsulates all that's striking about this performance, then it's the fourth – an Andante with seven variations. Here's an example of how these musicians balance themselves, and how they've thought about the different facets of the music. Were he alive today, this recording might even persuade Schubert scholar Maurice JE Brown to change his mind about the seventh variation, which he described as 'a distasteful episode'.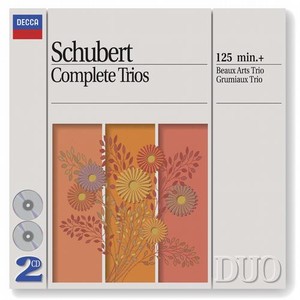 Complete Trios
Beaux Arts Trio; Grumiaux Trio
(Philips Duo) Recorded 1966-69
These performances are polished, yet the many solo contributions from each of the players emerge with a strong personality. The Beaux Arts cellist brings lovely phrasing and a true simplicity of line, so right for Schubert – memorably in the lovely slow movement melody of the Trio No 2 in E flat. In addition to the great piano trios
(B flat, D898, and E flat, D929), the set includes the extremely personable, very early Sonata in B flat, D28, where the lyrical line already has the unmistakable character of its young composer. Also included is the Notturno, D897, a raptly emotive short piece played here with a remarkable depth of feeling that recalls the gentle intensity of the glorious slow movement of the String Quintet. The recording is naturally balanced, although a little dry in the treble. Of the two rarer string trios, also early works, the four-movement Trio, D581, is totally infectious, with that quality of innocence that makes Schubert's music stand apart. Such persuasive advocacy and vivid recording can't fail to give the listener great pleasure.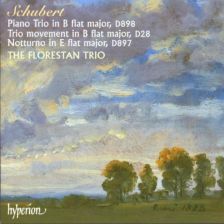 Piano Trio in E flat, D929
Florestan Trio
(Hyperion)
This profound, yet still often light-hearted, E flat Trio was written in the same month (November 1827) that Schubert completed Winterreise. We are instantly reminded of this in the Florestan's eloquent and aptly paced account of the C minor Andante con moto, with what Richard Wigmore describes as its 'stoical trudging gait'. Its essential melancholy is gently caught, first by the cellist, Richard Lester, and then equally touchingly by the pianist, Susan Tomes. The dramatically rhythmic opening of the first movement could almost be by Beet-hoven but once again these players show themselves to be completely within the Schubertian sensibility and catch perfectly the atmosphere of the more important lyrical motif, first heard on the cello (in bars 15 and 16), which is to dominate the movement alongside the engaging repeated-note figure (so delicately articulated by the piano).
They set a winningly jaunty mood for the finale, which is maintained whenever the main theme reappears, even though, as always with late Schubert, much happens to vary the music's mood and atmosphere. Another superb performance then from the Florestans, penetrating, yet full of spirited spontaneity, and in spite of the moments of sadness, much Schubertian bonhomie. The recording is completely lifelike and very well balanced.
Arpeggione Sonata
Steven Isserlis vc Dénes Várjon pf
(Hyperion)
Their Schubert Arpeggione is thoughtful and full of details that so often pass by unnoticed. Isserlis talks in the notes of the work's 'immense, if understated, sadness' and that is beautifully brought to life here, from the aching introduction onwards. The cellist and pianist of Trio Dali impressed me in this work a while back, similarly yearning yet also capturing the sonata's moments of geniality. The slow movement on this new account perfectly balances rapture, simplicity and beauty, the dynamic shadings used to potent effect. The finale, too, is not simply the consoling affair it can be, but full of poignant asides.
As a bonus we get two song transcriptions in Isserlis's own arrangements; Chopin's Op 74 No 13 conjures a mood of great tragedy within its brief span, while Schubert's 'Nacht und Träume' has a beseeching quality that is simply irresistible. Hyperion's engineers have given the two players a fine recording, detailed and immediate.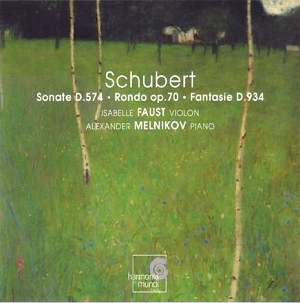 Violin Sonata in A. Fantasie in C. Rondo brillant in B minor
Isabelle Faust vn Alexander Melnikov pf
(Harmonia Mundi)
In nearly every respect this is outstanding. The Rondo brillant and the Fantasie, both written for the virtuoso duo of Karl von Bocklet and Josef Slawik, can sound as if Schubert were striving for a brilliant, flashy style, foreign to his nature. Both are in places uncomfortable to play (when first published, the Fantasie's violin part was simplified), but you would never guess this from Faust's and Melnikov's performance; they both nonchalantly toss off any problem passages as though child's play.
The Fantasie's finale and the Rondo brillant are irresistibly lively and spirited, and this duo's technical finesse extends to more poetic episodes – Melnikov's tremolo at the start of the Fantasieshimmers delicately, while the filigree passagework in the last of the variations that form the Fantasie's centrepiece have a delightful poise and sense of ease.
The Sonata's more intimate style is captured just as convincingly; in all three performances Faust and Melnikov observe Schubert's often very detailed, careful expression marks, not as a matter of duty but as a stimulus to the imagination, as a way of entering more deeply into the music.
The one slight reservation concerns Isabelle Faust's manner of expression. She makes the most of any passionate phrases and is equally convincing at cool, mysterious or dreamlike moments. But the lyrical phrases in the Rondo's introduction surely demand a more heartfelt utterance. In the Sonata, too, there are places where one longs for more warmth. This quibble aside, it's a lovely disc, one to listen to over and over again.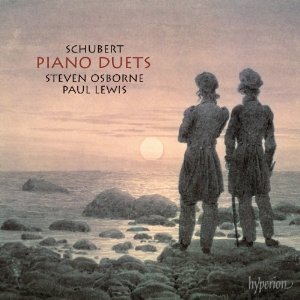 Piano Duets
Paul Lewis, Steven Osborne pf
(Hyperion)
Schubert, Hyperion's high production standards, two star pianists, Potton Hall for the venue, Simon Eadon and Andrew Keener at the desk: it's a line-up that on paper, at least, makes this release self-recommending. Listening to the result proves it to be so.
Though Paul Lewis and Steven Osborne may not immediately appear stylistically empathetic artists, let us not to the marriage of true minds admit impediments. In this repertoire they are as one, touch and tone indistinguishable from one another, playing with a delicious fluency and obvious affection. They open with the Allegro in A minor in a finely graded and characterised reading. To conclude, there is the great F minor Fantasie in which the incomparable opening is lent a hint of optimism, even jauntiness, before the subsequent journey to a pathetic conclusion.
The one complaint is that the central part of this generous programme is a sequence in similar tempi and dynamics, pace the plaintive theme of the Andantino varié, a work rarely played more disarmingly than here. There is rather too much evenly paced quaver passagework at mezzo-forte (even in the little E minor Fugue) for rather too long a stretch. But no – by any standards – this is a Schubert disc to return to and live with.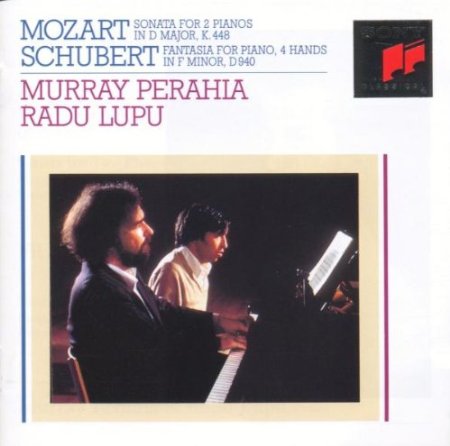 Fantasie in F minor for piano duet, D940
Murray Perahia, Radu Lupu pf
(Sony)
How lucky we are that the two greatest pianists of their generation, Murray Perahia and Radu Lupu, are firm friends and that they have collaborated in recording two pieces that are arguably the most successful examples of their respective genres (the Schubert is for piano duet; the Mozart for two pianos). Whether it is in the perfectly crafted busy activity of the Allegro con spirito first movement of the Mozart or the introspective and soulful depth of the Schubert, the players find a unanimity of vision. One is not so much conscious of dialogue-like interplay, but more of them blending to play as one instrument.
The fine CBS recording has entirely captured the subtle inflections of detail, especially in the artists' irreproachable balance. Taken from a live performance at The Maltings, matters of ensemble, which usually defeat the Mozart Sonata, are judged to perfection. After the double bar of the slow movement Lupu and Perahia become lost in each other's thoughts and the effect is overwhelmingly beautiful.
I hardly dare to quibble about a point, but I feel the Largo section in the Schubert is a trifle slow; what works in live performance does not necessarily sound convincing on record. But it is wonderful to hear both the primo and the secondo parts shaped with such care. The fugato and development sections are neither hard-driven nor thick-textured, though clarity is never out of balance with artistic inspiration.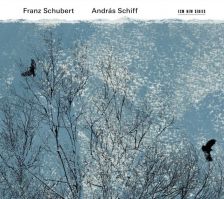 Piano Sontas – Nos 18 and 21. Four Impromptus
Sir András Schiff pf
(ECM New Series)
This is something special and I urge everyone interested in the discography of Schubert's piano music to hear it. Unsure about the old instrument? Could it really be adequate to encompass the sonorities and range of expression in this wide selection of works, including two of Schubert's greatest sonatas? I would say, do not hold back.
Schiff himself says he was a slow convert, from the times some 30 years ago when people took up embattled positions about 'authenticity', for and against, and arrogance and dogma prevailed. 'Are you one of us?' as Mrs Thatcher might have enquired. Schiff, on the outside looking in, saw that many of the instruments then were not in prime condition and he kept a beady eye too on the practitioners, who were often not awfully good.
But curiosity kept him interested and the joy he has always taken in playing on wonderful instruments, whatever their provenance and pedigree, with each of them individual in character, sustained him. He believes, I am sure, that there is the closest connection between an instrument and the music written for it; and while he does not deny himself the pleasure of playing Schubert on the modern piano, he counts it as important to retain the illumination and inspiration that are to be gained from the Viennese fortepiano of Schubert's day.
There were more than a hundred makers in the city and the instrument here, from around 1820, is by Franz Brodmann, brother of the better known Joseph whose apprentice Ignaz Bösendorfer took over the firm in 1828. It came into the possession of the Austro-Hungarian imperial family, and the last Austrian emperor and Hungarian king took it with him when he was exiled to Switzerland after the First World War. Its restoration in 1965 was carefully done and András Schiff acquired it in 2010; since then its home has been the Beethoven Haus in Bonn, on loan, where this fine recording was made a year ago. Whenever he plays Schubert, he says, its sweet tone and its sound in a small hall will always remain in the back of his mind.
Its basic speaking tone is piano and of course it cannot match a modern instrument in strength and brilliance. Yet its dynamic range is wide and when the 'moderator' pedal is in action – there are four pedals in all – the softest ppp passages, which are not rare in Schubert, can be realised as a nuance distinct from the pianissimos produced by the soft pedal. In the other direction it is capable of a degree beyond fortissimo as well, and at all dynamic levels the sound carries, with a tender mellowness of timbre as the norm. Concert-goers found that, with a master pianist, it easily inhabited the space of the Wigmore Hall, where Schiff gave acclaimed recitals on it at the beginning of this year. If you're quick you may be able to catch him in Oxford in August.
As we heard in his earlier recording for ECM of the Beethoven Diabelli Variations and the last set of Bagatelles (12/13), this Brodmann is no shrinking violet. It encompasses Schubert's mighty climaxes and dramatic eruptions as well as those passages of inwardness and quietude when this composer touches us 'like nobody else'. The point to be stressed is that nothing is lacking: instrument and music are one, ideally matched, convincing us that the one couldn't have been written the way it is without the other. Try the exquisite Allegretto in C minor, D915, once memorably recorded by Schnabel, for a vivid sample of the world of sound that the Brodmann opens up (disc 2, tr 1); or the first-movement exposition of the B flat major Sonata, D960, for a picture of how it matches the ambition of Schubert's writing on the broadest scale (disc 2, tr 6).
Let us not forget the messenger! I have long counted András Schiff as one of those artists able to surprise as well as delight – only the best do that. In his favoured repertories of Bach, Mozart, Beethoven and Schubert (and his Haydn, Schumann and Bartók must not be overlooked), he has shown a continual deepening of response together with many new insights, and he has kept his music-making fresh. What we have here, which is hugely welcome, has come about through work done following a realisation that his former knowledge of historical keyboard instruments had been perfunctory. I cannot think of anyone of his calibre who has mastered the fortepiano as well as the modern piano and shown such distinction on both. In Schubert he has a claim to be considered sovereign among today's players, carrying forward the reading and interpretation of him into areas that others have not fully explored. I would not be without the recent achievements of Mitsuko Uchida, Imogen Cooper, Paul Lewis and others; nor of course of Alfred Brendel. Schiff is, perhaps, Brendel's successor.
I like above all the way he conveys Schubert's wonderful instinct for the sound of the instrument. This side of the composer has not perhaps been celebrated as well as it might. These days we do better at understanding how dramatic the sonatas are and the part that dark forces play in them. Certainly we underestimate Schubert if we regard him as a permanent lyricist. And I don't believe his sonatas are bounded by the poetic melancholy and air of resignation that some players give us to excess. It's astounding that he developed a range of piano sound in the way he did, given that he was not a virtuoso player and didn't even own an instrument for periods of his life. This was born, surely, out of deep love for the piano of his time such as this lovely example, with its transparency as well as fullness of sound, the distinct characters of its registers – treble, middle and bass, not homogenised – and its capacity to place the elements of melody and harmony in new relationships of colour and balance. What a lot he added to piano writing. Savour and enjoy it here.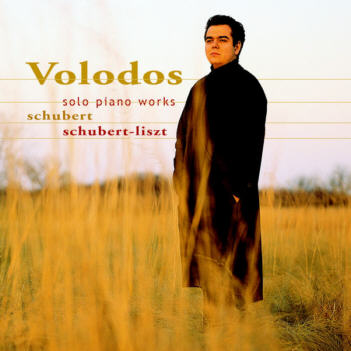 Piano Sonatas – E, D157; G, D894. Die schöne Müllerin – Der Müller und der Bach (arr Liszt, S565)
Arcadi Volodos pf
(Sony)
Here is irrefutable proof of Arcadi Volodos's genius and versatility. Naturally, lovers of long-cherished recordings by Schubertians of the stature of Schnabel, Kempff, Pollini and Brendel will hesitate, equating Volodos's sheen and perfection with an external glory rather than an interior poetic truth. But such witnesses for the prosecution will find themselves silenced by an empathy with Schubert's spirit so total that it would be extraordinary in a pianist of any age, let alone one still in his twenties.
The jubilant burst of scales and arpeggios that launches the E major Sonata, D157, is given with a deftness and unforced eloquence that are pure Volodos, while the Andante's sighing chromaticism and surprise modulations have a tonal translucence that will make lesser mortals weep with envy. But it's in the G major Sonata, D894, that epitome of Schubertian lyricism, that Volodos erases all possible doubts. His opening has an unforgettable stillness and mystery, his velvet-tipped sonority and seamless legato a reminder that Schubert's vocal and instrumental inspiration were for the most part one and the same. For Volodos and for his listeners this is a true dance of the gods. The recordings are as flawless as the playing.