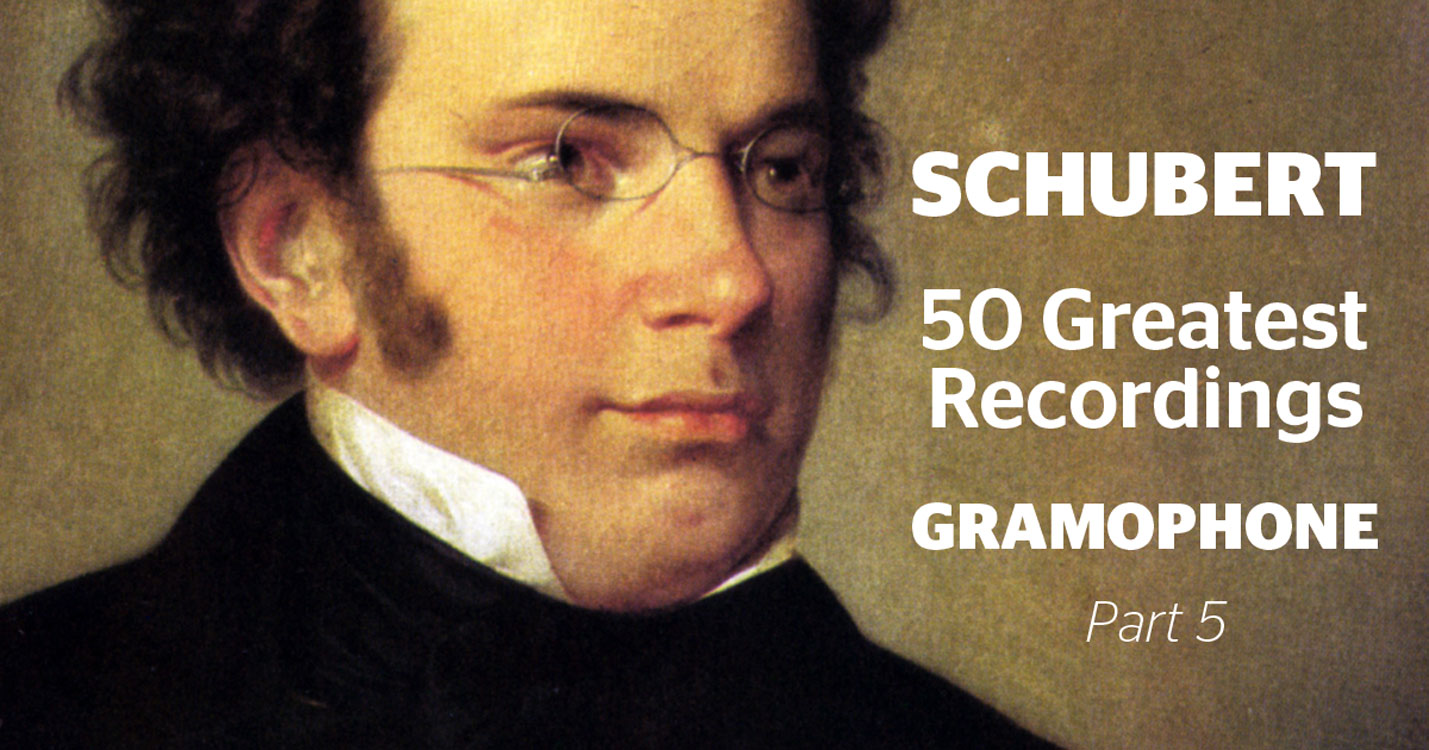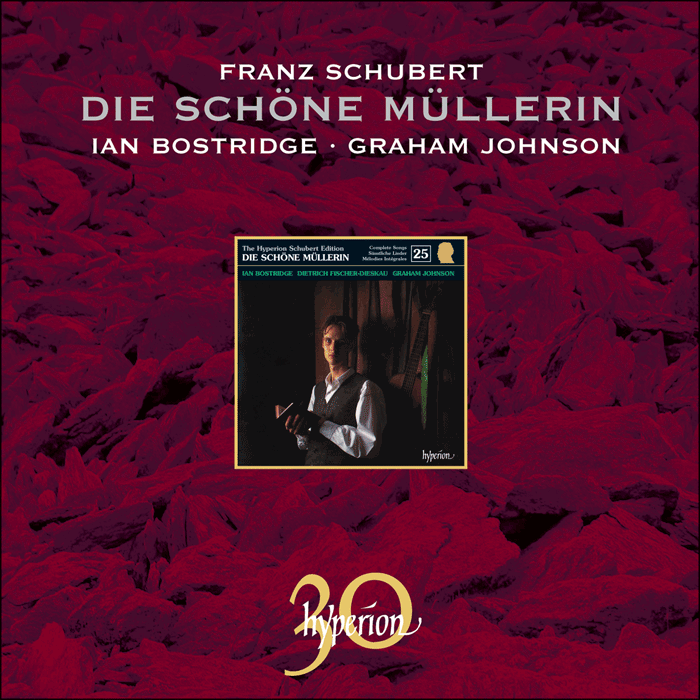 Die schöne Müllerin
Ian Bostridge ten Graham Johnson pf with Dietrich Fischer-Dieskau narr
(Hyperion)
The 20 songs of Die schöne Müllerin portray a Wordsworthian world of heightened emotion in the pantheistic riverside setting of the miller. The poet, Wilhelm Müller, tells of solitary longings, jealousies, fears and hopes as the river rushes by, driving the mill-wheel and refreshing the natural world. Ian Bostridge and Graham Johnson go to the heart of the matter, the young tenor in his aching tones and naturally affecting interpretation, the pianist in his perceptive, wholly apposite playing. The sum of their joint efforts is a deeply satisfying experience.
Bostridge has the right timbre for the protagonist and a straightforward approach, with an instinctive rightness of phrasing. His peculiarly beseeching voice enshrines the vulnerability, tender feeling and obsessive love of the youthful miller, projecting in turn the young lover's thwarted passions, self-delusions and, finally, inner tragedy. Nowhere does he stretch beyond the bounds of the possible, everything expressed in eager then doleful tones. Johnson suggests that 'Ungeduld' mustn't be 'masterful and insistent' or the youth would have won the girl, so that even in this superficially buoyant song the sense of a sensitive, sad, introverted youth is maintained. The daydreaming strophic songs have the smiling, innocent, intimate sound that suits them to perfection, the angry ones the touch of stronger metal that Bostridge can now add to his silver, the tragic ones, before the neutral 'Baches Wiegenlied', an inner intensity that rends the heart as it should. An occasional moment of faulty German accenting matters not at all when the sense of every word is perceived.
As a bonus we have here a recitation of the Prologue and Epilogue and of the Müller poems not set by Schubert: Fischer-Dieskau graces it with his speaking voice. The ideal Hyperion recording catches everything in very present terms. In all musical matters, everything Johnson writes only enhances one's enjoyment, if that's the right word, of a soul-searching interpretation.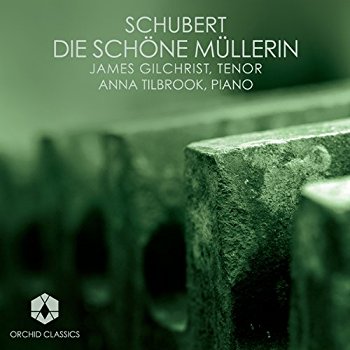 Die schöne Müllerin
James Gilchrist ten Anna Tilbrook pf
(Orchid)
James Gilchrist's Wanderer has been around a bit. Not enough to make him weary or wary, far from it – a first-kindled enthusiasm only burns itself out a little in the fourth song, 'Danksagung an den Bach' – but in place of youthful impetuosity is the anxiety of a man to seize what he can while he can. His jealousy – 'Eifersucht und Stolz' – gains thereby a specially manic edge, and leaves him almost shouting at the end of 'Die Böse Farbe' before he takes his leave of love and life in both sorrow and anger over the ever-more-painful course of the last triptych.
If that brief account, and the timings, often very quick or slow, suggest exaggeration or melodrama, then they mislead: one was never aware of a word being presented for particular attention, and in some songs Gilchrist can barely get the words out in time, but line and sense never falter.
How aptly Anna Tilbrook's pedalling poses the question to the brook at the beginning of 'Die Neugierige', and how graciously Gilchrist waits until the last verse before slowing down to ask himself. That his mix of chest and head registers tends more towards the latter than is usual may disconcert some but it allows for the most intimate and touching of quarter-voices at the end of his confession to the flowers, 'Des Müllers Blumen', and brings uneasy rest indeed to the final lullaby. Gilchrist and Tilbrook offer one of the very finest of modern versions.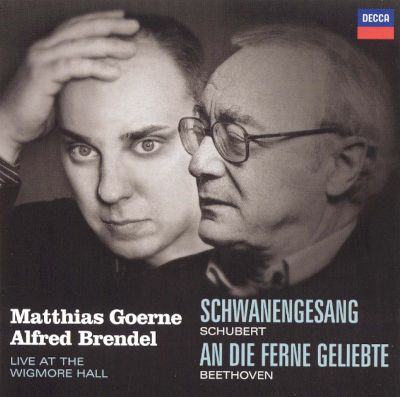 Schwanengesang
Matthias Goerne bar Alfred Brendel pf
(Decca) Recorded live 2003
Schwanengesang divides clearly into eight Rellstab and six Heine settings; 'Herbst' is here added to the Rellstab group, while the Seidl 'Die Taubenpost' is made into the encore of a wonderful recital.
Goerne and Brendel form one of the great Lieder partnerships of the day. The sympathy between them goes beyond skilful ensemble and shared enjoyment of the wealth of illustration in Schubert, into a deep understanding of the poetry as he composed it. It's no surprise that they should produce powerful performances of the most inward-looking Heine songs – the suffering power of 'Der Atlas', the misery from which the harmony allows no escape in 'Die Stadt', the terror of 'Der Doppelgänger'. But the lighter ones are scarcely less affecting. And their mutual understanding completely solves such a difficult song as 'Kriegers Ahnung'.
The Beethoven cycle moves in a steady progress not into the usual triumphant assertion but into a warmth of belief that song may truly join the parted lovers. This is music-making of genius.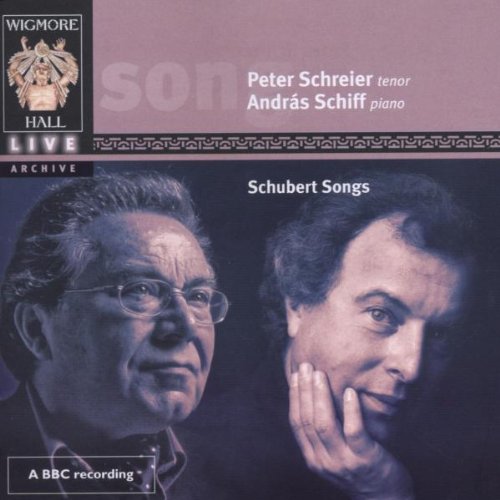 Schwanengesang, etc
Peter Schreier ten András Schiff pf
(Wigmore Hall Live) Recorded live 1991
The 1991 recital by Peter Schreier and András Schiff is highly desirable, though the sound is not quite on the same level. Schreier was never the most honeyed of tenors but in the lighter songs of Schwanengesang he compensates for a touch of reediness and a tendency to harden on high notes with the supple grace of his phrasing and his ultra-keen response to the text. 'Liebes-botschaft' is eager and volatile, enhanced by Schiff's wonderfully limpid touch and his care to make the piano's singing left hand match the voice in eloquence (Schubert's original, high, key an advantage, here and elsewhere).
On the downside, 'Aufenthalt' is surely too slow and life-weary, weighed down by recurrent submissive rallentandos. But 'Das Fischermädchen' has a lilting tenderness, Schiff again singing in dulcet partnership with the voice, while in the remaining Heine songs singer and pianist unflinchingly probe the extremes of anguish and bitterness. 'Die Stadt'(the swirling, impressionistic arpeggios eerily insubstantial from Schiff) and 'Der Doppelgänger' are as desolate and disturbing as any performances on disc, the suggestion of a whine, even a sneer, in Schreier's timbre extraordinarily apt here.
After this we get a sharply characterised Goethe group that encompasses the bleakness of the three Harper's Songs (done with characteristic intense immediacy) and ends with an impulsive, dancing 'Der Musensohn' that rightly brings the house down.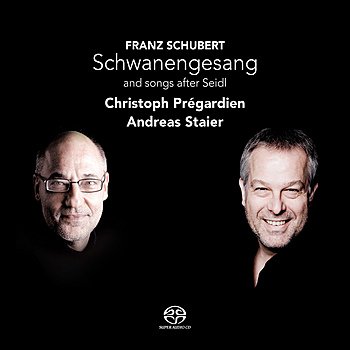 Schwanengesang, etc
Christoph Prégardien ten Andreas Staier fp
(Challenge Classics)
Planning a CD programme around Schwanengesang is always tricky. The vastly experienced duo of Christoph Prégardien and Andreas Staier here come up with a solution as satisfying as any. They preface the quasi-cycle with the bleak, windswept Rellstab setting 'Herbst', which Schubert unaccountably omitted from the Rellstab sequence that opens Schwanengesang. Then, at the end, they follow 'Die Taubenpost' – always in danger of jarring after the Weltschmerz of the Heine group – with other, complementary, Seidl settings, ending with the blissful nocturnal homecoming of 'Im Freien'.
Prégardien's dulcet tenor, subtly and gracefully deployed, is heard to advantage both in these Seidl songs and in Schwanengesang. Where so many singers seem to 'think' the whole collection in the minor key, as it were, Prégardien is eagerly expectant in 'Liebesbotschaft' and sings a smiling, seductive 'Fischermädchen'. His 'Ständchen', taken at an easy, mobile tempo, is likewise all caressing charm, while 'Abschied' is blithely insouciant, the wistfulness of the final verse lightly touched – and how well the delicate, slightly veiled sonorities of Staier's fortepiano complement the voice, here and elsewhere.
In the anguished Heine songs Prégardien's less extreme style than, say, Peter Schreier, is scarcely less moving, whether in the rhythmically incisive 'Der Atlas' (where the fortepiano's percussive resonance brings uncommon clarity to Schubert's quasi-orchestral textures), or an 'Am Meer' of aching tenderness, the final stab of pain all the more affecting for being understated. 'Die Stadt', taken at an unusually urgent tempo, emerges in a single grim sweep, with the fortepiano's sustaining pedal creating a mysterious haze impossible to replicate on a modern grand. Prégardien occasionally adds discreet, graceful embellishments to his lines, especially apt in 'Ständchen'. While it is absurd to speak of an outright 'winner' in such a crowded field, Prégardien and the ever-illuminating Staier join the roster of indispensable Schwanengesang recordings.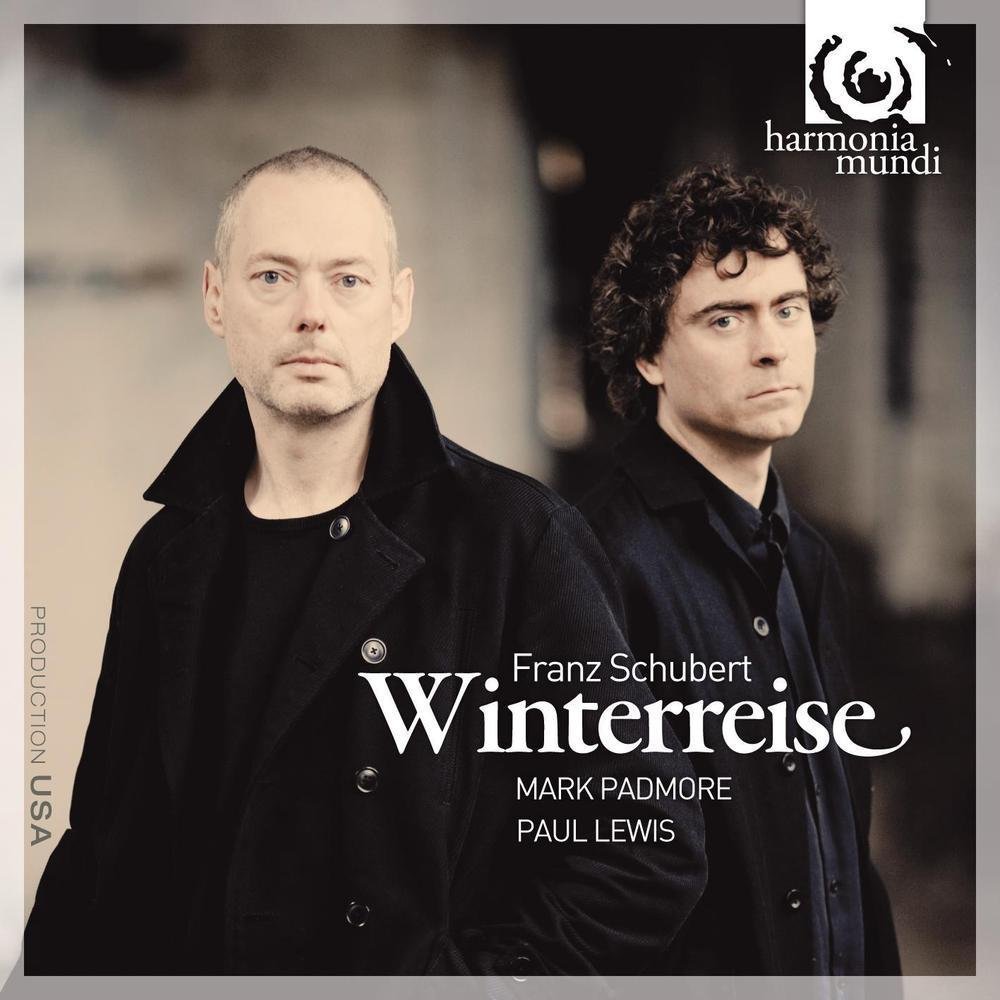 Winterreise
Mark Padmore ten Paul Lewis pf
(Harmonia Mundi)
Ah, this journey! How many have made it, sincerely and imaginatively, two setting out as nearly as possible as one! So many on records too, following the elusive track as with torchlight concentrated upon it. Yet, of all, it's hard to think of one that leads more faithfully to the cold comfort of its end. And when we get there in this performance, what an end it is!
The journey begins with ever such a slight whine high in the voice, as with a calm acceptance of pain. The piano abstains from jabbing sforzandos to underline what the chords make plain enough, instead insisting calmly on its left-hand legato. The melting major-key modulation is all affection: no hint of bitterness in the sentiment that his passing footsteps should not disturb the faithless beloved's sleep. But outside in the open, stillness and turbulence alternate like the moods of the weather-vane. And so, throughout much of the trek, the self-confiding of the loner holds in check the utterance of emotion as the icy surface of the river conceals the running water beneath. Even so the pain will out, as it does in the last phrase, 'ihr Bild dahin', of 'Erstarrung'.
On we go, lulled and tormented by the magic music-box of 'Frühlingstraum', till the tragic chord before 'so elend nicht' in 'Einsamkeit' brings a dreadful reality into focus. The deceptive sweetness of 'Die Krähe', the giddy disorientation of 'Letzte Hoffnung', the subdued feverish excitements of 'Täuschung' find an almost holy stability in 'Das Wirtshaus', but still the external world exists, felt as almost an intrusion in 'Mut'. And soon we meet the organ-grinder – and his secrets must on no account be revealed by reviewer or arts-gossip. The listener must wait, out of respect to this marvellous partnership of Mark Padmore and Paul Lewis, until time can be taken for it, alone and uninterrupted, to accompany them on the journey through to its unearthly end.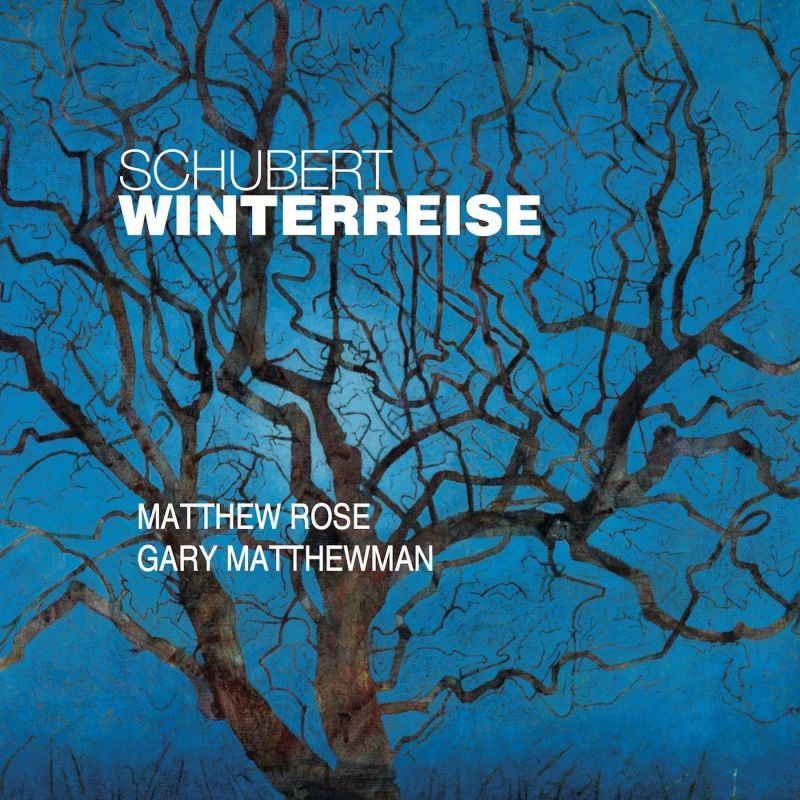 Winterreise
Matthew Rose bass Gary Matthewman pf
(Stone Records)
My spontaneous reaction after hearing Matthew Rose's trudge across Schubert's snowbound landscape was 'He'll survive'. From the flickering will-o'-the-wisp of 'Irrlicht' onwards, most singers convey varying degrees of mental unbalance. Rose's voluminous teak bass, ideal for operatic kings, fathers and villains (not least his magnificent Claggart in ENO's Billy Budd), does not naturally encompass vulnerability. In the lavishly produced booklet (which includes a penetrating essay by Susan Youens, wintry paintings by Victoria Crowe and delightful drawings of the recording sessions by Tessa Henderson), he refers to Winterreise, in contrast to Die schöne Müllerin, as 'an old man's cycle. It has the universality too, but the depth of voice suits it.' Rose's certainly does. Although his German vowels could be tighter ('Der' tends to sound like the English 'dare'), his performance often recalls the Wotanesque stoicism distilled by that great Wagnerian Hans Hotter, in his EMI recording with Gerald Moore.
Over the years a mere handful of true basses, most famously Martti Talvela and Kurt Moll, have recorded Winterreise, none with complete success. For one thing, managing a deep, bulky voice tends to entail slow speeds, with a loss of Schubert's gehende Bewegung, the walking motion crucial to several of the songs. Not here. Like Hotter before him, Rose can effectively soften and lighten his timbre, while he and his pianist partner Gary Matthewman choose their tempi discerningly. Only 'Die Krähe', the traveller's strange, hallucinatory vision of an encircling crow, is controversially slow. But singer and pianist vindicate their choice with a performance of mesmeric intensity, the voice spinning a trance-like line against the keyboard's eerily limpid cantabile.
Whatever their chosen keys, parts of Winterreise lie uncomfortably low for many tenors and baritones. Rose can maintain quality and sonority over a wide compass. The rounded depth of his low register, allied to seemingly inexhaustible reserves of breath, are priceless assets in, say, the sombrely confiding 'Ei Tränen, meine Tränen' in 'Gefrorne Tränen', in the grand, arching lines of 'Wasserflut', and in 'Der greise Kopf', sung with Lear-like grizzled majesty. With no false histrionics, Rose makes the traveller's moment of realisation 'Wie weit noch bist zur Bahre' – 'How far it is still to the grave' – as bleakly terrifying as I have heard.
Rose's jilted wanderer can encompass a touching pathos, as at the yearning close of 'Frühlingstraum' or the heartbreaking major-key section of 'Der Wegweiser' ('Habe ja doch nichts begangen'), where he reflects with bemusement on his undeserved plight. In 'Im Dorfe' he contemplates the sleeping villagers with rueful tenderness ('Je nun, sie haben ihr Teil genossen'). More typically, Rose veers between sombre melancholy, defiant bitterness and a sheer determination to keep going. 'The central figure is completely broken,' he observes in the booklet. Yet nowhere is there a whiff of self-pity. In the third verse of the opening 'Gute Nacht' Rose erupts in anger, spitting out consonants vehemently before sinking back into sad reverie. The final verse, usually a cue for an elegiac pianissimo, is more sarcastic than nostalgic, the final 'An dich hab' ich gedacht' sung as if through clenched teeth. Similarly, Schubert's magical turn from minor to major in 'Auf dem Flusse', as the wanderer carves the date of their first avowal of love into the ice, provokes a snarl of reproach rather than the aching tenderness suggested by most singers. You can almost see the embittered curl of his upper lip as he speaks of the broken ring entwined around the lovers' names.
The incisive edge on Rose's ample tone is splendidly heard in the desperate, fist-shaking bravado of 'Mut' and 'Der stürmische Morgen'. Elsewhere, too, Rose's wanderer seems to mock the absurdity of his own predicament, as at the final 'Wein' ('weep') of 'Letzte Hoffnung', where other singers, including Fischer-Dieskau, in his various recordings, and Matthias Goerne, with Graham Johnson (Hyperion, 1/98) and Alfred Brendel (Decca, 9/04), find a lamenting quality of tone. At the close of 'Das Wirtshaus', where the exhausted wanderer fails to find the consolation of death, he strikes a note of almost heroic defiance. Even the final 'Der Leiermann' is forthright rather than haunted, ending with a vehement challenge to himself and the hurdy gurdy man. Like Hans Hotter, Rose leaves one with a sense of a vast burden of suffering determinedly endured against appalling odds, of Lear's 'Men must endure their going hence, even as their coming hither. Ripeness is all.'
If both singer and pianist tend to underplay Schubert's frequent accents (say, in the frantic, stumbling 'Rückblick'), Gary Matthewman counters the dangers of downward transposition by ensuring that Schubert's transparent, precisely imagined textures remain clear. Bass-lines are always firmly, eloquently etched, crucial when Schubert often thinks in terms of a dialogue between voice and keyboard bass, as in 'Erstarrung' and the contrapuntally conceived 'Der Wegweiser'. While there are more moving Winterreise recordings, not least from Goerne and Fischer-Dieskau, Rose's deeply felt, impressively sung performance seems to catch, more than most, something of the poet Müller's mordant, mocking irony which Schubert chose to soften and deflect when he set the verses.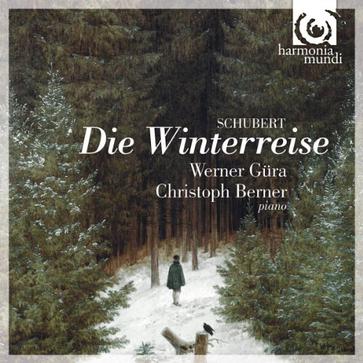 Winterreise
Werner Güra ten Christoph Berner pf
(Harmonia Mundi)
This Winterreise-man is, if not 'mad', then seriously 'disturbed' or unhinged. He is given to secretive, wild-eyed confidings, to sudden changes of mood (singing softly one moment, desperately loud the next). His enunciation may be deadpan, almost expressionless, or it may stab emphatically – and the pianist will do the same. But after the pause before 'Die Post' comes a gradual change: the fever subsides, the voice qualities suggesting a partly self-dramatised wildness are no longer heard, and the desolation of reality becomes a fact to be recognised and accepted. At the point where others grow into madness, Güra's calm is, in this context, still more terrible.
One says 'Güra' but means to include the pianist, Christoph Berner, whose playing is the very enactment of the man, his apprehensions and his setting. Güra himself has probably the most elegantly ingratiating voice of all the present-day Lieder-singing tenors and it has often seemed that he prefers to use it for any purpose rather than elegant ingratiation; but this is certainly a performance to take to heart.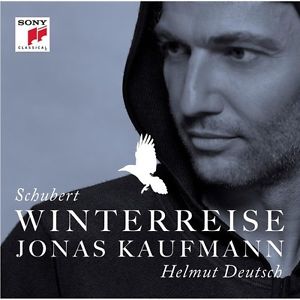 Winterreise
Jonas Kaufmann ten Helmut Deutsch pf
(Sony)
For sheer vocal splendour, Jonas Kaufmann is unrivalled in Winterreise since Jon Vickers, whose controversial 1983 recording is revelatory or grotesque, according to taste. At moments – say, the clinching final phrase of each verse of 'Wasserflut' – Kaufmann unleashes a formidable operatic blade of tone. Yet the dominant impression of this deeply considered Winterreise is of gentle, rueful introspection, momentarily flaring up in embittered protest (forte high notes invariably bring a visceral thrill), then drifting into trance-like resignation.
In the booklet-note – fashioned as a conversation between Kaufmann and pianist Helmut Deutsch – the tenor cites the wanderer's abiding death wish and his incipient insanity. In the closing 'Der Leiermann' (which ends with a sudden wail of anguish), he is 'like a madman talking to the ghost of a dead man.' (Deutsch ventures to differ on this.) On vocal evidence alone, though, he does not stress the disturbing psychopathology of Winterreise as do fellow tenors Peter Schreier and Ian Bostridge. Kaufmann begins 'Gute Nacht' with a chastened delicacy and finds a melting pianissimo, devoid of irony, for the bittersweet final verse. 'Erstarrung', taken quite broadly, in response to Schubert's autograph marking 'Not too quickly', is nostalgically reflective rather than urgently impassioned, rising to despair only at the final climax. Here and elsewhere Deutsch's clear, precise textures, plus the use of Schubert's original high key, brings dividends in the dialogues between voice and piano bass.
From the hallucinatory, half-whispered 'Irrlicht', Kaufmann's wanderer becomes ever more prone to numb reverie. The haunted ppp colour he finds for the close of 'Frühlingstraum' is heart-rending. In 'Im Dorfe' he contemplates the sleeping villagers with tenderness rather than derision, and in 'Im Wirtshaus' suggests a deepening life-weariness, with no hint of defiance in the last line. The final upshot is a profoundly touching winter journey, one that conveys all of the wanderer's pathos, vulnerability and isolation. Schreier's journey across the snowbound landscape is more engulfing, a merciless portrayal of emotional and spiritual disintegration that is only enhanced (in this cycle) by the astringent edge on his tone. But Kaufmann's combination of vocal beauty and verbal sensitivity (his diction always a model), and the fastidiously textured and coloured playing of Helmut Deutsch, make this new recording an important addition to the vast Winterreise discography.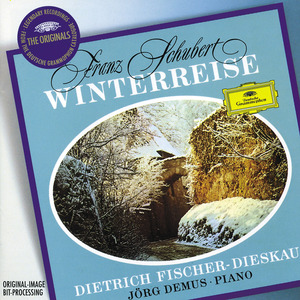 Winterreise
Dietrich Fischer-Dieskau bar Jörg Demus pf
(DG) Recorded 1965
On the verge of his fifth decade, Fischer-Dieskau was in his absolute prime. Listening to his interpretation is like coming home to base after many interesting encounters away from the familiar. Indeed, it's possibly the finest of all in terms of beauty of tone and ease of technique – and how beautiful, how smooth and velvety was the baritone's voice at that time. This is the most interior, unadorned and undemonstrative of his readings, perhaps because Demus, a discerning musician and sure accompanist, is the most reflective of all the singer's many partners in the cycle. Demus never strikes out on his own, is always there, unobtrusively and subtly supportive, with the right colour and phrasing, literally in hand.
Given an intimate, slightly dry recording, finely remastered, the whole effect is of a pair communing with each other and stating the sad, distraught message of Schubert's bleak work in terms of a personal message to the listener in the home. A deeply rewarding performance.