The Gramophone Choice
Macbeth (1847 version)
Peter Glossop (bar) Macbeth Rita Hunter (sop) Lady Macbeth John Tomlinson (bass) Banquo Kenneth Collins (ten) Macduff Richard Greager (ten) Malcolm Christian du Plessis (bass) Doctor Michael George (bass) Servant Roger Heath (bass) Assassin Ludmilla Andrew (mez) Lady-in-Waiting BBC Singers and Concert Orchestra / John Matheson
Opera Rara ORCV301 (132' · DDD) Recorded 1979. Buy from Amazon
This recording started as a project engendered by the Verdi specialist Julian Budden to perform a number of Verdi operas in their original versions. Although Verdi's revisions of his first Shakespearean opera are mostly improvements, several aspects of the original score are worth reviving. Inevitably it's a more consistent whole, since the later amendments are in a changed and improved style. Lady Macbeth's second aria, 'Trionfai', is more basic and showy than its subtle successor, 'La luce langue'. The cabaletta to Macbeth's Act 3 aria is rousing and unusual, and was dropped in favour of another duet for Macbeth and his Lady. The chorus at the start of Act 4, replaced by a more distinctive piece, is in its own right a fine example of Risorgimento ardour, and the final scene, besides having Macbeth's effective aria as he lies mortally wounded, is tauter, if more blatant, than its successor.
What makes this issue most worthwhile, however, is the superb performance. John Matheson directs a vital, finely timed and well-integrated account of the score that catches all its astonishing originality. Rita Hunter is as accomplished and appropriate a Lady Macbeth as any on disc, bar the unique Callas for de Sabata. Peter Glossop's Verdian style is faultless, and his understanding of the part complete. Kenneth Collins delivers 'Ah, la paterno mano' in exemplary voice and style. John Tomlinson, then in pristine voice, is an imposing Banquo. Chorus and orchestra are hard to fault. The recording, slightly bass-heavy, has been transferred at rather a low level, but its balance is as good as you'd expect, given its origins. This is definitely an experience convinced Verdians should not miss.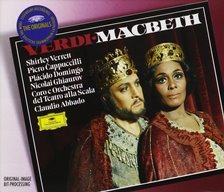 Additional Recommendation
Piero Cappuccilli (bar) Macbeth Shirley Verrett (mez) Lady Macbeth Nicolai Ghiaurov (bass) Banquo Plácido Domingo (ten) Macduff Antonio Savastano (ten) Malcolm Carlo Zardo (bass) Doctor Giovanni Foiani (bass) Servant Sergio Fontana (bass) Herald Alfredo Mariotti (bass) Assassin Stefania Malagú (mez) Lady-in-waiting Chorus and Orchestra of La Scala, Milan / Claudio Abbado
DG 449 732-2GOR2 (154' · ADD · T/t) Recorded 1976. Buy from Amazon
Verdi's lifelong admiration for Shakespeare resulted in only three operas based on his plays. Macbeth, the first, originally written in 1847, was extensively revised in 1865. Without losing the direct force of the original, Verdi added greater depth to his first ideas. Once derided as being un-Shakespearean, it's now recognised as a masterpiece for its psychological penetration as much as for its subtle melodic inspiration.
Abbado captures perfectly the atmosphere of dark deeds and personal ambition leading to tragedy projected by Verdi, and his reading holds the opera's disparate elements in the score under firm control, catching its interior tensions. He's well supported by his Scala forces. Shirley Verrett may not be ideally incisive or Italianate in accent as Lady Macbeth, but she peers into the character's soul most convincingly. As ever, truly inspired by Abbado, Cappuccilli is a suitably daunted and introverted Macbeth, who sings a secure and unwavering legato. Domingo's upright Macduff and Ghiaurov's doom-laden Banquo are both admirable in their respective roles.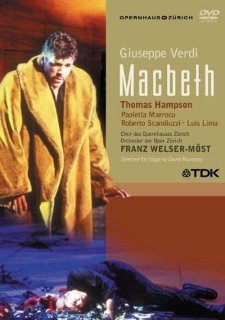 DVD Recommendation
Thomas Hampson (bar) Macbeth Paoletta Marrocu (sop) Lady Macbeth Roberto Scandiuzzi (bass) Banquo Luis Lima (ten) Macduff Miroslav Christoff (ten) Malcolm Mihály Kálmándi (bass) Doctor Liuba Chuchrova (mez) Lady-in-Waiting Zürich Opera House Chorus and Orchestra / Franz Welser-Möst
Stage director David Pountney
Video director Thomas Grimm
TDK Mediactive DVD DV-OPMAC (3h 6' · 16:9 · 2.0, 5.1 & DTS 5.1 · 2). Recorded live 2001. Buy from Amazon
David Pountney, in at least his third attempt at the work, presents the Shakespearean drama in predictably unorthodox manner, irritating in its overuse of distracting symbols, extras and props, but revelatory in its pointed treatment of the principal pair of characters. The production is at its most bizarre in the Witches' scenes, where a pack of maddened women disport themselves in an orgy of man-hating, but even when the effects are at their most outrageous a sense of a guiding hand is there to lend some sort of dramatic cohesion to the whole.
Pountney bases his concept on the erotic relationship, vividly delineated, between Macbeth and his spouse; their sex-dominated marriage is obviously the spur to their overweening ambition, with she – as ever – leading the way. Paoletta Marrocu throws caution to the winds in her energetic, purposeful, fierce attack on Lady Macbeth. From first to last it's a truly stunning performance both histrionically and vocally. Few sopranos, Callas undoubtedly is one, have sung the part so confidently and incisively in a powerful, lean yet strong voice unflinchingly projected. By her side Hampson's haunted Macbeth is a striking portrait of a man pushed to the limits in the cause of getting to the top. His voice may not be truly Italianate in ­timbre, but he uses it here with such intelligence and force that one can overlook the want of a certain bite in his tone.
Welser-Möst presides over everything with an acute ear for the work's tinta and judges his speeds to a nicety, with admirable support from his own house's chorus and orchestra.