Verdi's Rigoletto: which are the finest recordings?
Mark Pullinger
Tuesday, November 23, 2021
Rigoletto announced Verdi's arrival at his mature operatic style and has not fallen from the repertory since its premiere 170 years ago. Mark Pullinger assesses a selection of the available recordings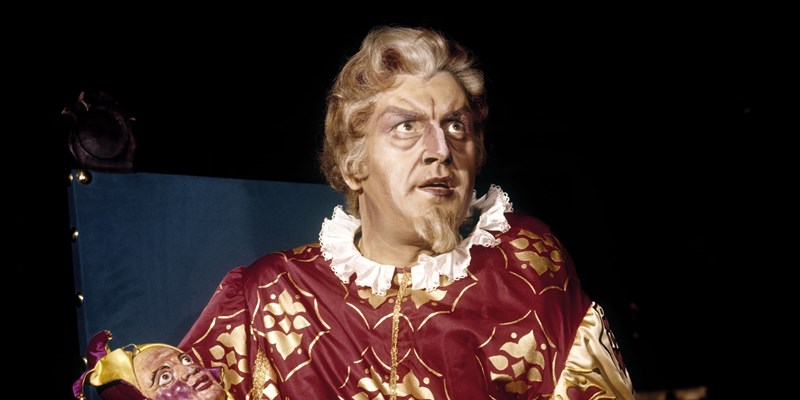 Ettore Bastianini: at the age of 37 his wounded tiger of a jester is full of mockery, bitterness and fury (photo: Teatro alla Scala)

'Le roi s'amuse is a great subject and perhaps the greatest drama of modern times,' wrote Giuseppe Verdi to his librettist Francesco Maria Piave in May 1850, drafting ideas for their new opera for Venice's La Fenice. 'Triboulet is a creation worthy of Shakespeare.'
However, they had enormous trouble getting the subject past the Austrian censors (or 'the police', as Verdi referred to them). This was unsurprising given Victor Hugo's play was banned in Paris the day after its 1832 premiere on the grounds that it depicted Francis I's royal household as a hotbed of debauchery and corruption, the plot turning on a curse, a seduction and an assassination. Verdi dug in his heels. Compromises included downgrading the king to a duke, transferring the action to 16th-century Mantua and changing the title (La maledizione was considered at one point). The jester was renamed Rigoletto, from the French 'rigoler', meaning 'to laugh'.
Hugo's second hunchback (after Quasimodo) was close to Verdi's heart. The censors endeavoured to have his hump removed but the composer resisted, writing: 'I believe that it would be very beautiful to depict this character, externally deformed and ridiculous, and inwardly full of passion and love.' There is certainly something Shakespearean about the jester – a proximity to King Lear as both father and fool.
Rigoletto, packed with now-famous numbers, was a turning point in Verdi's career. He was so certain that the Duke's canzone 'La donna è mobile' would be a hit that the score was rehearsed secretly for fears that it would leak out to the public. He wasn't wrong. Soon after the premiere, gondoliers were singing it all over La Serenissima.
Almost all Verdi's operas from this point onwards are in the standard repertoire but few have been recorded as often as Rigoletto. For this Collection, I listened to 27 audio (mostly studio) recordings and watched a handful of productions on DVD.
Listening criteria
Before the starting pistol fires, it's worth establishing some key moments. The Duke of Mantua gets the score's hit 'La donna è mobile' and the tenor portraying him needs plenty of swagger. He's adulterous, libidinous and lascivious. We hear him making love twice during the opera – once to Gilda, the purest girl in Mantua, once to the harlot Maddalena – and Verdi sets the tenor line in both (the duet 'È il sol dell'anima' and the quartet 'Bella figlia dell'amore') in almost identical style. This Duke has a 'technique', and it works. But he's also an aristocrat. His first aria, 'Questa o quella', is marked con eleganza in the score. The real test for the tenor is 'Parmi veder le lagrime', his single private moment on stage, where he longs for the one girl he believes he's truly capable of loving. It's a difficult aria and needs to be sung stylishly.
The baritone singing Rigoletto has to make an immediate impression as the acid-tongued jester. His monologue 'Pari siamo' is a gift for an actor-singer, as Rigoletto reflects how he is like the assassin Sparafucile – one wounds with his tongue while the other uses a dagger. But the great Act 2 scene, centring on the aria 'Cortigiani, vil razza', is crucial, with its dramatic mood shift from aggressively attacking the courtiers who have abducted Gilda to pleading with them. It needs a powerful baritone with a smooth legato, but also one who pays close attention to text.
Gilda has to sound believably young and innocent. 'Caro nome' needs purity of line and a strong trill. Yet bird-like coloratura is not enough. Gilda grows up very quickly – raped by the Duke, yet willing to sacrifice herself to save his life. The second of her three duets with Rigoletto is the most important, a moment of double revelation, for this is the first time Gilda has seen her father dressed as a jester. She had never known his profession before. As Charles Osborne writes: 'She discovers his shame at the same moment as he discovers hers.'
Early runners and riders
There were a couple of acoustic recordings of passing interest but the first two electrical recordings are worth hearing, both from La Scala (Arkadia). Carlo Sabajno's 1927/28 set (8/28, 6/96) features Luigi Piazza in the title-role and Lina Pagliughi, then only 20 years old, as a convincingly girlish Gilda (more on her later). Lorenzo Molajoli's 1927/30 set (12/30, 10/90) has Riccardo Stracciari, who made his debut while Verdi was still alive, as a fine Rigoletto.
Strangely, there wasn't another studio Rigoletto until 1950. In between, there were notable live recordings from the Metropolitan Opera. Lawrence Tibbett and Lily Pons (Naxos, 1935/39) do little for me (he thunderous, she warbling with little feeling for text), but Cesare Sodero (Sony, 1945; Naxos, 11/00) has a young Jussi Björling in robust voice, Bidu Sayão as an affecting Gilda and Leonard Warren (loud) as Rigoletto. But from 1950, a glut of studio recordings appeared, so I've focused on these rather than the many live recordings.
Fallers at the first fence
Erna Berger's attractive Gilda is the main reason to hear Renato Cellini's 1950 recording but otherwise it's a non-starter. Leonard Warren follows in Tibbett's footsteps as a loud American baritone, bawling his way through the title-role. Jan Peerce is a callous Duke, with little sensitivity or grace.
Mario Del Monaco is another bull-in-a-china-shop Duke on Alberto Erede's 1954 Santa Cecilia recording, 'a lusty lover, with a sideline as a village blacksmith', according to Philip Hope-Wallace at the time. Aldo Protti is a reliable Rigoletto but Hilde Gueden is highly tested as Gilda.
Björling is an ebullient Duke for Jonel Perlea (1956), although on the brash side. Roberta Peters sings 'Caro nome' as if tackling a vocal exercise. Robert Merrill is in terrific voice as Rigoletto, a rich, vibrant baritone, but he does zero with the text – no bite, no irony. Some of the orchestral playing is ropy, the Rome oboe wince-inducing at the start of 'Tutte le feste al tempio'.
Francesco Molinari‑Pradelli (1959) conducts a pleasing account, originally issued by Philips. I like Gianna D'Angelo's pearly soprano as Gilda, although she isn't dramatically invested, and Richard Tucker sings a ringing Duke. But Renato Capecchi is the wrong voice for Rigoletto, essentially a buffo baritone singing a 'straight' role. Molinari-Pradelli's second recording (1967) can also be ruled out: Nicolai Gedda is gritty-toned; Cornell MacNeil blusters; Reri Grist is a soubrettish Gilda with a suspect trill. Ruggero Raimondi is the best thing here, an imposing Count Monterone. There is a third studio recording from Molinari-Pradelli (Acanta, 12/79 – nla), featuring a woolly-voiced Rolando Panerai in the title-role and Margherita Rinaldi as an uninteresting Gilda, although Franco Bonisolli is surprisingly elegant as the Duke.
Sherrill Milnes was a great Rigoletto but give his second recording (1978), conducted by Julius Rudel, a miss. Milnes's interpretation is a carbon copy of his Decca effort. There's little lustre to Alfredo Kraus's Duke by this stage and Beverly Sills's Gilda is poor, shallow-toned, with uneven coloratura.
Alas, Dmitri Hvorostovsky's assumption of the title-role only serves as a valedictory recording, taped shortly before his tragically early death. By 2016, his baritone was (understandably) a shadow of its lustrous former self and this makes for uncomfortable listening. Constantine Orbelian saps Verdi's score of its energy.
Steady-going but uninspired
'A good Rigoletto rather than a memorable one' was how Richard Osborne summed up Lamberto Gardelli's 1984 account, and he wasn't wrong. Lucia Popp is predictably lovely as Gilda and Giacomo Aragall is an amiable Duke, but Bernd Weikl overthinks the title-role.
Carlo Rizzi's 1993 cast falls into the same category. The notes are scrupulously sung by Alexandru Agache, Leontina Vaduva (albeit without a real trill) and Richard Leech but there's no smell of greasepaint.
Narrowing the field
Nino Sanzogno with Rome's Santa Cecilia Orchestra (1962) features Joan Sutherland as Gilda. Her coloratura is pristine, the trill superb, but there are few consonants, she drags behind the beat and her droopy approach doesn't give Gilda much character. MacNeil is impressive when he dials down the decibels, but Renato Cioni is a forgettable Duke.
Vladimir Chernov is an exciting Rigoletto for James Levine (1993). His voice has bite, although he makes less of the text than several Italian baritones. Cheryl Studer doesn't always sound comfortable, trying to rein in her sound and scooping between notes. Luciano Pavarotti, singing his final Duke on disc, is nonchalant but bullish.
Giuseppe Sinopoli's 1984 reading divides opinion. At times it feels as if he's conducting Wagner – the start of the Rigoletto-Sparafucile scene nearly grinds to a halt – but he certainly opens your ears. Renato Bruson is a highly nuanced Rigoletto. Edita Gruberová's Gilda is capable but you can't help feeling she's merely displaying her technique.
Riccardo Muti made two recordings, both with La Scala. His 1988 studio account, only currently available in a 28‑CD box, features Giorgio Zancanaro as a biting, saturnine Rigoletto but one who spins a gorgeous line. Daniela Dessì is a fine Gilda but Vincenzo La Scola's reedy Duke is on the debit side. The 1994 live performance boasts the golden-toned Roberto Alagna as an impetuous Duke, Andrea Rost's dewy Gilda and Bruson, a little crusty late in his career, as Rigoletto. Muti's conducting will not appeal to all. It's energetic but sometimes driven too hard, and he forbids his singers to take any of the traditionally interpolated high notes. Boo!
Fatally flawed
'Miss Verrett', we are told in the booklet to Riccardo Chailly's 1988 Bologna recording, 'agreed to make a cameo appearance … as a special favour to Mr Pavarotti.' She really should have declined, because hers is not an attractive Maddalena. It's a shame because Pavarotti is in robust voice and June Anderson sings an attractive Gilda, in the Sutherland mould but without her mooning mannerisms. Leo Nucci is a dramatic, fevered Rigoletto, very much a theatrical performance, but we'll return to him on DVD.
Dietrich Fischer-Dieskau proves a more fatal flaw on Rafael Kubelík's 1964 La Scala set, over-exaggerating text and dynamics. This is not the hunchback jester but a porcelain Venetian mask. Otherwise, the Yellow Label's first Rigoletto boasts a knockout cast: Carlo Bergonzi an aristocratic Duke (arguably too elegant); Renato Scotto a wonderful Gilda; Fiorenzo Cossotto a sexy Maddalena.
Photo finish: Rigoletto on film
Before the top six, a note on Verdi's jester on film. Productions will probably sway your reactions. Nikolaus Lehnhoff's animalistic court for the Dresden Semperoper (Erato, 1/11) is unappealing, as is Tatjana Gürbaca's for Zurich (Accentus, 2014), the entire action set around a boardroom table. Much better is its predecessor by Gilbert Deflo (Arthaus, 2/08), which opens like a traditional staging but is really a 19th-century costume party, dominated by Leo Nucci's jester (looking like Benjamin Disraeli). Philipp Stölzl's striking 2019 Bregenz production (C Major, 3/20) is effective, dominated by a giant clown's head on the floating stage, but is hardly a standard recommendation. Jonathan Miller's New York mafia setting for English National Opera (nla) paved the way for shifting time and location and was brought back into the company's repertoire in 2017. Michael Mayer updated the action to Las Vegas (DG, 2013), not entirely convincingly. David McVicar's 'scrapheap on a revolve' gets to the score's dark heart for the Royal Opera (Opus Arte, 6/02), dominated by Paolo Gavanelli's beetle-like jester, but Christine Schäfer is not an ideal Gilda.
For traditional stagings, John Dexter's at the New York Met (DG, 1977) looks its age. Jean-Pierre Ponnelle's 1982 film version (Decca, 10/88, 8/01) uses beautiful locations and features a larger-than-life Pavarotti alongside Ingvar Wixell and Edita Gruberová. But Pierluigi Samaritani's production, updated by Stefano Vizioli for the Teatro Regio di Parma in 2008, is superb, demonstrating that traditional doesn't have to mean fusty. It's vividly filmed, with Leo Nucci a superb Rigoletto, his wiry baritone frayed but compensated by decades of experience in the title-role. Nino Machaidze is a sublime Gilda – that important moment of double recognition in Act 2 strikes home here – while Francesco Demuro is a puppyish Duke. Massimo Zanetti conducts. But with new Rigolettos at Covent Garden, La Scala and the Met this season, expect the video catalogue to expand.
The final furlong
I'm still fond of Richard Bonynge's 1971 recording, mainly because it was the first Rigoletto I owned on LP. Milnes is a marvellous jester, properly testy, with a virile top, and Pavarotti is vocal sunshine as a roguish Duke. Sutherland's Gilda possesses more consonants than before but I'm less enamoured of her account now. Her coloratura has a squeaky-clean, antiseptic quality and Bonynge indulges her 'droopiness'. Martti Talvela is the inkiest of Sparafuciles but Huguette Tourangeau's raspy Maddalena is less of an asset.
There's no doubting the vocal qualities on Carlo Maria Giulini's 1979 set. Ileana Cotrubas is a melting Gilda, Plácido Domingo a heroic Duke (possibly too heroic) and Nicolai Ghiaurov the noblest assassin around. Piero Cappuccilli exhibits phenomenal legato and breath control as Rigoletto. I'm at odds with Giulini's conducting – an incredibly thoughtful reading, aided by the luminous Vienna Philharmonic, but it fails to set the pulse racing.
My top four choices were all recorded in Italy. For many, Tullio Serafin at La Scala in 1955 would top any Rigoletto poll. Indeed, it was Alan Blyth's primary recommendation here for decades. Hold up your hands in horror but, apart from their classic Tosca, I've not always warmed to Tito Gobbi or Maria Callas on disc, but I'm surprised how much I like Callas's Gilda. Her control is astonishing and she lightens her voice convincingly, although it can sound a bit 'artful'. Gobbi was, without doubt, a great vocal actor and his poetic delivery of 'Pari siamo' is very fine, but his baritone was a dry, gruff instrument and he hurls himself into top notes in an ungainly way. I appreciate the artistry, but his jester doesn't do it for me. Giuseppe Di Stefano is a rascally Duke, though, who clearly loves the good things in life.
Angelo Questa's 1954 RAI Turin account was my most delightful discovery during this listening marathon. Voices are closely recorded … but what voices! Giuseppe Taddei, often in the shadow of Tito Gobbi, is an excellent Rigoletto and Ferruccio Tagliavini a stylish Duke. Pagliughi, 25 years after her first Gilda, still sounds fresh, her limpid soprano beautiful in 'Caro nome' (transposed down to E flat). Giulio Neri is an aptly black-voiced Sparafucile. This set has a wonderfully authentic feel.
For an exciting, theatrical performance turn to Georg Solti (1963), who is fast and furious with the RCA Italiana Orchestra in Rome. Robert Merrill is vibrant in the title-role, slightly more subtle than for Perlea, and Alfredo Kraus is a debonair Duke. I completely fell for Anna Moffo's Gilda, whose warm tone and diamantine coloratura are a winning combination. There's an imposing Monterone from David Ward and Solti conjures up a terrifying storm.
But my top recommendation – although it comes with a caveat – comes from Florence. In June 1960 Mercury's Living Presence mobile recording truck arrived at the Teatro della Pergola. Under the direction of Wilma Cozart Fine, Mercury's three-microphone set-up captured this thrilling account by the Maggio Musicale Fiorentino under Gianandrea Gavazzeni, who paces things perfectly. It boasts a splendid, youthful cast.
Alfredo Kraus is an aristocratic Duke (he was just 32), with wonderful flexibility to his tenor. Fiorenza Cossotto (25) is a voluptuous Maddalena, Ivo Vinco (32) a sonorous Sparafucile. Renata Scotto (26) is all wide-eyed innocence and purity as Gilda, with a great diminuendo in 'Caro nome' and some very moving vocal acting. Ettore Bastianini (37) is Rigoletto, his magnificent 'bronze and velvet' baritone full of mockery, bitterness and fury; the Vendetta duet really zings. Philip Hope-Wallace disliked Bastianini: 'There is a wounded animal sound in his Curse on the courtiers and primitive tearing rage in his Vendetta.' It's these very qualities that I want from a Rigoletto! PHW pretty much torpedoed the entire set 60 years ago. It's time to set the record straight.
That caveat, though. The recording – a joint project by Mercury and Ricordi – has never had a fully satisfactory CD transfer. The sound on the latest Urania reissue (probably the best transfer) still strikes me as murky. The ears adjust quickly but it's not ideal, especially when one goes back to the original LPs. I own an early Mercury pressing which still sounds splendid, along with a Ricordi set, plus one on DG, which was licensed to release it in Germany, complete with fold-out photo of Bastianini in costume taken from when he appeared in the production at La Scala. My advice is, try before you buy; and if Urania's sound isn't for you, then Solti will provide a highly theatrical standby until someone, somewhere, gives this Gavazzeni set the CD transfer it thoroughly deserves.
---
This article originally appeared in the October 2021 issue of Gramophone magazine. Never miss an issue – subscribe today