Mr Classical Music Festivals
Gramophone
Monday, July 15, 2019
Martin T:son Engstroem talks to James Jolly about what makes a good music festival and the addition of two more summer festivals to his portfolio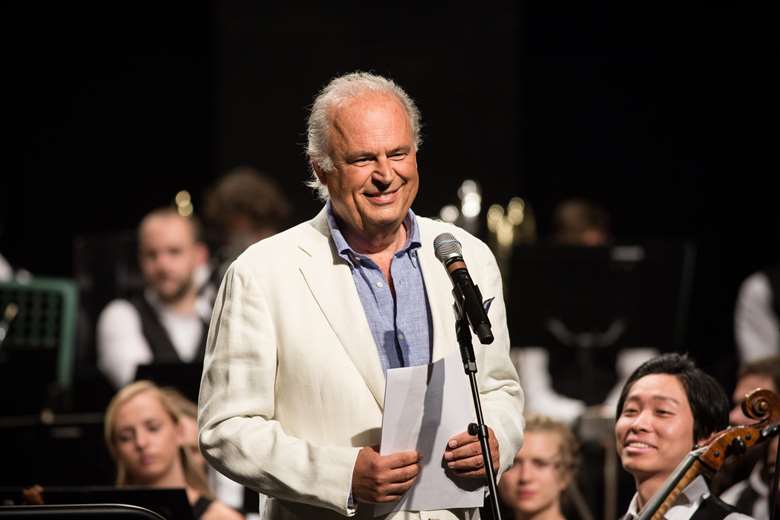 The Verbier Festival in Switzerland was founded in 1994 by Martin T:son Engstroem who remains its Executive Director. His career in music has embraced arts management, A&R with Deutsche Grammophon and he has served on juries for numerous music competitions. In this last capacity he was in Moscow in June to chair the Violin Jury of the 16th International Tchaikovsky Competition, and it was there that Gramophone's James Jolly caught up with him to talk festivals ...
JJ: This year your festival empire grows by two as you are adding Latvia and Georgia to the long-running Verbier Festival in Switzerland. Verbier has always struck me as one of the gems of the festival world because what it does is genuinely unique, allowing us to hear artists performing together in combinations you wouldn't encounter anywhere else.
ME: I do think that a festival should fulfil a function. There should be a difference between performing during the season and during the summer, and I do also think that most artists are more open to artistic challenges in the summer. It's a time of the year when you reach out a little bit, and Verbier has become that place where everybody does it. It's not just a few; it's now part of the ingredients. And, so far, I think it has been mostly serious and well-matched combinations. I always try the limits to see if it'll work. Could I create something new?
JJ: I always imagine you as one of those tarot-card readers you see in films, moving them around to create new groupings.
ME [laughs]: For example, this summer we did our 25th anniversary gala, and the second part of the programme was for pianists and I had eight wonderful players, each more famous than the next. And none of them really wanted to play with anyone else. It was difficult to get going, and to find the right repertoire. Of course nothing is written for eight pianos … and there's only a little for six hands, so it's hard to find repertoire. So inevitably you have to find arrangements, which is never popular. And I remember András Schiff who, at the beginning, was very sceptical of this kind of showcase. And he played some four-hand repertoire with Yuja Wang and, on one piano, together with Mikhail Pletnev. He did one with Evgeny Kissin and he had a fantastic time. He made some new friends, and he enjoyed himself greatly. Which made me very happy because it enabled him to perhaps look at these people a little bit differently and to enlarge his horizons a bit. So that's what gets me going – to stimulate these groupings.
JJ: Very classy match-making. And are you conscious that the waves radiate out from Verbier, that you've brought these people together and they work together again elsewhere.
ME: Yes. Kissin and Martha Argerich started off playing a lot after their first encounter in Verbier. James Levine and Kissin did a duo recital in Carnegie Hall that was recorded, and that partnership started in Verbier with two concerts. The list is pretty long: Yuja Wang and Leonidas Kavakos met in Verbier. They played their first concert there and now they frequently tour together, sometime also with Gautier Capuçon. It's become sort of a melting pot. Of course I sometimes ask some of the artists if there's anyone in particular they'd like to perform with, but after so many years I know most of the artists personally, so I have a basic idea of matchmaking.
JJ: Now, you're adding two more festivals ot your portfolio this year. One in Latvia and one in Georgia. What philosophy lies behind them?
ME: I suppose I'm getting to the age where people start wanting something from me, in terms of repeating the success we've had in Verbier – although I think Verbier is unique, you cannot really duplicate it because it's so intense and works on so many different levels, and not just artistically. So, I was head-hunted to both of these festivals. To start with Georgia: I went down to look at this place, Tsinandali, which is about an hour and a half from Tbilisi, the capital. There's a man there who's a passionate music lover and he's restoring an estate which is a historic site where the Georgian government met heads of state when they visited. And I told him you really need a big concert hall and a small concert hall, a big hotel and one smaller, and he said, 'OK, I'll build them' and he did! And so we are now following that up by creating a Pan-Caucasian youth orchestra to be our orchestra in residence. It's 100 kids from the neighbouring countries: Russia, Armenia, Azerbaijan, Kazakhstan, Turkey. And Gianandrea Noseda is the Music Director. It's a big challenge because historically this is a very difficult region – two countries, Armenia and Azerbaijan, don't talk to each other, and they're almost at war with each other; Georgia and Russia are having difficulties – I just read yesterday that Russia has cancelled all flights from Moscow to Tbilisi. But I'm hoping that this orchestra will become a little bit like Barenboim's West-Eastern Divan Orchestra and become a forum for the young to work together and exchange points of view, and that it will send some good signals to the region. And the Verbier Festival Chamber Orchestra will be there for two weeks. András Schiff is coming, Yuja Wang and Thomas Hampson – lots of artists. We do two concerts a day for two weeks with Christian Thompson we have developed an academy and I've very excited about this because there's something of the feeling of Verbier in that this estate is a little bit like a campus so artists, students, orchestra members will all live on together on campus. It's extremely beautiful with wonderful food!
JJ: What sort of audience are you hoping to attract? What is the catchment?
ME: The idea is to develop the tourism for Georgia, especially in this wine region. This is wine making was started 8000 years ago, and they have some wonderful wines. The idea is to attract foreigners into the country and this is work over many years but I think we have quite a lot of interest and quite a lot of people coming. It's a good start and I hope that the festival will also work on the financial front and stimulate tourism and the local economy.
JJ: And Latvia?
ME: The Riga festival I was also headhunted for. I have a closer relationship to that part of the world because I was born across the water in Stockholm, and Riga was, from a historical perspective, the biggest town in Sweden in the 18th century. With my first wife, we had our honeymoon in 1978 in Jūrmala which is the beach town about 20 minutes form Riga. So I'd been there before and Jūrmala has a historic position for musicians because during Soviet times, musicians and other artists were treated like soldiers, more or less. Richter, Gilels, Oistrakh, Kogan – and they were given places to have their holidays. One was in Jūrmala, one was in Sochi, and they were given an apartment for one month for free. So they could go with their families and Jūrmala was the more popular of the two. So the number of artists who had spent their summers there is quite impressive! So I don't have to fund-raise for either Georgia or Riga which is something I have to do for Verbier. And that's an important point for me. The angle in Latvia is weekends concentrating on orchestras. So the first weekend will be the Bavarian Radio Symphony Orchestra, the second one is the Russian National Orchestra, then the Israel Philharmonic and finally the London Symphony Orchestra. I'm doing this festival with Miguel Esteban who I started with in Verbier 25 years ago. Festivals have become big business these days – nearly every city has its own music festival and Riga is perhaps a little but like Georgia. It's a place you've heard about, are perhaps a little bit curious about, you never had any reason to go there but if you see that the LSO or Israel Philharmonic are there, or Yuja Wang and Murray Perahia are playing there, then perhaps you'll say, 'Let's go for a weekend …'
JJ: … and for Europeans it's not actually that far.
ME: It's not and after EasyJet they have the biggest low-cost airline in Europe – Air Baltic – with reasonable prices. And once you're there it doesn't cost very much. It's a wonderful place and there's a lot to explore in the area!
The Verbier Festival runs from July 18 - August 3.
The Tsinandali Festival from September 8 - 22.
The Riga Jūrmala Music Festival takes place over four weekends: July 29-21; August 16-18; August 23-25 and August 30-September 1. Tickets are available from https://www.bilesuparadize.lv/
Home page photograph: Aline Paley