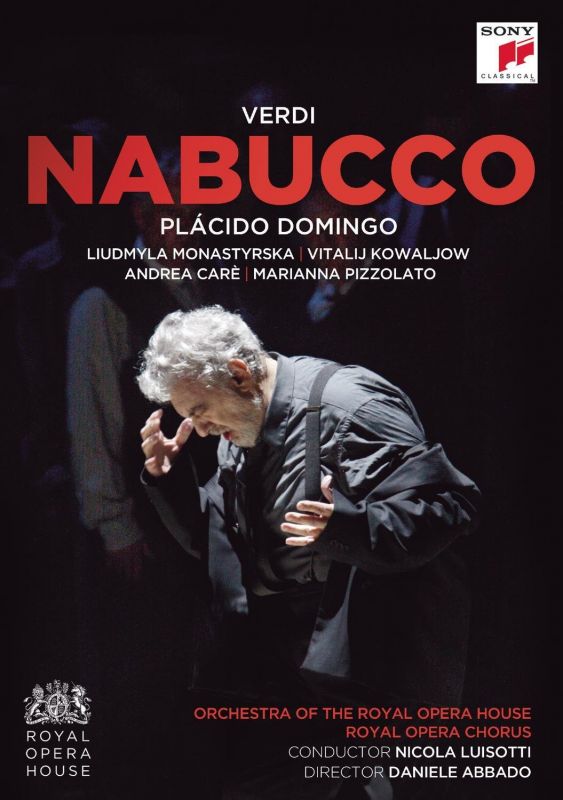 The Gramophone Choice
Tito Gobbi (bar) Nabucco Bruno Prevedi (ten) Ismaele Carlo Cava (bass) Zaccaria Elena Suliotis (sop) Abigaille Dora Carral (sop) Fenena Giovanni Foiani (bass) High Priest of Baal Walter Krautler (ten) Abdallo Anna d'Auria (sop) Anna Vienna Opera Orchestra; Vienna State Opera Chorus / Lamberto Gardelli
Decca 478 1717DOR2 (121' · ADD · T/t) Recorded 1965. Buy from Amazon
The years have hardly lessened the excitement of listening to this vigorous, closely knit performance. One realises why we were all amazed by Suliotis's account of the role of Abigaille. Her singing seizes you by the throat through its raw depiction of malice and through its youthful, uninhibited power. With the benefit of hindsight one can hear how a voice treated so carelessly and unstintingly could not last long, and so it was to be; but we should be glad for the brightness of the meteor while it flashed all too briefly through the operatic firmament. As an interpretation, her Abigaille seems a little coarse set beside the refinements shown by Scotto for Muti on EMI. However, Suliotis can manage by nature what Scotto has to conjure up by art, and she's certainly a subtler artist than Dimitrova on the wayward Sinopoli/DG version.
Gobbi, nearing the end of his illustrious career in 1965, remains the most convincing interpreter on record of the crazed king. The voice may have become a shade hard and uningratiating but his use of Italian and his colouring of his tone, finally his pathos, are certainly not rivalled by Cappuccilli (Sinopoli). Carlo Cava exudes implacable fury as old Zaccaria but he's inclined to go through his tone at forte. Prevedi is more than adequate as Ismaele, Carral less than adequate as Fenena (here DG scores with Valentini Terrani).
One of the main assets of the Decca remains Gardelli's prompt, unfussy and yet thrillingly delivered interpretation, clearly conveyed to his excellent Viennese forces. It's much more steadily and convincingly paced than Sinopoli's reading. The recording is forward and has plenty of presence but it now sounds a little boxy beside the greater spaciousness of the DG. But the panache of the Decca enterprise silences criticism (except when the minute cuts in Nabucco's part are conceived). It's a pleasure to hear the bold inspiration of Verdi's first triumph conveyed with such conviction.
Listen to the Act 1 finale and you're sure to be won over to the set as an entity.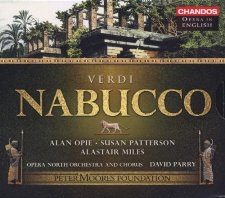 Additional Recommendation
Nabucco (sung in English)
Alan Opie (bar) Nabucco Leonardo Capalbo (ten) Ismael Alastair Miles (bass) Zachariah Susan Patterson (sop) Abigail Jane Irwin (mez) Fenena Camilla Roberts (sop) Anna Dean Robinson (bass) High PriestPaul Wade (ten) Abdullah Opera North Chorus and Orchestra / David Parry
Chandos Opera in English CHAN3136 (126' · DDD · S/T) Buy from Amazon
Opera in English is here fully justified by virtue of an excellent cast who let us hear every word of the old, trusted translation by Norman Tucker and Tom Hammond, pioneers of giving works in the vernacular. But perhaps the most convincing reason for acquiring this set is the superb singing of the Opera North Chorus, who are in a sense this work's heroes. From start to finish they sing wholeheartedly and make the most of the text.
Heading the cast is Alan Opie, perhaps giving his best performance to date on disc. He reveals every facet of the troubled king's character. His early wilfulness, followed by madness and then his conversion to Jehovah, are all depicted with an unerring feeling for every word of the text. Of course the core of the opera comes in the great Act 3 duet with Abigail, then the noble solo 'Lord God of Judah', which Opie sings with proper sorrow and contrition.
In the duet he is partnered by Susan Patterson. She conveys every bit of the anti-heroine's scheming and unforgiving character, sings pretty much all of her taxing part with firm, full tone, then at the close shows suitable remorse in the Act 3 finale. As the one truly upright character, Zachariah, Alastair Miles proves his pre-eminence among British basses today in Verdi: every note of his two solos is sung with strength and a feeling for line, and he is as happy on high as below. Fenena is well served by Jane Irwin's lovely mezzo, shining forth in her Act 3 solo ending with a glorious high A. The one disappointment is the rather feeble Ismael but he doesn't play a very big part in proceedings.
David Parry makes the most of Verdi's early, rudimentary style, supported finely by the Opera North Orchestra. We have the customary slightly over-reverberant Chandos sound, which at times favours the chorus and band at the expense of the soloists, but that is a minor blemish on a truly exemplary performance.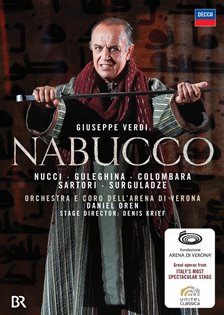 DVD Recommendation
Leo Nucci (bar) Nabucco Fabio Sartori (ten) Ismaele Carlo Colombara (bass) Zaccaria Maria Guleghina (sop) Abigaille Nino Surguladze(sop) Fenena Patrizia Cigna (sop) Anna Carlo Striuli (bass) High Priest Carlo Bosi (ten) Abdallo Verona Arena Chorus and Orchestra / Daniel Oren
Stage director Denis Krief
Video director Tiziano Mancini
Decca DVD 074 3245DH (152' · NTSC · 16:9 · PCM stereo and DTS 5.1 stereo · 0) Recorded live 2007. Buy from Amazon
There is a good sense here of the fitness of things, and of their grandeur too. As the camera roves and observes the great arena before the show begins, one becomes probably more aware of its size than if one were there in person with the milling crowds trying to find a seat. For a roof there is the spacious firmament on high, and onstage a structure that might have been designed to fill the Tate Modern. Then, as the opera unfolds, Verdi's music fills the auditorium and merely human voices rise to their almost superhuman task.
Vocally, and perhaps dramatically, the opera is dominated by Abigaille, an outsize soprano whose music makes harder demands upon voice and technique than almost any comparable role in opera. Guleghina is the Abigaille of our time: powerful, intense, wide of range, agile in passage­work and, when need arises, capable of softness. If she were completely steady and if her timbre had an Italianate vibrancy and variety of coloration she would be ideal. As Nabucco, the veteran Nucci comes through with impressive authority and stamina, the middle of his voice still rich and ample. The High Priest, Zaccaria, the third major character, has one of the great bass roles in the Verdi repertoire: finely sung here by Carlo Colombara, firm, sonorous and noble in bearing.
Of the others, Fabio Sartori deserves mention, physically somewhat cumbersome, vocally full-bodied and incisive. Chorus and orchestra do the arena and its 2007 season credit, and the conductor, Daniel Oren, is well in control of his far-flung forces. The production team also wins its way through to grateful acknowledgment, despite the initial ill-will created by the blocks of scaffolding which suggest nothing more biblical than the local Ikea store in its early stages of construction. It has its uses, which include doing duty for the banks of the Euphrates, from which the Israelites sing (most beautifully) their immortal 'Va, pensiero'.