Puccini: Tosca at Northern Ireland Opera | Live Review
Sarah McCleave
Wednesday, September 13, 2023
An intelligent new production from NI Opera of Puccini's masterpiece is full of vocal intensity
****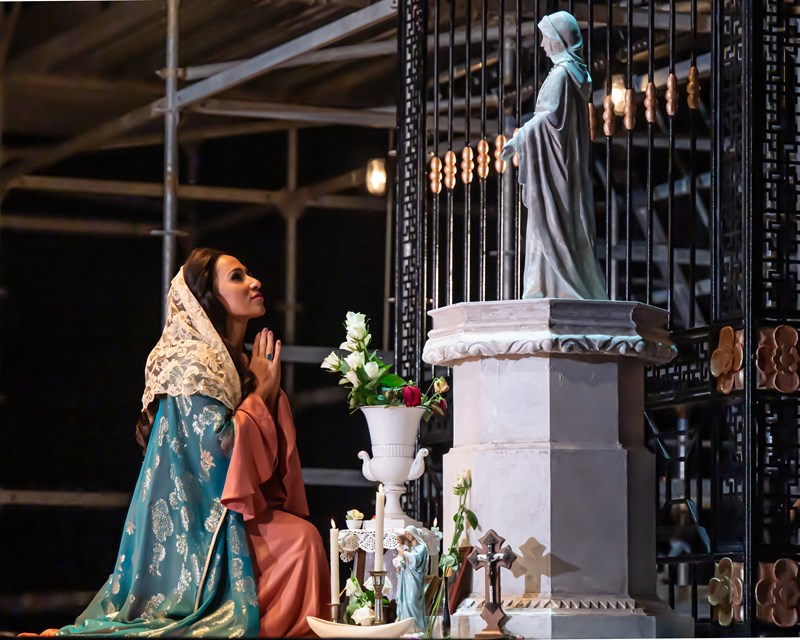 Svetlana Kasyan as 'Tosca' in NI Opera's new production | Photo: Neil Harrison
Who is Floria Tosca? Luigi Illica's and Giuseppe Giacosa's 1890s libretto features an easily jealous, devote, and indiscreet diva – a local Roman celebrity who inspires an intense devotion from her lover the artist Mario Cavaradossi while also igniting an equally vivid erotic fascination from the corrupt and sadistic chief of police Baron Scarpia. Her character inspired from composer Giacomo Puccini music of supreme lyricism that with the right interpreter suggests the emotional gamut from playful banter to visceral scorn, from loving bliss to abject desolation.
Svetlana Kasyan's charismatic Tosca delivers this kaleidoscope of feeling through a vocally brave and dramatically intense performance that inspires and ignites her audience. Her range of tonal expression – notably in 'Visse d'arte' – is truly remarkable, and she is not afraid to take risks. Cameron Menzies' gripping production for Northern Ireland Opera highlights the warped dynamics of Tosca's involuntary relationship with Scarpia, where the diva visibly recoils from his dark sexuality (Scarpia's 'Ha più forte sapore' reveals his preference for forced sex) while sustaining a naïve confidence that she can strike a bargain with such a man to save Cavaradossi from death by firing squad.
Brendan Collins delivers a truly menacing Scarpia who inspires convincing displays of fear from the other characters, most notably from Kasyan and from Niall Anderson's otherwise brisk but prim Sacristan. Scarpia also commands ready obedience from his deputy Spoletta, played with sustained hardness by Aaron O'Hare. Collins's 'Va, Tosca' offers a deeply ominous anticipation of how the diva's capacity for jealousy can be manipulated to cause the downfall of many – including Matthew Durkan's escaped political prisoner Cesare Angelotti, whose hiding place Tosca will eventually reveal.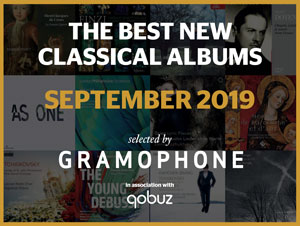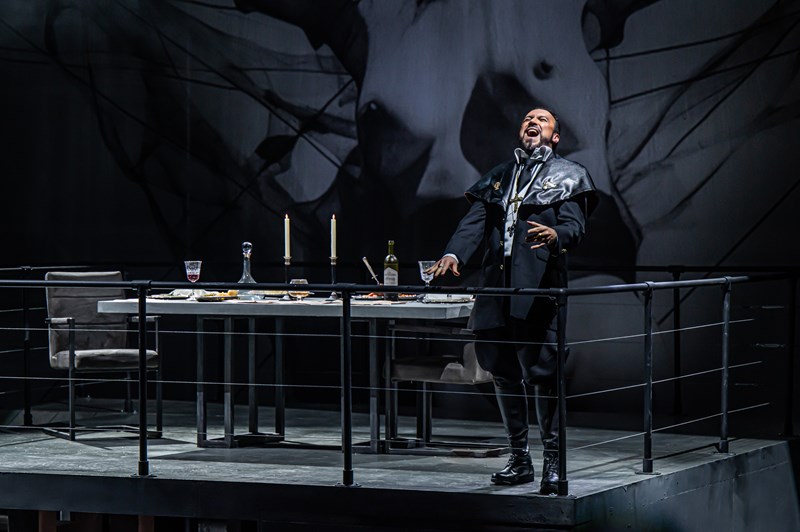 Scarpia (Brendan Collins) in NI Opera's new production of 'Tosca' | Photo: Neil Harrison
Is Tosca's weak spot her jealousy, or an excess of tenderness? If we follow the libretto the former is given great emphasis, but Kasyan's performance reveals a Tosca who radiates sexual confidence in the presence of Peter Auty's profoundly besotted and vocally eloquent Cavaradossi (His 'E lucevan le stelle' caresses his memories of Tosca while lacking none of the intensity associated with the role), and so it is difficult to see her jealousy as more than a pose, a characteristic she assumes when with her lover. Tosca only reveals Angelotti's hiding place when the painter is tortured within her hearing. But Menzies' direction takes us firmly into the 21st century, for Kasyan's Tosca seems most vulnerable directly after she has stabbed Scarpia – not that she regrets the man, but because having killed another mortal soul she no longer knows who she is. It is this extreme identity crisis that motivates her death plunge (as if falling off into the dark) as Scarpia's minions arrive to arrest her.
No Northern Ireland Opera review would be complete without a few words on the production. Niall McKeever's intelligent stage set repeats certain structural elements while giving each act a distinct look. The large circular frame hosting a detail from Cavaradossi's portrait of the Madonna in Act 1 recurs as part of Scarpia's apartment, where it frames an image of a naked female in bondage. The chorus (with direction from Matthew Quinn and James Grossmith) acquits itself with aplomb – the Ulster Orchestra under the visionary baton of Eduardo Strausser plays a most vital part in depicting the intense and unrelenting drama that is Puccini's Tosca.
Tosca by Northern Ireland Opera is running at the Grand Opera House, Belfast until September 16. niopera.com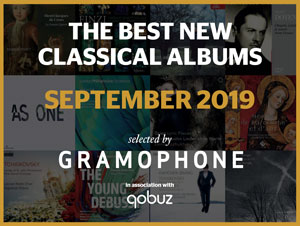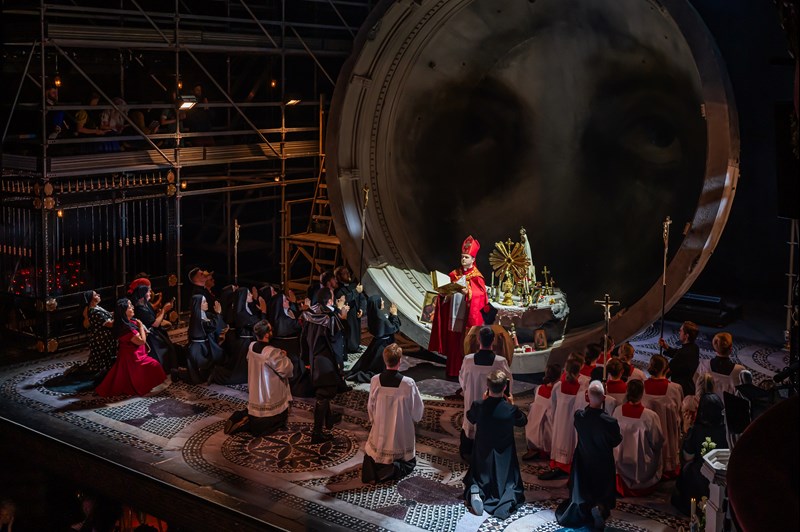 NI Opera's 'Tosca' | Photo: Neil Harrison