Wagner: Der Fliegende Holländer at La Fenice, Venice | Live Review
Susan Nickalls
Tuesday, November 14, 2023
Early summer's new production of Wagner's epic proved a complex state of affairs
***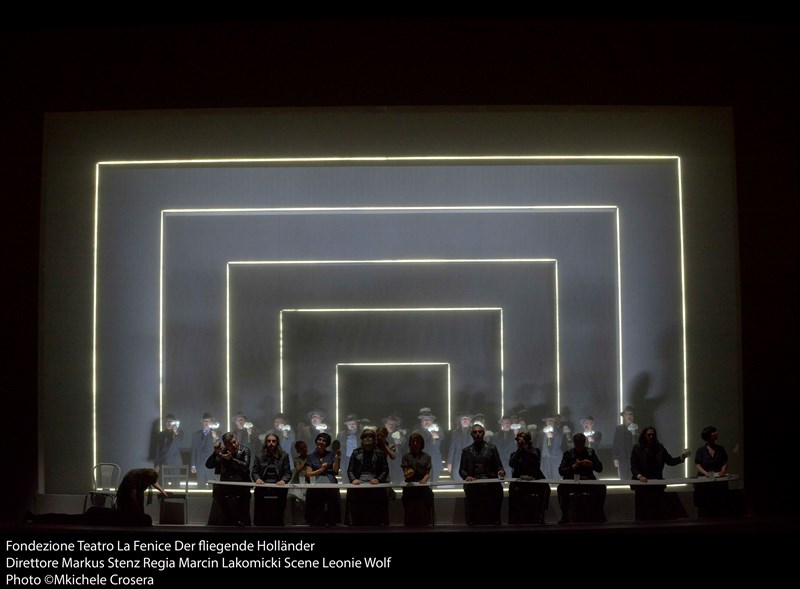 It was the outstanding performances of the singers and musicians that redeemed what was ultimately a confusing interpretation of Wagner's ghostly tale from director Marcin Łakomicki. The line between fantasy and reality became increasing blurred as, much like the Dutchman, Łakomicki wandered aimlessly between various ideas, none of which joined up or made total sense.
The action was boxed in by the large rectangular frames of Leonie Wolf's sets. This worked well in Act 2 as the townsfolk in their Sunday best brought to life the painting Senta is obsessed with. A Senta double, placed her firmly inside this fantasy world from the start. But by the final scene, each of the six main characters had a doppleganger with Łakomicki having each singer interact with a character's double rather than the actual singer. He also had a propensity to have the main characters on their knees at times of heightened emotion unable to express themselves fully.
And despite having two of everything else, when it came to ships there was only one. A bright neon light around Daland's ship was illuminated to indicate the treasure-laden ghost ship. Even a video projection of a ship would have provided the contrast between the two different worlds this staging so badly needed.
As for the ending, Łakomicki went for a completely underwhelming tableau, with multiple tunnel-like frames receding towards the back of the stage where a young Senta skipped on the shore. Meanwhile a distraught Senta standing in front of this scene prepared to hurl herself off a cliff while her nurse Mary (Annely Peebo) sat on a chair reading a book.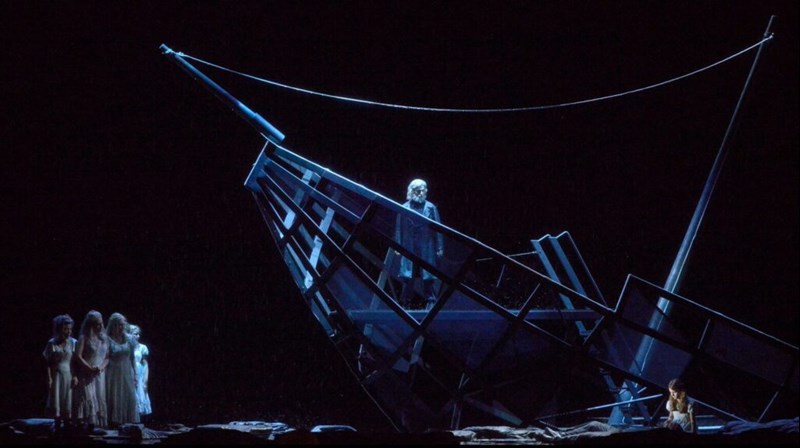 The cast of Wagner's Fliegende Hollaender at La Fenice | Photo: Michele Crosera
Fortunately the cast was led by singers who are veterans in their roles. Anja Kampe (Senta) has sung the role hundreds of times and this came across in her vocally powerful and compelling performance. With his clear, sea-salted tenor, Samuel Youn created a suitably enigmatic Dutchman as he has done many times before. There was strong support from Toby Spence whose clarity underlined Erik's earnestness, the vocally gruff Franz-Josef Selig as Daland and he mellow tones of Leonardo Cortellazzi (Helmsman). The dynamics of the chorus were spot with singers from the Taras Shevchenko National Academic Opera and Ballet Theatre of Ukraine swelling La Fenice's forces.
In the pit conductor Markus Stenz steered the orchestra magnificently through Wagner's high-octane score. The storm scenes were hair-raising and eerie in equal measure with the horns blasting out, the strings alarmed and the brass strangely soothing.
The music was fabulous but the production left the audience wondering why Senta didn't wear shoes, why Erik's double shot himself with a gun and why both Dutchmen were blindfolded in the penultimate scene? Then there were the five 'maidens' in white rising from the sea binding the mariners to them with ribboned sashes from their dresses. Perhaps the answer lies in the final lines of Grzegorz Turnau's poem Naprawdę nie dzieje sięnic which inspired the director: 'In reality nothing ever happens and nothing will happen until the end.'