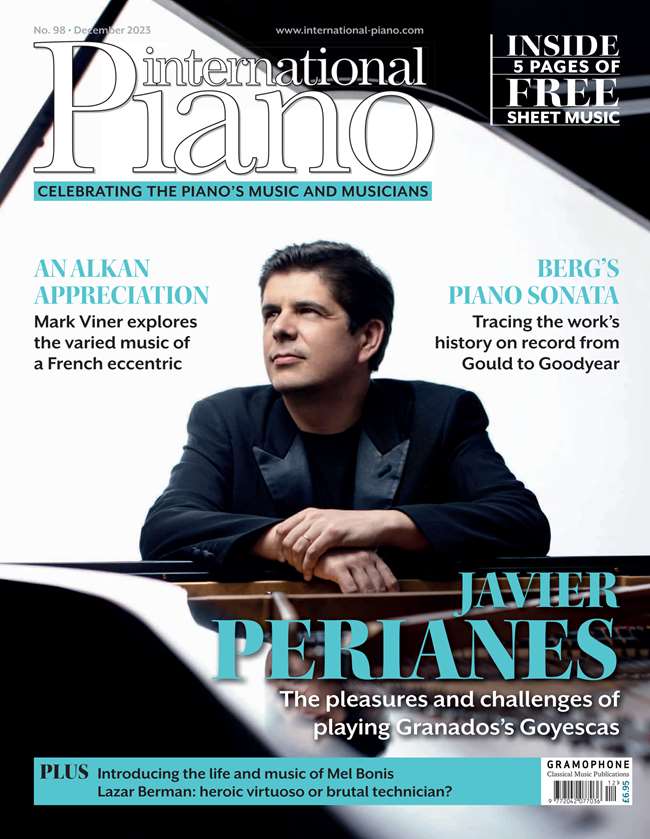 International Piano - December 2023
The cover of the December issue of International Piano features the Spanish pianist Javier Perianes, whose recording of Granados's masterpiece Goyescas is out this month. Jessica Duchen talks him about the pleasures and the challenges of this colourful music, and about following in the footsteps of perhaps the greatest Spanish pianist of them all, Alicia de Larrocha.
In other features this month, Mark Ainley explores the legacy of a pianist whose recordings were almost lost to posterity, Jascha Spivakovsky; Bryce Morrison considers the playing of the Russian pianist Lazar Berman, whose virtuosity was legendary but whose playing still divided opinion; Peter J Rabinowitz offers a magisterial survey of the recorded history of Berg's Piano Sonata, Op 1; Jeremy Nicholas offers a fascinating introduction to the life and music of Mel Bonis, a French composer whose reputation suffered a similar fate to many women who wrote music in the 19th and early 20th centuries; and Mark Viner explains why he thinks the music of Alkan is important and distinctive and introduces the latest volume in his survey of Alkan's complete music for solo piano.
As always, there is more. Murray McLachlan continues his educational guide for pianists returning to the instrument; we provide the sheet music of a rare piece by Mel Bonis so you can explore this music at the piano yourself; Bryce Morrison reviews a wonderful set of live, previously unpublished recordings from Nicholas Angelich, and David Threasher assesses a box-set of the EMI recordings by Lars Vogt, both pianists having died last year; other reviews cover new recordings by Bruce Liu, Inon Barnatan, Claire Huangci, Alice Sara Ott, Jean-Efflam Bavouzet and others, as well as live concerts in London and a report on the International Chopin Competition on Period Instruments from Warsaw. Finally, this issue's 'Music of my Life' features Andrey Gugnin, who is the latest pianist to present the five recordings that still resonate with him.