Bringing the piano to the masses – is this the way to do it?
Charivari
Saturday, April 22, 2023
In an age of dumbed-down expectations, Charivari overcomes initial scepticism and applauds a mainstream television programme that celebrates our favourite instrument in all its diversity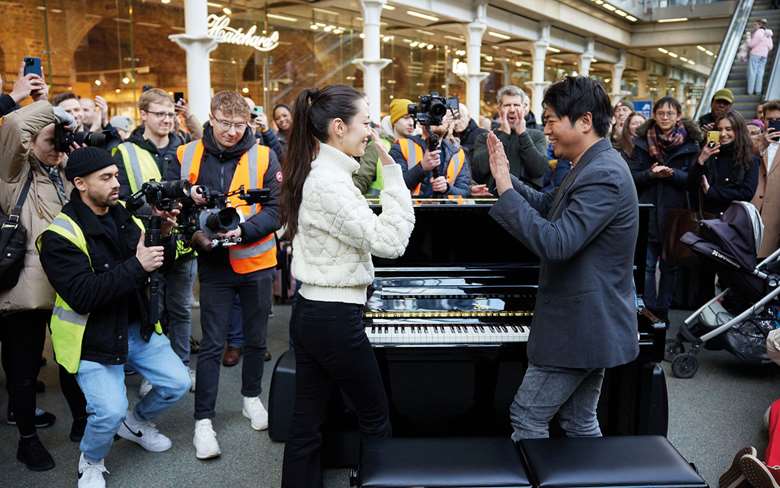 I beg the forbearance of our UK readers while I explain to our overseas friends the format of a new talent contest on this country's Channel 4. Why, I hear the combined voices of our sophisticated, cultured subscribers ask, are you troubling us with news of a television talent contest? I shall tell you. It is called The Piano. Yes, against all the odds, there were five hour-long programmes on a terrestrial commercial channel featuring the piano.
Your correspondent viewed the prospect of all this with a lofty air of disdain, remote control in hand ready to change channels. It turned out differently
The idea was this: various amateur pianists – ordinary members of the public – were invited (having previously auditioned somewhere, somehow) to display their talents on the concourse of various railway stations. St Pancras (London), Leeds, Glasgow and Birmingham have pianos there for passing passengers to play while waiting for a train or a loved one. Charivari's experience of encountering these platform pianists is that nine times out of ten it will be a teenager intently bashing out a series of unconnected major triads he or she has picked up by ear which have led him/her to believe that he/she is the next Elton John or Mozart. And, indeed, given the level of knowledge and musical education of the average passer-by, they tend to agree, the general rule being that if anyone has the ability to play more than four chords or the first eight bars of Für Elise you are ipso facto some kind of musical genius.
Those who have been invited by Channel 4 to play on the station pianos were told they were taking part in a documentary. This fiction was enhanced by the host of the programme, the ubiquitous and charming Claudia Winkleman, on hand to lend a friendly, funny and professional air to proceedings but who is not known for her prowess on the keyboard. But there was more. Unknown to the participants, apart from being filmed for television, they were secretly being assessed by two judges. At the end of each programme, they revealed themselves and announced that one of the pianists they had just heard would take part in a forthcoming concert at the Royal Festival Hall in London. The judges were Mika, a pop star (unknown to this writer) whom we never see play the piano but who was eloquent, photogenic and hot on what it takes to be a star. His fellow judge, sitting somewhat diffidently beside him, was the great Lang Lang, currently bestriding the piano world like a colossus, sponsoring, endorsing, playing, recording, teaching, inspiring millions, and whose imprimatur is the seal of approval to anything piano-related.
Your correspondent viewed the prospect of all this with a lofty air of disdain, remote control in hand ready to change channels. It turned out differently. Though definitely not aimed at the high end of the classical market, The Piano was strangely compelling. Most of the participants chose to play in one popular idiom or another (the series opened with a seriously good bit of boogie-woogie). The oldest was 94, the youngest 12. One player had only started learning the piano during lockdown and, self-taught, had already reached an enviably high standard. A few opted for a classical piece. There was a wonderful moment after someone had played 'Always look on the bright side of life' from The Life of Brian, when Mika had to explain to Lang Lang that this was a humorous song sung while a character in the film was being crucified. The look of bemused bafflement on the superstar's face was priceless.
The look on his face when listening to another contestant was something else. Claudia introduced a 13-year-old girl named Lucy who is blind and neurodiverse. She was led to the keyboard and played Chopin's B flat minor Nocturne, Op 9 No 1 – not perfectly, but with such tenderness and unexpected skill that Mika and Lang Lang were, for once, left speechless and the rest of the country – your correspondent included – in tears.
The series was, in short, the most uplifting and positive television talent competition yet. Will it have inspired anyone to take up the piano, or maybe return to it after an absence? My guess is that it will. There is an element of 'Well, if he/she can do it, so can I'. And, because there was such a wide range of age, skill and styles of piano music in the mix, it was an inclusive exercise. It was a shame that none of the 'finalists' included anyone of pensionable age and only one (Lucy) played anything of real musical merit, though it provided a clear demonstration that there is nothing elitist about our favourite instrument.
For the vast majority of viewers, The Piano will have been of more interest and greater influence than the BBC's Young Musician competition. Lucy was rightly adjudged the overall winner (more tears) and – oh yes – the four pianists were each given a piano as a prize. Inspirational.
---
This article originally appeared in the April 2023 issue of International Piano. Never miss an issue – subscribe today