Just how boring are modern piano recitals?
Charivari
Thursday, May 25, 2023
Piano recitals are boring. At least, some are. Charivari peruses concert programmes from another age and finds himself wishing that modern pianists were as willing to entertain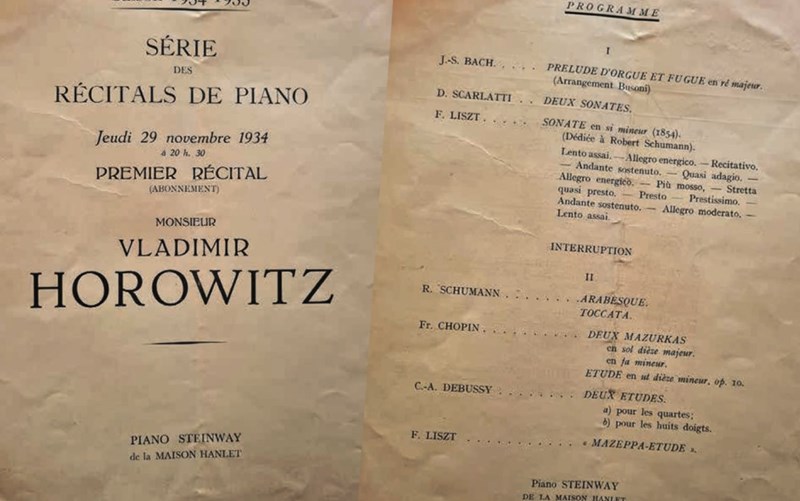 A varied and daring programme given by Vladimir Horowitz in Brussels in November 1934
I have been looking through the listings of forthcoming piano recitals at various London venues. God, they're boring. Very few would entice me to leave the house for an evening of music that I can hear in better performances on my CD player, in the warmth of my own home and with a glass of something alcoholic in hand. And the cost, my dear! I know £30 is cheap compared to a decent seat at a football match (let alone one in a West End theatre, where the going rate seems to be upwards of £150) but that's before the travel to and from, an overpriced drink in the interval and a MaccyD on the way home.
At one well-known London venue, big-name pianists in the month of April 2023 offer programmes that rarely venture beyond familiar works by Beethoven, Schubert, Chopin and Debussy
Why aren't concert pianists more adventurous in their programming? Why do so many stick to the same tried and tested? At one well-known London venue, big-name pianists in the month of April 2023 offer programmes that rarely venture beyond familiar works by Beethoven, Schubert, Chopin and Debussy. True, there is one I spotted consisting entirely of short works by contemporary composers from the Arab world – one or two, yes, but a whole evening? – rounded off with Saint-Saëns's Africa (interesting, but hardly enough to tempt me). There's a big Liszt programme from Leslie Howard that I shall go to because it's his 75th birthday and in typical Howard fashion it's a programme of more or less rarely heard works by the great man. Elsewhere, Boulez? No thanks. Igor Levit? Not with the prospect of a political lecture.
Just look at what you could hear in concert halls a century ago. Here is Cortot's programme for 23 March 1923 in the Royal Theatre, Liège: Vivaldi/Bach/Cortot: Concerto in D minor, BWV596; Schubert/Cortot: Litanei; Weber: Invitation to the Dance; Chopin: Piano Sonata No 2 in B flat minor; Debussy: Children's Corner; Saint-Saëns: Étude en forme de valse; Saint-Saëns: Étude in G minor (for the left hand alone), Op 135 No 4 (Bourrée); Albéniz: 'Seguidillas' (from Cantos de España); Liszt: Hungarian Rhapsody No 2. I would travel a long way to hear that!
How about Wilhelm Backhaus? On 15 April 1923 in the Town Hall, New York City, he offered: Brahms: Intermezzo [x2], Romance in F major, Op 118 No 5, Variations on a Theme by Paganini; Schubert: Fantasy in C major ('Wanderer'); Chopin: Ballade No 1; Seeling: Étude; Smetana: Polka in F major (from Czech Dances, Book 1); Pick-Mangiagalli: La danse d'Olaf, Op 33 No 2; Schubert/Tausig: Military March in D major.
Later that year, you could hear Josef Hofmann in Carnegie Hall playing Beethoven: Piano Sonata No 31 in A flat major, Op 110; Sgambati: Vecchio minuetto; Weber: Perpetuum mobile from Piano Sonata No 1 in C major; Schubert: Fantasy in C major ('Wanderer'); Cui: 'Causerie', Op 40 No 6 (from À Argenteau); Poldini: Tourterelle, Chauve-Souris; Woods: Valse phantastique; Hofmann: 'The Sanctuary' (from Three Impressions); Liadov: The Musical Snuffbox.
You take my point. These randomly selected programmes are a canny mix of heavyweight and lighter fare. None of them has the flavour of Holy Communion or a two-hour lecture designed to test how long you can sit without coughing. One might even dare call them 'entertaining', though that might risk them being labelled 'fun' – and that would never do, would it? Far rather err on the didactic side of things, so we can tell ourselves how clever, sophisticated and cultured we are to sit through an evening of nothing but Schubert sonatas.
But wait, I hear you cry. Where did you find these recital programmes from a century ago? You will find them on a truly astonishing website called simply Classical Pianists: classical-pianists.net. Begun in 1998, it has been assembled by a chap called Christian Johansson. To quote the homepage, you will find on it 'a rich bouquet of concert programs, articles, reviews and eyewitness accounts from across the careers of several hundred historical pianists, as well as complete discographies and partial documentation of known non-commercial recordings for their more modern counterparts … The listings document approximately 100,000 performances, spread across 28,000 sessions or concerts from 355 pianists over a time period of 300 years.'
It is a wonderful resource, beautifully presented and carefully curated. A word of warning, though. Once you start trawling through its treasures, you will find that suddenly, somehow it is now way past your bedtime and the evening has gone. Next thing, you'll be dreaming of going to a piano recital once more that, as in former days, educated, enlightened and entertained, all in the same evening! A programme that catered for all tastes and not just that of a pianist with limited knowledge of the repertoire and a lack of curiosity. 
---
This article originally appeared in the May 2023 issue of International Piano. Never miss an issue – subscribe today