Salieri: At the Venice Fair at Bampton Classical Opera | Live Review
Roderic Dunnett
Thursday, October 26, 2023
Another fine production from the home of the UK's opera buffa scene
****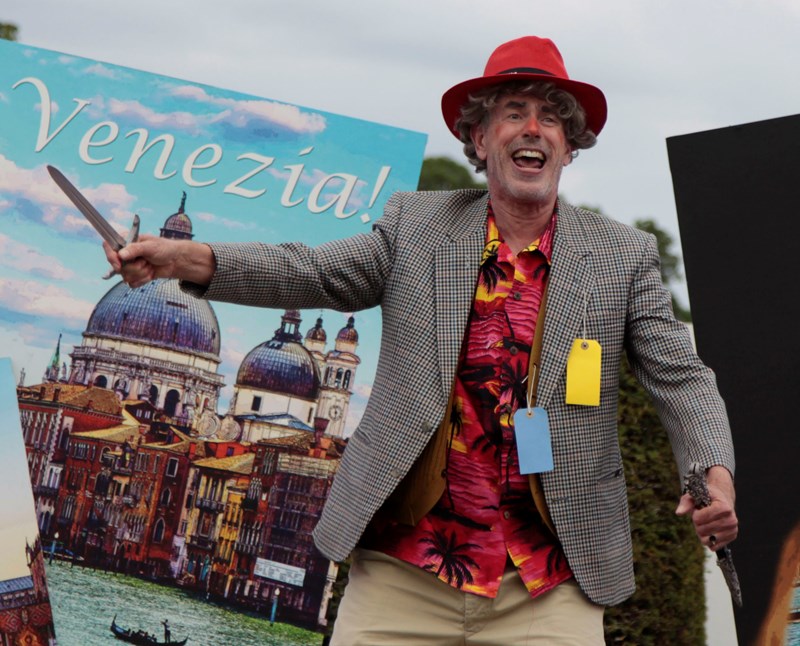 Grifagno (Philip Sheffield) in Salieri's At The Venice Fair at Bampton Classical Opera | Photo: © Anthony Hall/BCO
Incredibly, Bampton Classical Opera is celebrating its 30th birthday. Jeremy Gray's outrageous, quirky garden stagings have drawn universal admiration. His fun-packed treatments have tickled faithful audiences time and again, and yearly attracts more. No surprise.

They sing in English. A hilarious aspect is the dotty translations concocted by co-producer Gilly French. Initially Bampton was a risky, daring economic venture. But with its established celebrity, supporters now often put their hands in their pockets, so the brilliant venture has earned not just financial, but moral, encouragement. Such success must be an uplift for this indefatigable husband and wife duo.

Of course each summer season (plus Haydn in London, and Sussex, in early September, with some of the same cast) Bampton has offered a fresh contribution to repertoire, making opera buffa their own. Bertoni (who he?), the Czech Benda, Gazzaniga, Henneberg (Mozart and Schikaneder's young deputy), Russia-based Martin y Soler, Mozart's other protége Storace, and a load of p's - Paer, Paisiello, Philidor, Portugal. The Classical era newly brought alive. No other company else is so exploratory.
And Salieri. La scuola de' gelosi, La grotta di Trofonio, and Falstaff – I'm listening to it now – it's as ingenious as Verdi's; and here, from their magic box, they've unearthed his La fiera di Venezia ' – The Fair (Carnevale) at Venice.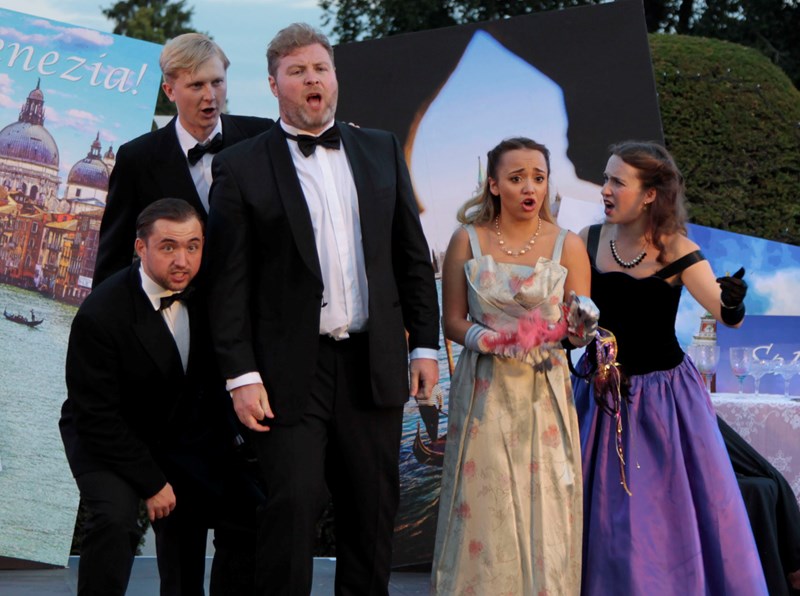 The cast of Salieri's At The Venice Fair at Bampton Classical Opera | Photo: © Anthony Hall/BCO

Each year brings something new. If one were to hint at a reservation, it might be that Bampton's flamboyant panache, even the translations, is in danger of becoming a little predictable. One plot folds into another. Yet the pluses – the wonderful box hedge which bats back, lucidly, every word of this natty cast; the mind-bogglingly hilarious sets Gray designs (History of Art degree beams through) with such cheeky aplomb; the sheer flair, hyperactivity and in-your-face presentation; the insanely plotted entrances and exits; the creative use of quite a small stage – knock every reservation for six. Bampton is what it is. Which is very clever indeed. 

This plot, naturally, is as dotty as Bampton's regularly polished cast. Magnate (Andrew Henley) escapes wife (Sarah Chae – terrific) for a few days (nights) with a luscious and sexy inamorata (Ellen Mawhinney), her name wantonly disguised. A tedious old relation (the immensely experienced – vocally it showed – Philip Sheffield) interferes. No one recognises anyone in a mask. A jealous rival (Aaron Kendall); an intrusive publican (Guy Beynon). A deliciously sung market trader, a bit of a Despina (Iúnó Connolly). Everyone makes up and marries. Many have featured elsewhere, although Bampton – huge praise – also helps young singers launch – witness their triumphant, internationally renowned Young Singers' Competition.

Acting – a jolly romp. Salieri's arias dazzle, their delivery radiant all round. What holds all together is Bampton's immensely competent orchestra, here inspired by the massively impressive Thomas Blunt. Immense praise for these instrumentalists, although if Salieri's Venice lacked anything (unlike, say, Falstaff), it was more salient obbligati (an early horn solo was one of the delicious exceptions). Still another typical hit for Bampton, its reputation untarnished.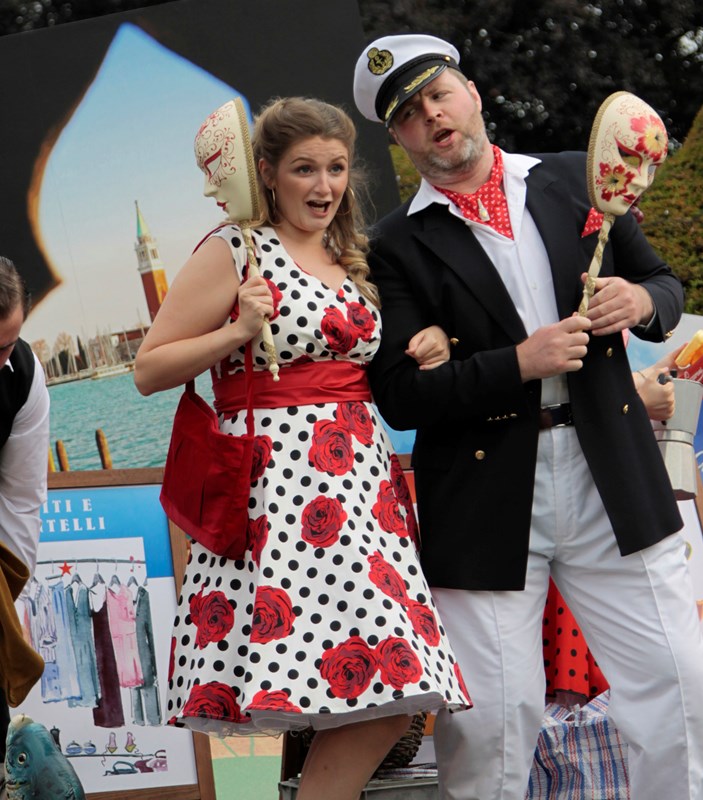 Falsirena (Ellen Mawhinney), Ostrogoto (Andrew Henley) in Salieri's At The Venice Fair at Bampton Classical Opera | Photo: © Anthony Hall/BCO