Handel - Concerti grossi, Op 3
Academy of Ancient Music / Richard Egarr
Harmonia Mundi HMU90 7415
Scholars have questioned the extent of Handel's involvement in the 1734 John Walsh edition of the Op 3 Concerti grossi. But speculation of this type seems insignificant in light of such fine playing and the welcome attention brought to these attractive works, so often overlooked. "It is hard to think of a lovelier moment in all of Handel's orchestral works than the spellbinding cellos interweaving under a plaintive solo oboe in the Largo of No 2," said David Vickers. And under the Academy of Ancient Music's new director, Richard Egarr, "the orchestra sound as good as ever, perhaps even reinvigorated and a few degrees sparkier". Violinist Pavlo Beznosiuk in the finale of the
 rarely heard Sonata a cinque is dazzling. Egarr could not have hoped
 for a better way to begin his tenure.
Richard Egarr on the Academy of Ancient Music's thought process
The Op 3 Concerti grossi are rather underrated pieces; they have lots of colour and richness of drama. This is the first in a series of AAM Handel recordings to be released by the end of 2008. We attempt to take the publications at face value. Musicologists have a habit of criticising the editions of Handel's publisher John Walsh for inaccuracy and carelessness, and there may be some truth in this, as they were prepared very quickly, but there's still more to trust in the publications than people give credit for. Of course, it's always worth going back to the source and taking notice of subsequent versions, but we're not trying to recreate any putative original or a better version that may have existed. After all, the original 18th-century AAM would have owned Walsh copies of these works. The AAM are a fantastic band – real team players interested in the greater good rather than in trying to promote any particular ego. I'm so happy to be a part of them.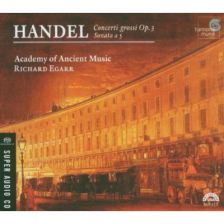 If you are a library, university or other organisation that would be interested in an institutional subscription to Gramophone please click here for further information.