Handel - Messiah (Dublin version, 1742)
Dunedin Consort and Players / John Butt
Linn CKD285
It was a popular year for Messiah recordings, with new performances from René Jacobs and Edward Higginbottom – both with Oxbridge choirs – enriching the already gilt-edged discography of this ever-popular work. Yet the pick of the crop is this, from John Butt and the 10-year-old Dunedin Consort and Players, whose masterful presentation of Handel's first version is delightfully fresh-sounding, exuberantly performed and profoundly moving. Premiered in Dublin in 1742, the score contains music that was not
 reused, and is – bizarrely – under-represented on disc. The 12 singers take turns as soloists and unite for the chorus – just as Handel would 
have expected – and expert singing coupled with thoughtful
 engagement with the text gives a sense of joyful coherence. Butt 
and his team allow us to approach this most familiar of works with 
the anticipation and expectation of being surprised.
John Butt on choosing the Dublin version
Why use the Dublin version? The Dunedin have always had singers within the choir but also singing the solo parts. So if we were going to do the piece in a historical way, we had to find a version in which that was the case. We like to have a small choir – 12 is normally the maximum for us. And the Dublin version of the Messiah seemed to fit that bill almost exactly. Though there have been a couple of "Dublin versions", none had really looked at the scoring issue in such a way before. The way the librettist has thrown together texts from different parts of the Bible to make them resonate with each other is striking. And that resonance is something the music picks up on. It generates a spark, almost before you've started singing it.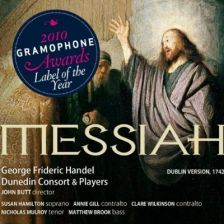 If you are a library, university or other organisation that would be interested in an institutional subscription to Gramophone please click here for further information.