Haas. Janáček - String Quartets
Pavel Haas Quartet
Supraphon SU3877-2
The young and dynamic Pavel Haas Quartet triumphantly announce their arrival on the recording stage with this first-rate example of the music of their namesake. The 1925 Second String Quartet, From the Monkey Mountains, "is the kind of piece that may make you wonder why you haven't heard it before," according to David Fanning. With a brand of "grotesque humour" akin to Stravinsky in his most subversive of moods, "in the finale wackiness goes a step further, with a rollicking, jazz-folk fusion" including a drum-kit accompaniment played to perfection by percussionist Colin Currie. In a neat thematic link the work is coupled with the Intimate Letters Quartet of his mentor Janáček, a work to which the Czech ensemble bring fresh inspiration. Both works benefit from "streamlined but full-blooded playing", ensuring eager anticipation for a follow-up album.
Peter Jarůšek, cellist, on performing Janáček and Haas
This was our first recording together as the Quartet and was a lovely experience. When Supraphon asked us to be exclusive artists it was very easy to choose the repertoire for our initial recording – we had studied Janáček's Second String Quartet and the Second Haas Quartet is a wonderful piece, so both works were close to our
hearts. Haas was a student of Janáček and there are some
 similarities in compositional technique and motif, yet both are
 very individual composers. We had played both these works extensively in concert before recording and made a real effort to recreate the intensity of the concert hall. Just three weeks ago 
we finished recording the remainder of the Haas and Janáček quartets to complete the set.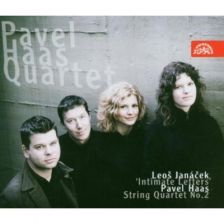 If you are a library, university or other organisation that would be interested in an institutional subscription to Gramophone please click here for further information.