Concerto (Recording of the Year)
Brahms - Piano Concertos Nos 1 and 2
Nelson Freire; Leipzig Gewandaus Orchestra / Riccardo Chailly
Decca 475 7637DX2 Read review
"This is the Brahms piano concerto set we've been waiting for," was Jed Distler's verdict back in September 
last year. News of a reinvigorated Gewandhaus Orchestra had been emerging from Leipzig for some months, then London audiences were treated to a live Mahler Seventh under Riccardo Chailly that backed up those rumours…and more. Then came this magnificent achievement.
Each generation seems to produce a single outstanding pair of the Brahms piano concertos – Rudolf Serkin with George Szell, Leon Fleisher, again with Szell, Emil Gilels with Eugen Jochum, Stephen Kovacevich with Wolfgang Sawallisch and now, the recording for a new millennium perhaps, Nelson Freire with Chailly.
Freire's has been a slow-burn career, never illuminated by the full glare of the spotlight despite an impressive collection of prizes and awards to his name (including the Dinu Lipatti medal in 1964). He's not a regular on the concert-hall circuit, but chooses his dates sparingly and wisely. His grasp of these vast edifices is remarkable, not just in their colossal technical demands but in their moments of poetry where Brahms the chamber musician steps to the fore. Listen to the long-breathed unfurling of the beautiful Andante third movement of the Second, with its exquisitely shaped cello solo; Freire's gentle picking up, maintaining and savouring of the exact mood is heart-stoppingly managed. He is as convincing in the torrential opening paragraphs of the First Piano Concerto as he is in the lilting, graceful finale of the Second.
Listening to these two remarkable performances is 
to be reminded of Riccardo Chailly's singular skill as an accompanist: he clearly gets totally inside his partner's conception of the piece and provides an accompaniment which at one minute might buoy up a particularly poetic phrase, while at another may crash gloriously in on one of Brahms's magnificent tuttis, leading with a new mood that he has established and gauged perfectly for his soloist. To quote Jed Distler again: "In Chailly's hands, a genuine chamber music aesthetic consistently governs the lustrous warmth of Brahms's underrated orchestrations, to say nothing of the heights to which the conductor has led his revitalised Leipzig Gewandhaus ensemble."
Recorded live in the fine acoustics of the orchestra's home and beautifully balanced by engineer Philip Siney, these are terrific performances that offer up new wonders at each listening. In Chailly and his fine German orchestra, Freire 
has found partners fully attuned to his approach to these works, but partners too who bring so much individuality 
and personality and, also, a corporate "memory" and 
wisdom that goes back as far as the 18th century.
Nelson Freire on the Brahms concertos
This was a wonderful musical collaboration. Riccardo Chailly and I did not know each other very well before 
this, but we established a very good relationship. Our approach to music has been immediately very easy and natural. And the Gewandhaus Orchestra is very special 
for these concertos – they have that central European sound that is exactly what I imagine for Brahms.
So it all came together very naturally. Very little about this recording, made from live concerts during a three-month period, was pre-planned. There was a great 
sense of spontaneity to each concert.
There is something remarkable about the Gewandhaus itself. It has an amazing atmosphere backstage, a great feeling of all the people who have played there. You 
can sit in this little artists' room and imagine great artists from Liszt to Clara Schumann sitting there before you. It is totally different from anywhere else. And the audience is exceptional; you feel that they are there because this music is part of their roots, it is in their blood and soul. So there I feel a little more input, I feel this atmosphere.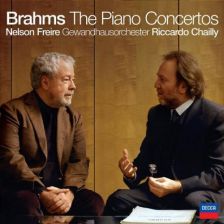 If you are a library, university or other organisation that would be interested in an institutional subscription to Gramophone please click here for further information.