Moeran - Symphony. Overture for a Masque
London Philharmonic Orchestra, New Philharmonia / Sir Adrian Boult
Lyrita SRCD247
Lyrita's continuing series of tantalising reissues has yielded some remarkable rediscoveries of British music – none more remarkable than Sir Adrian Boult's long sought-after Moeran recordings. Boult's affection for the G minor Symphony is in every phrase of this rapt and gloriously warm-hearted performance. The New Philharmonia are on blistering form and, thankfully for us, captured in a sumptuous recording that Andrew Achenbach described as having "stupendous definition, depth and enticing warmth". In Gramophone's original review in 1975, Edward Greenfield was unequivocal in his praise: "Anyone who loves English music, and who has never heard this heart-warming music, should go at once to this record."
Rodney Friend, violinist, on his favourite conductor
I made a number of recordings under Sir Adrian Boult (right) during 
the 1960s and '70s. That was a golden period for the London Philharmonic. We were touring the world and playing vast amounts 
of repertoire, but it was always a joy to play English music because 
it belonged to us. Boult was the greatest expert on English music – installing complete discipline in the musicians, always clear in his intentions and without sentimentality. At the same time the music had to be very beautiful and songlike. This was even more important than accuracy, although the musicians were so good that generally technical problems did not arise. During my 30 years leading orchestras I played under a great many fantastic conductors, but Boult was always my favourite. I always came away from the studio feeling happier than when I arrived – as if I had learnt something 
new about this country. His was an honest and utterly non-superficial musicianship and that honesty can never be repeated.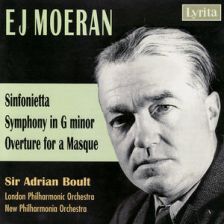 If you are a library, university or other organisation that would be interested in an institutional subscription to Gramophone please click here for further information.