Bach - Solo Cello Suites
Steven Isserlis
Hyperion CDA67541/2
Interviewed for Gramophone in June, Steven Isserlis confessed his true feelings about the Bach Cello Suites. He did not feel ready, he nervously admitted. He was not sure he ever would feel ready. But he was going to go ahead and finally record them anyway. If these works are the cellist's personal Everest, then he gloriously reaches the summit with one of the finest accounts of the Suites on record. His interpretation of what they mean – Isserlis believes that the Suites are a cycle based on the life of Jesus – seems to lend his interpretation depth, pain and narrative urgency. They are also fabulously played. "This is the most wonderful cello-playing," wrote Lindsay Kemp in his review, "surely among the most beautiful to have been heard in this demanding music, as well as the most musically alert and vivid."
Steven Isserlis on allowing the Suites to dance
This was an important recording for me, and I worked, worked, worked, practised, practised, practised. I've always thought of them principally as dance suites, but they express a huge range of emotion. I do believe in a religious subtext, the story of Christ, behind them, but it's most important to have a feeling of different dances. You can express anything in dance, and it does not contradict my sense of religion (even the Matthew Passion embraces dance!). I'm not playing the Suites at the moment, to give them a rest. They are an incredible strain because I love them so much. I don't know if I'll ever play them again, I really do find the responsibility terrifying. These were dream circumstances in which to record – a wonderful venue, a wonderful producer and engineer, an incredible cello and bow. But I won't listen to the recordings again. They belong to other people now.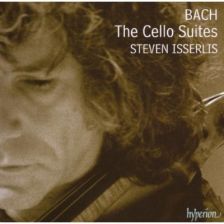 If you are a library, university or other organisation that would be interested in an institutional subscription to Gramophone please click here for further information.