Someone with the full name of Maria de Montserrat Viviana Concepción Caballé i Folc seems likely to make an impact in their life, and Montserrat Caballé, as she is more widely known, has certainly done that. The Barcelona-born soprano (by now a living icon of that city) broke through to international fame in 1965 when she understudied for the pregnant Marilyn Horne at Carnegie Hall in Lucrezia Borgia.
She was always blessed with natural musical instincts and one of the most beautiful voices of any soprano. Her sound, creamy and yet powerful, is utterly unique. But the most famous weapon in her vocal armoury is her immaculately controlled pianissimo – that big voice could be fined down to a sliver, poised, perfectly even and tender.
She sang and recorded a far wider repertoire than she is often given credit for. Alongside her bread-and-butter Donizetti, Verdi and Puccini there was Richard Strauss (including a wondrous recording of Salome under Erich Leinsdorf), forays into Baroque, Mozart and even a smattering of Wagner. And, of course, in 1987 she found a new generation of fans when she partnered the pop singer Freddie Mercury in the hit song "Barcelona".
Happily, she hit her prime at a time when great Italianate singers were plentiful – so her recording and live co-stars were often the likes of Pavarotti, Domingo, Sherrill Milnes, Richard Tucker et al. She has suffered her share of illnesses and injuries but each time has, with characteristic determination, returned to the stage with aplomb.
Now approaching 75 and with dozens of recordings to her name, Caballé still sings. She still throws her energies into helping young singers (José Carreras is one of those to have benefited from her patronage early in his career, while Caballé's singing competition assists new talents). And her reputation is secure as one of the greatest of all sopranos.
Sherrill Milnes on Caballé's voice

Montserrat and I made our debut together at the Metropolitan Opera, but it wasn't until we performed Verdi's Luisa Miller together in 1968 that I really got to know her well. She didn't speak English, but she did know German. And our tenor, Richard Tucker, knew no German but he did speak Yiddish. I could speak to her in Italian. We all got on like a house on fire, in all these languages!
We did many operas together as well as recordings. One incredible thing sticks in my mind – most singers "mark" their roles in rehearsals – they sing much more quietly, an octave down. Montserrat never marked down the octave. She just sang in the right octave, at the correct pitch but with a quarter of the volume. She could just diminuendo anywhere and everywhere she chose. And her voice was always so creamy and so easily produced. What isn't there to love?
 
Sir Colin Davis on working with Caballé
My memories of working with Caballé have 
a sort of glow, as somebody I always really loved working with. Her voice had great range and quite considerable colour. And she wasn't proud. Like most great artists she was basically very humble, always trying to learn. When we recorded Così together she worked with a wonderful Italian coach and the result was some of the best Mozart recitative on disc.
She was always lovely and, for me, never difficult to work with. And yet she also had a passionate side to her that could reach the dramatic extremes of a Tosca (which we also recorded). She is Spanish after all!
 
Peter Glossop recalls recording Verdi's Ernani with Caballé
She has one of the most beautiful voices 
I've ever heard – that soprano has a purple, lilac colour, a gorgeous velvety quality. It has a warmth to which she brings quite phenomenal musicianship. You could always guarantee with Montserrat that she knew exactly what she was doing musically – but that she always knew what everyone else on the stage was doing as well.
I was listening again only the other day to the recording we made together of Verdi's Ernani, which was my first complete opera recording. It's really very good, and I think much of that is down to the fact that when you're singing with such a great artist it challenges you to give of your very best, and that became really something special. She is a very great artist and a great human being.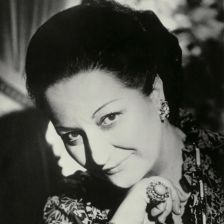 If you are a library, university or other organisation that would be interested in an institutional subscription to Gramophone please click here for further information.