Prokofiev - Complete Symphonies
London Symphony Orchestra / Valery Gergiev
Philips 475 7655PM4
Read Review
Establishing again its right to perch at the top of the orchestral pile, the London Symphony Orchestra, under Valery Gergiev's assertive baton, pulls impressive live performances out of the bag. The Prokofiev symphonies may appear to be less serious works than those of his younger contemporary Shostakovich, but, said David Gutman, "there is some tremendous music here which deserves to be on every collector's shelf". These are works that come alive under Gergiev's extrovert, sometimes brusque approach and the performances of the Second, Sixth and Seventh "are probably the finest on CD". Taped during the 2004 Barbican series, the performances showcase both Gergiev and the LSO at their most intuitive and passionate.

Valery Gergiev on the physical demands of the Prokofiev cycle
The LSO was the first orchestra I conducted in London, but I had been working there with other orchestras when we decided to make a statement together about symphonic Prokofiev. Amazingly, it was my first Prokofiev cycle, even though I had been so close to his works – in particular his stage works – for so long. There was a lot of physical pressure, and the LSO showed an incredible ability not only to survive but to increase the level of electricity, while remaining artistically engaged and technically brilliant. It was a very powerful and intriguing musical journey. When all the symphonies are taken together in this way, the experience feels different. You have to
 work especially hard on the works that people perceive as relatively weak. I was especially pleased with the Second Symphony, a work that has fascinated me for perhaps 25 years. I am delighted these works are claiming solid ground in the crowded repertory of 20th-century symphonies. It has taken a long time to achieve that.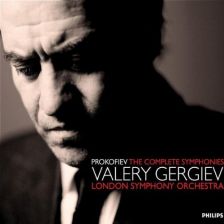 If you are a library, university or other organisation that would be interested in an institutional subscription to Gramophone please click here for further information.