'Tales of Opera'
Simon Keenlyside (bar); Munich Radio Orchestra / Ulf Schirmer
Sony Classical 82876 88482-2
Patrick O'Connor posed the question "Is there anything Simon Keenlyside can't do?" when reviewing this superlative album. It's a fair point. Keenlyside built his reputation as a singer of Lieder and Mozart operas, and was seemingly being groomed in the Thomas Allen mould. And that kind of voice-type is simply not supposed to be able to handle Bellini, Verdi, Leoncavallo – or at least, not as well. Yet here, Keenlyside reminds us all that as a vocal actor he has no peer. The way he finds new bite and darkness to beef up for the Pagliacci prologue or "Eri tu" from Verdi's Un ballo in maschera is almost as impressive as the way he uses each short aria to suggest an entire, and unique, character.
Simon Keenlyside
 on bringing the spirit of live performance to the studio
The recording process bit me from behind. I've never been a great fan of recording, loving live performing much more. I wanted to do this in as few takes as possible, with arias that I know well. The least you can do is be a bit sleeves-rolled-up about character-building and bring to it what you bring to a stage performance, so you have to try to forget the microphones, keep that bubble around your head and tell a story. You must remember to act these arias. Once, preparing for my Don Carlos debut in Madrid, I was rehearsing my death scene and actually tried to gasp as though I was dying. The conductor stopped and asked, "What's that noise?" I told him I was dying, and he said, "But you must always die gracefully!" I was amazed to read recently in Tito Gobbi's autobiography that he had exactly the same experience all those years earlier, and in the same opera!"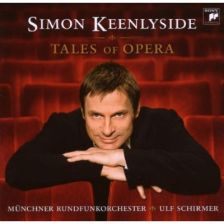 If you are a library, university or other organisation that would be interested in an institutional subscription to Gramophone please click here for further information.