Sibelius – Songs
Kim Borg (bass); Erik Werba (pf)
DG  477 6612GM 

In the always convivial critics' lunch where the Award-winners are debated and votes taken for Record of the Year, this reissue brought smiles to faces around the table, such is the affection in which it is held. "Of course," said Rob Cowan, "this offers a direct line back to Sibelius." Kim Borg was not only the composer's contemporary and relative (see below), he was his ardent champion. He was also one of the original setters of Sibelian song style. Flexibility abounds in this recital; at one moment, Borg's bass-baritone will be at its most mighty, muscular and hard as granite. At another, the voice will loosen, open up to let the emotions fly on the breath. If ever there was doubt as to the range of Sibelius's songs, Borg answered it. If ever there were questions as to whether he was a song composer of genius, Borg put paid to them. In fine sound, this disc makes a tremendously welcome return.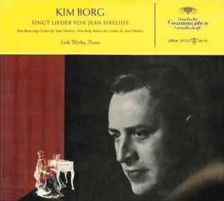 If you are a library, university or other organisation that would be interested in an institutional subscription to Gramophone please click here for further information.