Wagner
Der Ring des Nibelungen
Royal Danish Opera / Michael Schønwandt
Decca 074 3264DH7
When this came through on the CD release sheets under the innocuous‑sounding title "The Copenhagen Ring", there was no hint of the DVD event that this would become. A cast consisting of solid or up-and-coming Wagnerians rather than stars, a house not known for that composer and a conductor (Michael Schønwandt) who has never quite broken into the highest echelon of international maestri did not bode for anything special. Yet this superb, thought-provoking production in which every performer sings and acts their heart out proved a mesmerising experience, one which led Mike Ashman, in a full-page review, to rhapsodise about a production that "finds more heartbreaking emotion in Wagner's drama than almost any since Patrice Chereau's".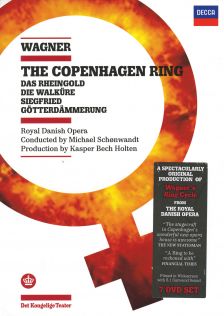 If you are a library, university or other organisation that would be interested in an institutional subscription to Gramophone please click here for further information.