Gramophone salutes a unique German independent record label that reflects the exquisite taste and vision of one man
In an age of increasing standardisation, it's good to salute genuine individuality. Each year we pay tribute to a record label that demonstrates a winning blend of creativity, imagination, business acumen, style – all adding up to that word again: individuality. This year we turn the spotlight on a label that has been ploughing its particular furrow with notable success for 40 years, ECM, and more particularly for "classical music" fans, its New Series.
ECM is one of those rare labels that bears the fingerprints of one man on everything it does – the visionary Manfred Eicher, far more than just an "A&R man". He is ECM and ECM is Manfred Eicher.
Everything the label does reveals the care and attention to detail that makes his label one of those extraordinary destinations for music lovers who want something a little bit different. And, ironically, that "little bit different" might be repertoire that other labels consider so "core" that they give it a wide berth – like the Beethoven piano sonatas. Typical of Eicher, he felt able to tackle this Everest of the piano repertoire with a musician who was absolutely ready to share his interpretations of these 32 works, András Schiff. And needless to say the results have been among the most interesting surveys of these pieces. Or this year's revelatory disc of the Schumann violin sonatas with Carolin Widmann and Dénes Várjon. When Duncan Druce reviewed the disc in these pages he commented that "whether or not you know the music well, you'll be enthralled and delighted".
And not only is that a tribute to these performers but it's also a response to so much that ECM does: making the familiar new again (one might also point to the Zehetmair Quartet's Record of the Year-winning disc of Schumann's string quartets from 2003, a disc that still conveys a freshness and sense of discovery that is palpable).
But ECM New Series, for many people, is about new music. While many companies shy away from contemporary music, Eicher seeks it out – and again it's a tribute to his taste and extraordinary judgement that many of the composers he's championed have gone on to become familiar names: Arvo Pärt, Giya Kancheli, Valentin Silvestrov and Erkki-Sven Tüür, to name just four. And ECM, once it has found a musician to champion, does it properly, not merely with a single disc but often exploring different genres of that musician's art. And of course that is one incentive to stay with the label and follow the lead it so obviously offers.
Add to the provocative A&R, first-class musicianship, invariably demonstration-worthy recording quality and the label's trademark design – usually black and white, always slipcased, and adorned not with a going-through-the-motions programme note but something altogether more challenging – and you have all the ingredients that have convinced us that this, of all years, belongs to Manfred Eicher and his wonderful ECM label.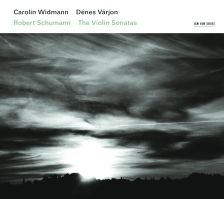 If you are a library, university or other organisation that would be interested in an institutional subscription to Gramophone please click here for further information.