Pierre-Laurent Aimard pays tribute to Nikolaus Harnoncourt, a true visionary
Musical life is interesting if you are nourished and enlightened by strong personalities, and in this case it seemed to me hugely enriching to work with somebody who had such a very creative attitude. He has a way of combining a great knowledge, working with the text with a great freedom in vision, intuition and dramaticism.
There are conductors who can get very "alive" interpretations without Harnoncourt's period-instrument background, but this way of having done things gives a special identity to his interpretations. He is a musician who is incredibly passionate and committed in music, with a pure spirit as well, discovering new scores, in general and for himself. He has a very young soul.
I have been lucky to have performed with him on so many occasions – the Beethoven concertos, the Triple Concerto, the Dvorák Concerto. He is a phenomenal musician, who has given a very strong direction to a whole era of music‑making.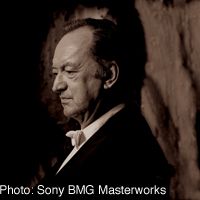 If you are a library, university or other organisation that would be interested in an institutional subscription to Gramophone please click here for further information.