DG's recent signing, Yuja Wang, is a young pianist of astonishing talent
"A combination of blazing technique and a rare instinct for poetry" – those were the words we wrote above the review of Yuja Wang's debut disc for Deutsche Grammophon in our August issue.
In the previous issue we had featured this exceptional young pianist on our One to Watch page. It was clear to us, as to an increasingly large number of people in the music world, that she was a remarkable talent. And now we name her our 2009 Young Artist of the Year.
First the facts. Born in Beijing in 1987, Yuja Wang won the 2002 Aspen Music Festival's concerto competition and began studying at the Curtis Institute in Philadelphia with Gary Graffman. She made her European concert debut in 2003, with David Zinman and the Zürich Tonhalle, and her North American debut two years after that, in Ottawa, under Pinchas Zukerman.
Then earlier this year she signed to DG, fulfilling a long‑held ambition she had had ever since hearing Pollini playing Chopin on the iconic Yellow Label. It's an impressive career progression by any standards, but listen to her play and its speed suddenly makes perfect sense.
Her debut disc, which featured the second piano sonatas of Chopin and Scriabin, Liszt's Piano Sonata and Etudes by Ligeti, was a well chosen and bold showcase for her talents. In the Scriabin she demonstrated a beautiful sensitivity to the music's many and varied moods, in Chopin a fiery but never reckless approach, and throughout the whole programme we are left in no doubt of her formidable technical command, at the same time, as Bryce Morrison wrote in the review, "her playing, while sharply individual, is free from all distorting idiosyncrasy or mannerism". We look forward with great excitement to following Yuja Wang's career for many years to come.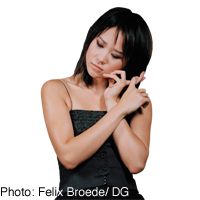 If you are a library, university or other organisation that would be interested in an institutional subscription to Gramophone please click here for further information.