Bach . Lotti . Zelenka
Choral Works
Balthasar-Neumann Chorus and Ensemble / Thomas Hengelbrock
Deutsche Harmonia Mundi 88697 52684-2 Read Review
Albums themed by place are nothing new and indeed a veritable sub-genre is developing, with recent years seeing musical works linked by their relationships to, variously, Sicily, Florence, Jerusalem and others. Dresden is the focal point here, connecting Lotti, Zelenka and Bach. Yet the performance of one of these is worth the cover price alone, and that is the Lotti. Thomas Hengelbrock has been an ardent advocate for this composer before and here, as reviewer David Vickers noted, "some surprising choral harmonies…lifted me from my chair in astonishment and admiration for both the composer and his modern-day interpreters. This is nothing short of revelatory".
Interview with Thomas Hengelbrock
I wanted to put together a combination of works that revealed how rich and connected the musical culture of that time in Dresden was. With a composer like Bach, sometimes you have a feeling that the music has just fallen down like a star from heaven, but of course it was not like this. He learnt a lot – he went to Dresden to hear the music of Antonio Lotti, he knew quite well the music of Zelenka, as indeed Zelenka knew the music of Lotti. In my library I have some hundreds of microfilms of music by Lotti. He was such a great composer, such a genius. When you read this music, it is less complicated, less tricky than that of Bach. Sometimes you have a very, very slow harmonic tempo – I like to have some more harmonic complications – but when you perform it in a cathedral or church, then you feel immediately that this is what it was written for. It is really music for the ears.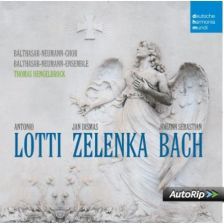 If you are a library, university or other organisation that would be interested in an institutional subscription to Gramophone please click here for further information.