Beethoven
Complete Sonatas for Piano and Violin
Isabelle Faust (vn) Alexander Melnikov (pf)
Harmonia Mundi HMC90 2025/7 Read Review
The set to define a partnership, Isabelle Faust and Alexander Melnikov's Beethoven sonata cycle makes the most of their differing musical voices. Faust's "subtle and quietly formal" playing meets Melnikov's mastery "of the meaningful pause", a combination that "fires a laser between the staves", wrote Rob Cowan. The pair are equally at home in the elegantly playful early sonatas and in the exciting turbulence of the Kreutzer, which boasts "oodles of drama and well judged tempi". In what "may well prove the leading Beethoven violin sonata cycle of the decade", Faust and Melnikov are at the top of their game.
Interview with Isabelle Faust
We put so much energy and passion into this recording and spent a long period drowning in Beethoven's world. We tried to get hold of as many manuscripts as we could because seeing Beethoven's expressive handwriting was a helpful way of finding each sonata's character. Although performing on modern instruments, we wanted to convey some of the stylistic nuances and articulation of a hammerklavier and gut strings. However, the later sonatas like the Kreutzer, which are brilliant and concertante in style, are well suited to modern instruments – in the end, we no longer live in Beethoven's time and our ears have become accustomed to different sounds. We were challenged most by those sonatas we had played while growing up, such as the Spring Sonata, as it is difficult to rid oneself of youthful habits and ideas. So we had to relearn these from scratch. On the other hand, we were happy to discover those sonatas rarely performed in concert – the Third and the Sixth Sonatas have now become our favourites.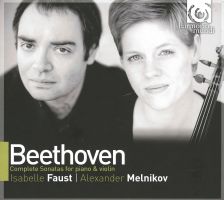 If you are a library, university or other organisation that would be interested in an institutional subscription to Gramophone please click here for further information.