Verdi
Messa da Requiem
Soloists; Santa Cecilia Chorus and Orchestra / Antonio Pappano
EMI 698936-2 Read Review
Verdi's Requiem has been well served on disc and the territory has been correspondingly well charted. Everyone with a close interest in the work knows the litany of great recordings – broadly, it's Toscanini for the heaven-shaking drama, Giulini for a spiritual experience, Karajan for splendour or Gardiner for revelation (oh, and Fricsay as the one that's always forgotten). For any new recording to be spoken of favourably in the same breath as these is an achievement indeed. Yet Gramophone's Richard Osborne went so far as to say of Antonio Pappano's new recording, "To the landmark recordings…we can now add, as a superbly realised garnering of these accumulated insights, this exceptionally fine new set".
Interview with Antonio Pappano
This recording was so intense, because recording that kind of piece live is a big deal – there's a tremendous emotional component and everybody's under the microscope. It is an honest recording, with the right sound in the chorus and a real feel of an occasion. It's not the end of what this piece means to me, but unfortunately you seldom get to record things twice these days! The Santa Cecilia Orchestra and I will soon release Rossini's Stabat mater, and there are revelatory connections between the two works. Just listen to the "Inflammatus" in the Rossini. Verdi was no accident. Rossini had already thrown down the gauntlet for that type of dramatic utterance in the earlier work. On the page it doesn't look so huge but when you play it it sounds like the apocalypse. The subject matter is different but the desperation and the drama is already there in Rossini. And in that sense, Verdi needed him.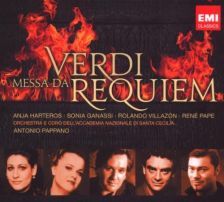 If you are a library, university or other organisation that would be interested in an institutional subscription to Gramophone please click here for further information.