Adès
The Tempest
Soloists; Chorus and Orchestra of the Royal Opera, Covent Garden / Thomas Adès
EMI 695234-2 Read Review
High-profile contemporary operas aren't as rare as might be expected, but the ones that get revived, never mind a foothold in the repertory, are only to be found with the proverbial hen's teeth. "Thomas Adès's 'ism'‑defying output gains in variety all the time", said Gramophone's review in August 2009, "but whatever he comes up with in the future it is likely that The Tempest will remain one of his most significant achievements." Despite the enormous difficulties in casting the high-wire soprano part of Ariel, The Tempest has had several revivals already around the world; this recording was made live at Covent Garden's second go. With a melodic language that sounds even richer on each hearing, and a gripping narrative, expect it to be around for a long time to come. And it's likely that this recording will remain the benchmark.
Interview with Thomas Adès
The staging for this revival was very visual, but if I get the music right it will in itself evoke the landscapes and characters. It's important not to be too explicit, because you need the listener to be able to see the sea in the way they imagine it. And there was a temptation to make the score full of "special effects" – but I decided to limit that to one scene, where Prospero makes a bewitching magic spectacle, only to sweep it away and confound everyone, so a harp suddenly makes an isolated appearance. I suppose I should have worried about casting, especially Ariel's very difficult part! But as soon as I'd written the first page of her music there was no going back. It certainly wasn't done for the excitement of high notes. The idea of this role is that she's like the wind, so it doesn't matter whether it's high or low – she exists at that stratosphere.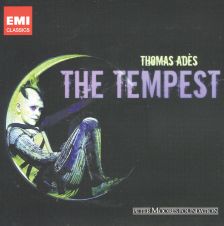 If you are a library, university or other organisation that would be interested in an institutional subscription to Gramophone please click here for further information.