Leonard Bernstein 'Reflections'
EuroArts 307 8728 Read review
You might say that no documentary about Leonard Bernstein could possibly fail. Surely there has never been a more television-friendly classical musician. He only, it seems, needed to open his mouth and out would pour wisdom, wit and words so perfectly chosen they might have been scripted. But few documentaries work as well as this, which caught the great man during the excitement of the first retrospective of his music, from the Israel Philharmonic. It also knows when to let him just talk. And so he lies on a sofa and does just that, sometimes intimately, sometimes knowingly striking a posture. There was a private Bernstein, one senses, that lay beyond any interview, but Peter Rosen's film gets some way beyond most.
Interview with Peter Rosen, director
The reason that this film was very deep and got to the real Bernstein was because it was filmed when his wife was dying. When we were filming him in his New York apartment she was very ill in the next room, and between takes he would go to see how she was feeling. I kept offering to postpone the filming, but he continued, and he was very open. So we didn't have the usual shots of him jumping on the podium, running around with a cape, riding a convertible…All of those showy things he was known for were not in evidence. The project came about through the United States Information Agency, which created propaganda films for overseas, to show that Americans had a cultural life. And Bernstein was actually very patriotic and was keen to take part to help America. Yet it has taken me more than 30 years to get this commercially released!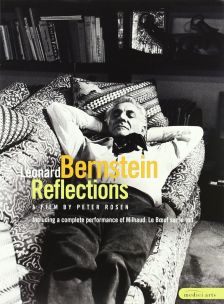 If you are a library, university or other organisation that would be interested in an institutional subscription to Gramophone please click here for further information.