Vladimir Horowitz - The Complete Original Jacket Collection
Vladimir Horowitz (pf)
RCA (70 discs) 88697 57500-2 
Are there many pianists whose skill is so venerated that a collector would be not just content but delighted to have multiple versions of the same work in a box-set dedicated to said pianist? Not many, but Vladimir Horowitz is undoubtedly one of them – so in this 70-disc retrospective, we get doubles of some pieces, and even six recordings of Debussy's Serenade for the Doll! Yet Horowitz is such a "pianistic god" (according to Jeremy Nicholas's review of this edition) that this one-stop library will be a must-have for many.
Interview with Jon Samuels, reissue producer
This set features all of the recordings that were made for RCA, Columbia, CBS and Sony that were authorised either during Horowitz's lifetime or by the estate after his death. It also includes the first complete releases of two recitals – at Carnegie Hall in 1951 and at the Whitman Auditorium in 1967. The sound is extraordinarily fine on the 1967 recital. The 1951 recording was a complete reconstruction. The master tapes no longer survive, so it was put together from test pressings I own. Fanatical Horowitz collectors probably won't find anything new here (apart from the two recitals), but I think this set will draw many new listeners to Horowitz's recordings. His style constantly changed throughout his career – with this set you can follow this evolution. Often portrayed as a wilful eccentric, Horowitz was certainly wilful but he was first and foremost an exceptional musician whose performances stand on their own merits. He sets the ultimate example of what's possible with the piano.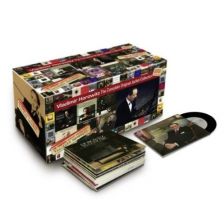 If you are a library, university or other organisation that would be interested in an institutional subscription to Gramophone please click here for further information.