Schubert
Winterreise
Mark Padmore (ten) Paul Lewis (pf)
Harmonia Mundi HMU90 7484 Read Review
This was a surprise. Not in terms of quality, certainly, but in the sense that it happened at all. Paul Lewis was coming off the back of a rapturously well received Beethoven sonata cycle and the idea that he would take "time out" from capitalising on that (with big concerto recordings and the like) to accompany a Lieder recital seemed highly unlikely. But there is nothing subordinate in Schubert's piano parts, and Lewis and Mark Padmore proved a meeting of artistic minds that yielded a poetic yet bold Winterreise. In retrospect, it wasn't bad as a career move either.
Interview with Paul Lewis
There is so much to draw from in these piano parts, you can only be inspired by it really. And especially working with a singer like Mark – the story-telling that he does is just extraordinary and the way he marries up the text and the meaning of the text with the music, that's also something that is incredibly inspiring to work with, and encourages you to find even more in the piano part. As a cycle it can wear you down a bit when you're in it quite intensively! You have to pace the way you work at it; you have to pace your rehearsals, because to do it very intensively really can have a negative effect. I think it's important to space out the rehearsals so that you have time to digest what you've gone into, and sometimes remove yourself from it as well. The length of the cycle, the depth that it goes into, but the variety of depth, and the variety of despair that it explores, means that the possibilities are quite never-ending.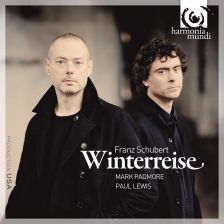 If you are a library, university or other organisation that would be interested in an institutional subscription to Gramophone please click here for further information.