Gustavo Dudamel, conductor
Serial winners of awards tend to talk often about wanting to "give something back". Quite often, let's be honest, that means donating money to some deserving cause and being done with it, and that's not nothing. But in Gustavo Dudamel's case, giving something back is simply a continuation of his life, of the philosophy that has governed every day since he first discovered music through Venezuela's El Sistema.
Because enlightened music education systems like Venezuela's have profound and different potential effects on their graduates. They can nurture God-given talents and create stars. They can provide a wider number of children with enough musical training to allow them to earn money and thus escape a life in the slums. But, which is surely at least as important, they instil a love of music and an appreciation of its transformative qualities which breeds generations of people who want to pass on this great gift. So for Dudamel, the most celebrated product of El Sistema, to fail to be concerned with continuing this important work is surely all but inconceivable.
Yet the still-young conductor of the Los Angeles Philharmonic and Gothenburg Symphony Orchestra does more. He is more. "There's something about him," said a grizzled, sometimes cynical industry pro to Gramophone's editor several years ago, just after DG had signed up the then still unknown maestro. "His very presence is somehow energising." Musicians say the same. So do audiences.
And Dudamel puts that charisma to good effect, setting up or supporting El Sistema-influenced programmes in LA and elsewhere. He has become a superstar by dint of working at what he believes in, not by blatantly courting fame. In fact, he gives relatively few interviews, the in-depth one he gave to this magazine earlier this year being extremely rare, and even fewer photoshoots (ditto). Although some would doubtless say that one way to keep the public interested is through precisely that kind of elusiveness, Dudamel is very clear that it's all about the music – first, foremost, finally.
So what about Dudamel and the music? He has a great way with an orchestra, all agree. And he's a thinking conductor – if some of his interpretations are still settling down, that's almost inevitable for a musician of his years. But the Dudamel effect is felt everywhere. Classical music is once again talked about (at any rate somewhat more) in the press. It is once again a realistic and desirable aspiration for growing numbers of young people. It is an acknowledged way to bring communities together (as with Julian Lloyd Webber's Dudamel-inspired In Harmony UK project). And all that revolves around a serious approach to great music. Now that's giving back.
(Photo: Richard Reinsdorf)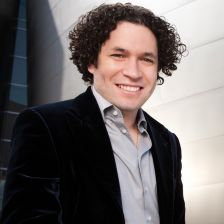 If you are a library, university or other organisation that would be interested in an institutional subscription to Gramophone please click here for further information.