CPE Bach Harpsichord Concertos 
Andreas Staier; Freiburg Baroque / Petra Müllejans Harmonia Mundi HMC902083/84
CPE Bach's Sei Concerti were composed in 1772 and such was Bach's commitment to them that he had them printed at his own expense. As far back as 1770, he had announced that he was engaged in "six easy harpsichord concertos" (to make their cost worthwhile, he needed to make them appealing to the wider public, including amateurs). But this label hardly does them justice. "Unusual and boldly colliding key relationships, shock dynamic changes and experimental movement layouts rescued from apparent craziness by forward-looking cyclical procedures" all caught Gramophone reviewer Lindsay Kemp's attention – as did the playing of the Freiburg Baroque Orchestra and harpsichordist Andreas Staier, both of whose "matchless expertise and explosive -energy" was, for LK, "a match for Bach's sparky imagination".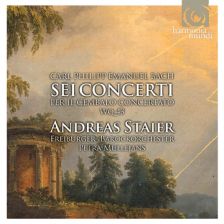 If you are a library, university or other organisation that would be interested in an institutional subscription to Gramophone please click here for further information.