Chamber (Recording of the Year)
Dvorák String Quartets Op. 106 & 96 
Pavel Haas Quartet Supraphon SU40382
In February 2010, four young Czech musicians appeared on the cover of Gramophone under the banner "The World's Most Exciting String Quartet?". The Pavel Haas Quartet's star has continued to rise since they formed nearly a decade ago. With their latest Supraphon disc, they return to Czech repertoire in a coupling of Dvorák's Quartets Nos 12 (American) and 13. Their performance of the latter comes with "plenty of feeling", noted reviewer Rob Cowan, while their reading of the American makes for "a lyrical, high-spirited traversal" and a worthy companion piece. The Quartet's unerring commitment to the music of their native country again results in an impressive proposition.
Visit www.iTunes.com/gramawards to download your free Pavel Haas Quartet track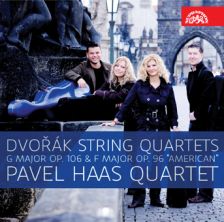 If you are a library, university or other organisation that would be interested in an institutional subscription to Gramophone please click here for further information.