Elgar The Kingdom
Claire Rutter; Susan Bickley; John Hudson; Iain Paterson; Hallé Choir & Orchestra  / Sir Mark Elder Hallé CDHLD7526
Under Sir Mark Elder, Elgar once again features centrally in the Hallé's repertoire. Their Dream of Gerontius took an Award in 2009, the Violin Concerto in 2010 and now The Kingdom completes a distinguished trio. Our reviewer Andrew Achenbach commented on the "glow, passion and dedication" of Elder's performance. He drew attention to "orchestral playing and choral singing of notable adroitness from his massed Hallé…[Elder's] unerring grasp of the bigger scheme and scrupulous attention to dynamic and textual nuance make for profoundly nourishing results". And with superb singing from the four soloists, here's a Kingdom to stand alongside the classic Boult recording.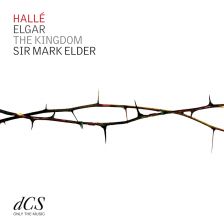 If you are a library, university or other organisation that would be interested in an institutional subscription to Gramophone please click here for further information.