Birtwistle Night's Black Bird
Hallé Orchestra / Ryan Wigglesworth NMC NMCD156
For all his reputation as new music's bovver boy-in-chief, Sir Harrison Birtwistle's work is actually traced over the most ancient ley lines of British music. The Shadow of Night (2002) and Night's Black Bird (2004) are meditations on songs by John Dowland, material implanted far inside our national consciousness by England's greatest Renaissance composer.
Thus this recent pair of orchestral works reaches into material both -familiar and impossibly marooned in history. Gramophone's Arnold Whitall wrote about how they penetrate inside "the darker side of human experience". The pairing with the "richly refined elegy" of The Cry of Anubis, a tuba concerto mined from the opera The Second Mrs Kong, finds the Hallé Orchestra and Ryan Wigglesworth on top form.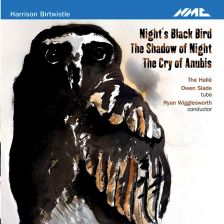 If you are a library, university or other organisation that would be interested in an institutional subscription to Gramophone please click here for further information.