Rossini Stabat Mater
Netrebko; Santa Cecilia Orchestra & Choir / Pappano
EMI 6405292
Go back in time to Gramophones past and you'll find that Rossini's Stabat mater was once a great deal less well known than it is now ("as unexpected a work as you can find from an opera composer", said the magazine back in 1964 on the appearance of Karl Forster's recording). Not that it is exactly a household work now – although surely the tenor's catchy "Cujus animam" could be whistled in every household, even if the whistler wasn't sure what he or she was whistling.
But Antonio Pappano's superb recording – immediately dubbed in Gramophone by Richard Osborne as the work's finest yet – shows us that this is perhaps not such a surprising creation from an opera composer. He treats it as a series of beautifully and sharply delineated sound-paintings. Each movement has its tinta, each vocal section its character. It's a deeply compelling approach and one in which Pappano is abetted by his Santa Cecilia Chorus and Orchestra playing out of their skins for him (though fans of the same team's recent Verdi Requiem will have come to expect that). The soloists are a top-notch bunch and blend beautifully – in particular Joyce DiDonato and Anna Netrebko who, because they usually record for rival labels, aren't often heard together. It turns out they're a match made in heaven.
And tenor Lawrence Brownlee, all too rarely showcased on record, will have done his reputation no end of good with this finely, sensitively modulated showing. Pappano followed this with a complete William Tell, also for EMI. It's exciting to wonder what might be next, if he can muster the cast: a Viaggio a Reims, perhaps? One dares to dream. James Inverne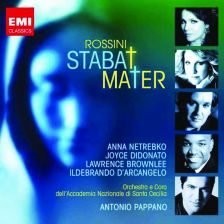 If you are a library, university or other organisation that would be interested in an institutional subscription to Gramophone please click here for further information.