Brahms Handel Variations. Piano works, Opp 118 & 119  
Murray Perahia Sony Classical 88697 72725-2
Murray Perahia has held back on recordings of Brahms's music – his last Brahms disc is 20 years old. So here's a disc that not only reveals him as a wonderful Brahmsian but also fills in a large gap in his discography. As Gramophone's Bryce Morrison admitted, "the wait has been gloriously worthwhile". Of the Handel Variations BM commented, "This is a performance for those poor souls who, amazingly, take a dim view of Brahms's keyboard variations." The late Intermezzos confirm that it would be hard to find "a pianist with a more patrician disregard for all forms of bloated excess or exaggeration".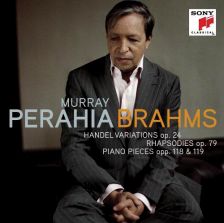 If you are a library, university or other organisation that would be interested in an institutional subscription to Gramophone please click here for further information.