Wigmore Hall Live
First came orchestras, then artists, and then – quite unexpectedly – a venue. We knew these record label start-ups were significant, but when the Wigmore Hall launched its own label in 2005, we realised that they were truly seismic. The business model at Wigmore Hall Live was unique. But more than that, the creative implications were massive: here was one of the world's most hallowed stages, whose own microphones could capture up to seven concerts a week and pick the best of the bunch for immortalisation on record. The still-superlative roster of artists visiting the hall day in, day out confirmed the notion that this label could turn into a veritable powerhouse. 
First came the Nash Ensemble, playing staples of the chamber music repertoire by Beethoven and Schubert. Next Sir Thomas Allen, singing Lieder by Wolf, Beethoven, Butterworth and Vaughan Williams. So far, so Wigmore Hall: fine performances of key chamber and song repertoire, taken from one-off concerts by the best artists. 
But soon enough, the imaginative horizons started to broaden. "Small" orchestral performances came from the Academy of Ancient Music. Paco Peña offered a red-hot recital of flamenco masterworks for guitar. The archives opened, and with them came a special night of song from the late Lorraine Hunt Lieberson. Not only were the great artists cropping up on Wigmore Hall Live, it started to become a useful label with which to survey up-and-coming string quartet talent. 
And the last year has brought a crescendo. The label broached the revered territory of "the cycle", starting with a projected set of Beethoven Violin Sonatas from a still under-profiled musician. Alina Ibragimova's violin above Cédric Tiberghien's piano, captured in Wigmore Hall's singular acoustic, has proved one of the most delicious of all the label's offerings. Christopher Maltman's Schubert song-cycle is heading for the same level of comprehension and inspiration. 
Recent issues have included a full Handel opera from the Early Opera Company and the Wigmore debut of Theatre of the Ayre. A cursory glance through the season brochure hints at the gems yet to come. For more information, visit Wigmore Hall Live.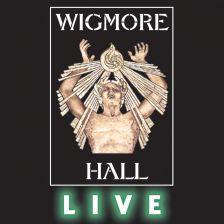 If you are a library, university or other organisation that would be interested in an institutional subscription to Gramophone please click here for further information.