The Bach Cantata Pilgrimage on SDG
The ambition of the undertaking was wondrous: to perform all of Johann Sebastian Bach's surviving church cantatas on the appropriate feast day. And if that weren't enough, the performances would take place in churches, cathedrals and abbeys throughout Northern Europe. The logistics of transporting a choir, orchestra and soloists around Europe is in itself enough to make the head spin. But Sir John Eliot Gardiner – aided at every stage by his wife Isabella de Sabata – along with an ever-changing group of soloists, the Monteverdi Choir and English Baroque Soloists, had determined that this was the way they intended to spend the Millennial Year 2000 – and they pulled it off! Yet things went a step further, and it is this last stage of the Bach Cantata Pilgrimage that the Gramophone Awards salutes this year: the release, in 27 two-disc volumes, of the entire glorious project. Each volume is illustrated by a striking Steve McCurry photograph, the message being that Bach's music transcends race and creed. And listening to any one of these astounding works is to be brought face to face, again with Bach's towering, yet deeply human (and humane) genius.
Of course, we might have predicted what a tremendous series this would be when we made the first volume Recording of the Year back in 2005. Its conclusion will certainly leave a gap in our lives. But then, we can simply take Volume 1 down from the shelves and start again…
(Photo: Simon Way)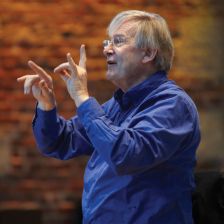 If you are a library, university or other organisation that would be interested in an institutional subscription to Gramophone please click here for further information.