Specialist Classical Chart
Miloš Karadaglić – The Guitar
The Specialist Classical Chart, compiled from UK CD and download sales, offers an insight into how the discerning record-buying public's views compare to those of our critics. Older albums are not included, nor are recordings which are not classical music as Gramophone readers might recognise it.
Discs that have been a regular presence in the top 20 during 2011 have ranged enormously in terms of repertoire and artists. Take, for example, Lisa Batiashvili's fascinating survey of Russian music, "Echoes of Time" and Paul Lewis's complete Beethoven Concertos recording. Or the thrilling early music discovery of Striggio's 40-part Mass from I Fagiolini and the contemporary choral collection of Eric Whitacre's music, "Light and Gold". But the recording that follows last year's winner André Rieu as champion of the Chart, having led it for much of this year, is from an artist most would have been unfamiliar with 12 months ago – Montenegrin guitarist Milo Karadaglić. 
The album launched his relationship with DG and, explaining how he chose the programme, he told us: "I realised the best way to start would be from the Mediterranean – that's where the guitar comes from, that's where I come from, and that's where the repertoire that I love comes from. Tárrega, Albéniz, Granados, all these amazing pieces, which to guitarists are well known – but not to the person on the street. But then a person will hear them, and because of a parent, or because they heard it 30 years ago, will say, 'Oh I know that, that's wonderful, I love classical guitar.'"
(Photo: Olaf Heine/DG)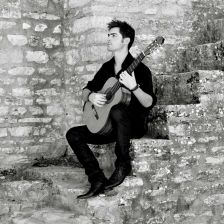 If you are a library, university or other organisation that would be interested in an institutional subscription to Gramophone please click here for further information.