Miloš Karadaglić
Many young classical artists – pianists, singers, violinists – find themselves forging careers in well-structured worlds, with established audiences for their chosen instrument. It's not quite like that for young guitarists, however. Despite the pioneering advocacy of Andrés Segovia and, following him, the likes of Julian Bream, John Williams and David Russell, there is still something of the outsider about the guitar. 
This was, at least initially, the case for Milo Karadaglić, growing up in Montenegro: "When I went to music school I was taught by a trumpet teacher who knew how to play a bit of guitar – it was not  established at all." But building bridges did not prove hard. As a teenager, Karadaglić appeared in concerts and on television, and found that "people always loved the guitar, even if they didn't know much about it".
That he's also a charismatic performer must have helped. But most importantly, he is a wonderfully gifted guitarist – "a thoughtful, intelligent artist, as supple in his phrasing as he is generous in his use of colour," wrote Gramophone critic William Yeoman of Karadaglić's debut disc for DG. That recording dominated the Specialist Classical Chart for many months – winning this year's Specialist Classical Chart Award. 
Next year brings debuts at Carnegie Hall and the Royal Concertgebouw. "Since I was a little boy I wanted to travel around the world with my guitar," he said, "and now I'm doing exactly that."
(Photo: Olaf Heine/DG)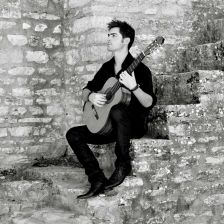 If you are a library, university or other organisation that would be interested in an institutional subscription to Gramophone please click here for further information.