Joseph Calleja, tenor
Although still only 34, Joseph Calleja has most definitely arrived – a tenor of uncommon distinction, whose elegance and sense of style are second to none on the operatic stage today. It seems fitting that he should win the Artist of the Year Award now, following a high-profile 2011‑12 season, which started with the 2011 Nobel Peace Prize concert in Oslo and has been crowned by the once-in-a-lifetime invitation to sing 'Rule, Britannia!' at the Last Night of the Proms.
It could not have happened to a more deserving singer. Voters for the Gramophone Award might pat themselves on the back for having chosen an artist who has striven to uphold the noblest traditions of singing handed down the generations. Calleja's teacher, the Maltese tenor Paul Asciak, has told how the technique he was passing on stretched back in a direct line to singers such as Aureliano Pertile and Dino Borgioli. 'Much of our time was spent listening to the recordings of the great tenors of the past,' he said, 'such as Anselmi, Bonci, Schipa, early Gigli and Tagliavini, with all their distinctive techniques and legato school of singing.'
How well the student learnt his lessons could be heard from Calleja's first recital disc ('Tenor Arias', 5/04). Released in 2004, just as the singer's career was reaching an international level, it announced a new, young tenor of very individual character: the flexibility of the voice and the old-style grace and beauty brought the music of Donizetti and early Verdi to life like the finest porcelain, restored till it gleams afresh. No wonder Chailly proclaimed: 
'For some time I have not heard such a talent at this young age, with a sound harking back to a quality I thought we had long lost.'
Since then Calleja has more than fulfilled his early promise. With 28 roles under his belt, he has expanded his repertoire to include Gounod's Faust and Roméo, Puccini's Rodolfo and Pinkerton, and more Verdi operas, with Un ballo in maschera the next to come. There have been complete opera recordings of Bellini and Donizetti and further recital discs, including this year's 'Be My Love', a tribute to Mario Lanza. He has also been appointed Malta's first Cultural Ambassador.
If there is one image that stays in the mind from Calleja's career to date, it is probably seeing him opposite Plácido Domingo in Simon Boccanegra at the Royal Opera House in 2010. In vocal terms the two tenors are very different – Calleja's voice the finely tuned clarinet alongside Domingo's bronzed trombone – but, with Calleja in Domingo's old role of Gabriele Adorno, there was a palpable sense of occasion as the senior artist passed on the baton to his young successor. Calleja is surely a singer here to stay.
Richard Fairman
(photo: Decca / Matthias Bothor)
Watch Joseph Calleja's acceptance speech below: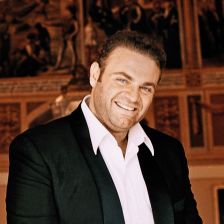 If you are a library, university or other organisation that would be interested in an institutional subscription to Gramophone please click here for further information.